Employer Branding
How Lusha aims to be the 'love brand' of B2B companies
B2B companies face an uphill battle in attracting talent away from global or consumer-facing organizations. This meant Lusha had to think outside the box
"When everyone thinks of brands they love, they think of B2C brands like Coca Cola, Nespresso, and Nike. But no one thinks of B2B brands," says Chen Guter, VP Marketing of Lusha. "This creates an opportunity for us. In a sea of boring and unmemorable B2B companies, we aim at making Lusha an iconic B2B 'love brand.'"

Lusha maybe isn't a company that everyone has heard of. The B2B company is a software-as-a-service (Saas) platform helping salespeople with their contact and company data - not exactly as global as Diet Coke.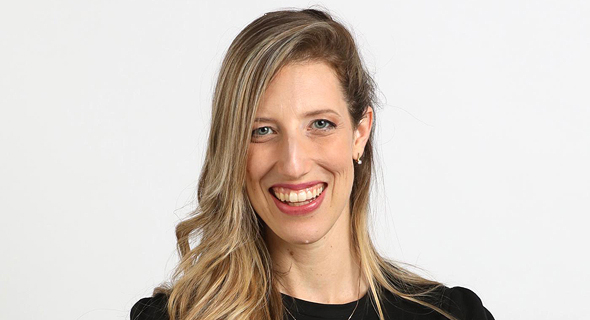 Chen Guter, VP Marketing of Lusha. Photo: Geva Talmor

Not being at the forefront of the conversation might make attracting top talent more difficult. That's why Lusha aims to "create a memorable, iconic brand that triggers a positive, emotional, and unforgettable experience." According to Guter, the company puts its employees at the center of everything - from marketing to branding and employee branding.

Lusha joined CTech as part of its Employer Branding series to explore how they attract top talent away from global companies to their 'love brand'.

General Info and Company Details:

Established in 2016 by Yoni Tserruya and Assaf Eisenstein, Lusha is a B2B SaaS platform that allows salespeople to focus on selling, thanks to accurate contact and company data.

With over 110 employees working from its Tel Aviv office and an office coming soon to Boston, U.S., Lusha is on a mission to make enterprise-grade, cutting-edge sales tech accessible to all B2B salespeople.

Lusha allows B2B salespeople to get intel about their prospects, like personal phone numbers, emails, company information, and more.

Over 460,000 customers and 120,000 companies rely on Lusha, including companies such as Facebook, Microsoft, Uber, Salesforce, Dropbox, and others.

Description of the problem:

Originally a company of 10 people, Lusha is in a period of hypergrowth and has quickly grown to 115 employees.

By the end of 2021, Lusha plans to become even bigger, growing to 200 employees in both its Tel Aviv and its up-and-coming U.S. office.

But, with such ambitious plans for growth, we had to make sure Lusha could attract the best talent, competing with companies such as Facebook and Google, while maintaining its strong sense of culture and company values.

Presenting the refined solution and assimilation:

In 2020, our marketing department went where no other Israeli B2B SaaS company had gone before - championing our employees by placing them at the center of our business, marketing, and employer branding strategy.

Our approach is three-fold:

1. We aligned our company values with our marketing rebrand

Nine months ago, we decided to turn Lusha into an iconic "love brand," similar to B2C brands. We did this by putting employees at the center of our website and company rebrand — which you can see all over the Lusha website — not just on our About page.

At Lusha, we truly believe in a product-led-growth strategy (PLG), which means making products easy for people to try before they buy. Lusha's product is already very user-focused. We believe that every product - whether it's a shirt or software - should be self-served and simple. That's why we develop products that you can try and use for free and get value before making any commitment.

So, we wanted our marketing strategy to match the product strategy, which is fun, simple and self-service.

Data might sound like a complex concept, but it doesn't have to be. As part of our mission to commoditize and simplify data, we understood that we need to act and look accordingly. We wrapped this concept in a simple packaging that intrigues users and talents to open the box and understand what is inside. And so, we rebranded Lusha in bold and vibrant colors, with clear, easy-to-understandable messaging, with a marketing strategy that echoes our PLG strategy - clean, simple, and impactful.

This approach has not only helped reposition Lusha to our 460,000-strong user-base but also attracted new clients and new job candidates with the right cultural fit who are eager to join Lusha.

2. We created a social media strategy centered around employees

We call it "Lusha Force."

Lusha Force is a task force made up of thought leaders from every department at Lusha.

Every week, employees share their experiences, challenges, wins, and thoughts on their personal Linkedin page, which markets the Lusha brand along with it.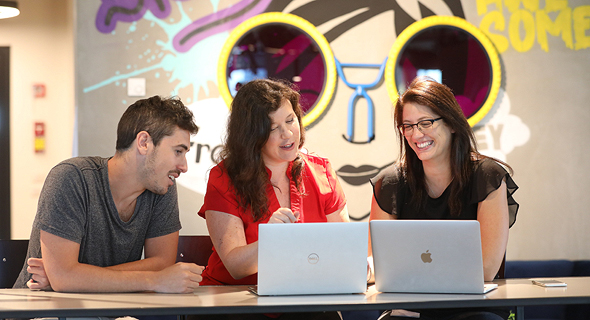 The Lusha Team. Photo: Geva Talmor

This employee-driven social media strategy has made a huge impact, drawing an impressive 300,000 unique views on Linkedin (our main social media platform), in a few months, creating buzz around Lusha as an employer, and helping us reach a talent-pool that's an ideal culture fit at Lusha.

Additionally, we feature employee spotlights on our company Linkedin page, which puts our employees at the center of our company, and attracts the right talent.

3. HR and employee branding that's centered around our employees

At Lusha this is more than rhetoric and slogan.

By putting employees at the center of our website rebranding, with clear shots of our employees plastered all over our marketing site, rather than stock photos, we at Lusha are trying to send a message.

Not only do our employees matter greatly to us, but they're central to the success of our business, our customer advocates, as well as advocates of our brand.

Employees truly are our ambassadors in every way, especially when it comes to attracting new talent to Lusha, that fit our unique culture.

We made it our mission to select employees that not only fit our company's value system but also look to our employees to attract and refer to the industry's top talent.

With a company culture that nurtures an atmosphere of uniqueness, being your true and authentic self, and valuing the group well-being over the personal, employees truly love working at Lusha.

Lusha's company values are six-fold:
Customer first: We are focused on providing the best user experience possible, all the rest will follow.

Move fast, learn faster: When we move fast, we learn fast and grow.

Focus on impact: Solve the most important problems and identify them through data.

Make it simple: The best solutions are easily understood, and that's the only way to scale.

Be transparent: Open communication builds trust and is the basis of any relationship.

Enjoy the journey: Have fun, stay positive, and keep smiling.

Challenges due to Covid:
As a company that never worked remotely or from home prior to Covid-19, we had to adjust quickly to the new reality. During the first few weeks of the first lockdown we had to train our managers and employees on how to adjust their day-to-day work, one-on-one meetings, syncs, etc.
With time, people really felt the need to come back to the office, to work in a more collaborative environment, to feel a sense of belonging, to brainstorm and meet with others - so we reopened our office following government regulations and following all Covid-19 restrictions.
We launched a new, internal communication platform called Workplace, where we post our company updates and announcements, created professional groups, teams groups and social groups. We also created a knowledge-sharing tool for all our internal documents and presentations that every employee has easy access to.
As the pandemic started we moved to a fully online recruitment process which included video interviews, digital home assignments, remote professional tests for developers, etc.
Today, we work in a hybrid mode and we understand the need of our candidates to see and feel the office vibes, and so the recruitment process is also done in a hybrid model so part of it is done face-to-face in our offices.
Conclusions:
In only seven months, Lusha has achieved incredible results:
Lusha went live with a brand new rebrand, visual identity, and a new website

Lusha Force, our employee-driven social media strategy has generated 300,000+ unique views

We've filled 110 roles at Lusha, with an aim of growing our ranks to 200 by the end of 2021

And we're hiring! If you'd love to join us, check out our open positions on Lusha's career page.