AI Gateways
Mati Kochavi: Preparing the world for the IoT revolution
As a pioneer in the fields of AI, IoT, and smart city solutions, he founded AGT International in 2007 and is one of CTech's gateways into Israeli tech
Name: Mati Kochavi
Title: Founder of AGT International
Notable Facts:
Kochavi was a trailblazer in forming business ties with Gulf states
Behind the 2019 viral Holocaust education project Eva's Story
Used data-driven insights to create the journalistic platform Vocativ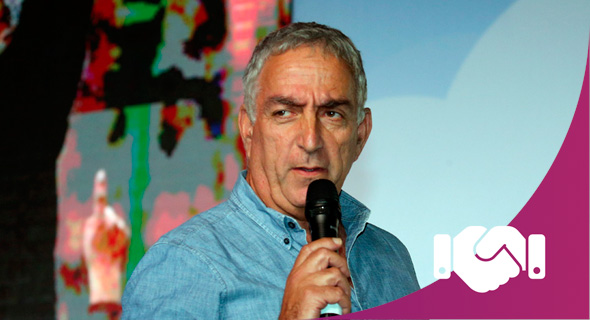 Mati Kochavi, Founder of AGT International. Photo: Yariv Katz

Israeli entrepreneur Mati Kochavi has been making headlines in the innovation space for the last 20 years. A pioneer in the fields of AI, IoT, and smart city solutions, he founded AGT International in 2007, which partners with governments and corporations to help them predict, prepare for, prevent, and manage challenges and threats that arise in complex environments – with services that include urban management, health emergency management, cyber and food security. The AGT network of companies employs some 2,000 workers worldwide and has sales in excess of $7 billion. With multiple laboratories specializing in everything from computer visions, to Semantics and reasoning, to emotion recognition, AGT's core product, IoTA, is an IoT platform enhanced with AI technology that provides the cognitive and emotional computing skills necessary to understand complex physical environments.

Kochavi was one of the first Israelis to make headway in the UAE, striking large deals with the Gulf state on behalf of his company Logic Industries many years before the formalization of ties, particularly in the physical and cybersecurity space.

Constantly looking to push the envelope, Kochavi also made big moves in the media world, launching Vocativ, a video-based news site that combined analysts using proprietary data-mining technology with journalist storytellers to explore the deep web and discover data-based stories.

In 2019, Kochavi, together with his daughter Maya, created the Holocaust memorial project "Eva's Stories" which depicted the Holocaust through the Instagram post of a Hungarian Jewish teenager. Based on the diary kept by the real Eva Heyman in 1944, the project made Holocaust education accessible to a new generation of teens, with the account garnering upwards of 300 million views and 1.2 million followers all over the world, and snagging the Webby Awards for Best Use of Stories and Best Campaigns on Social Media.

Kochavi has also created a documentary television series Dark Net, which explores the dark aspects of technology and the internet, including cyber-kidnapping, biohacking, digital warfare, pornography addiction, online cults, and webcam strippers, among many other themes. Speaking at Calcalist's Forecasts 2020 conference, Kochavi said that "Generation Z will demand a new standard of quality from media, requiring credible, authentic, educational, and entertaining content."

Stepping into the sports arena, Kochavi-owned Israeli startup Coach-AI has developed Perfect Play, an app based on a combination of computer vision and augmented reality (AR) technologies that is aimed at improving performance by helping users train like professional football players. The app was launched earlier this year by English Premier League soccer club Chelsea.

On behalf of CTech, of the Calcalist group, we are excited to offer you an opportunity for a historic editorial collaboration, with the primary goal being to publish content by an Israeli tech news site on the UAE's leading media platform.

We hope that the offer for a collaboration between the leading media bodies in the UAE and Israel will come to fruition and provide the first step towards additional successful cooperation going forward.