HR Post Covid
For Zesty.co, major growth means it's finally time to enter the HR game
The company avoided an HR team at first, but its 500% growth during Covid-19 forced them to reassess
Many companies rely on a strong and stable HR team to steer them through hard times like Covid-19. For a company like Zesty.co, it took them more than a year before sitting down to do it.

"We held off on (hiring an HR Manager) until our current stage of growth, and that was by design," the founders explain, for the first time ever during CTech's HR Post-Covid series. "In the company's infancy, the management team wanted to be intimately involved in the hiring process of every employee, from junior to senior positions."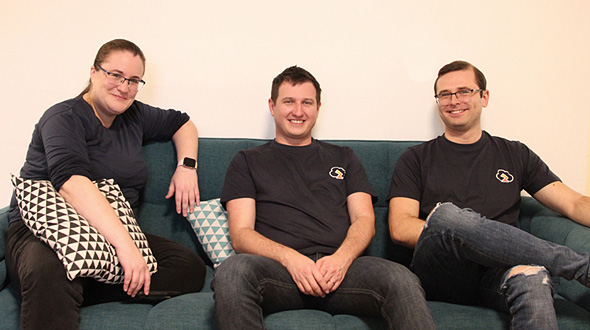 Zesty.co 's Lori Brigg, Maxim Melamedov, and Alexey Baikov. Photo. Zesty Tech

Since March 2020, Zesty.co has grown by more than 500%, increasing its employee headcount from five to 25. After selecting people that they felt best suited the culture they wanted to foster, now they can set their eyes on an HR representative to manage the continued growth.

Zesty.co joined CTech to discuss why they withheld their HR recruitment until the last minute, and how they hope to maintain their extraordinary growth into 2021.

Company Name: Zesty.co

HR Leader:

We are currently in the process of hiring our very first HR executive. We held off on this until our current stage of growth, and that was by design.

We believe that the first employees have a tremendous impact on defining the company's culture. In the company's infancy, the management team wanted to be intimately involved in the hiring process of every employee, from junior to senior positions. Therefore, the co-founders took part in every interview, hearing out candidates' stories, getting a sense of their personalities, and visualizing them with the rest of the team. This allowed us to choose the people who will be the foundation of a winning culture in the future.

Field of Activity:

Zesty.co allows engineering teams to effortlessly maximize cloud savings and minimize waste by automating cloud cost optimization. Our customers benefit from an average of 50% cost savings off their cloud bill.

Number of employees/location:

25 employees in Ramat Gan

On a scale of 1-10, how much did the coronavirus pandemic disrupt operations at the company?

We'd say a 9. The coronavirus (Covid-19) had a huge impact on the company's operations. We had to work extra hard to maintain internal communications. When recruiting, we had to make adjustments to accommodate mandatory social distancing rules. But much of the disruption was positive. We were extremely fortunate that in the ten months since the beginning of the pandemic, Zesty experienced remarkable growth including:
Went from five employees in March 2020 to 25 employees (in R&D, sales, and marketing) in December 2020 –– representing a 500% growth
Secured a $6.6 million seed investment led by S-Capital
Rebranded the company
Experienced 1,200% revenue growth. The pandemic's worldwide financial impact pushed businesses to seek ways to manage their cloud infrastructure in a more cost-effective manner, leading to a huge demand for Zesty's capabilities.

What interesting technological tools do you use in employee management/recruitment?

A properly defined and structured hiring process is a company's best way to make a great first impression on a candidate. To standardize the hiring process across positions, we chose to partner with the recruitment tool Comeet. Comeet allows our managers to effectively and efficiently manage the hiring process. We respect every candidate's time and effort, and it's essential that each candidate feels that. Early on, we wanted to make sure that every candidate receives timely updates and full transparency into the hiring process, and Comeet allowed us to achieve this.

What positive and/or negative impact did the outbreak have on the human capital of the company?

We are an optimistic bunch of people and naturally look on the bright side of any obstacle that comes our way.

Operating in a hybrid model of working partially from the office and partially from home has given us the best of both worlds. On the one hand, we have more time to spend with our families during these stress-inducing times. On the other hand, we can continue collaborating and socializing with each other in person when official rules permit. Having this flexibility enables us to appreciate both working from the office and from home without negatively impacting productivity and delivery.

What are the two major challenges you are coping with these days?

First, we are growing very fast without an HR leader in place, leaving us in need of a better-defined company DNA and culture.

The second challenge is the unpredictable nature of lockdowns. There have been weeks and months of working exclusively from home, which at times has affected our personal connections. We believe that the foundation of strong bonds between employees is personal before professional. So missing out on opportunities for spontaneous chats, or to have a beer or a cup of coffee together is tough on employees –– especially the many new Zesters who didn't have a foundation of in-office interactions before the pandemic.

Also, as a people-centric company, we really miss face-to-face meetings with our customers. While communicating online may be sufficient for creating new business opportunities, the lack of human interaction is somewhat of a challenge for long-term business relationships.

Are you actively recruiting? If so, what is the process and where can the applicants find you?

Indeed!

We are actively recruiting for several positions in R&D, sales, marketing, and customer success. The majority of the recruitment process is done online, though as a final step we provide the candidate with the option to visit our office and get a better impression of the company culture while maintaining safety guidelines.

We're hiring in our Ramat Gan office and you can find our current openings here: https://zesty.co/careers

Which changes forced upon you by the circumstances will stay in place after Covid-19 is over, and which are you most eager to revert back to normal?

The work location flexibility will remain the same post-Covid-19. We believe a hybrid structure will continue to benefit both the company and the employees, especially when it comes to efficiency and work-life balance.

We do want to have an in-person celebration of our 2020 achievements and strengthen employees' connection to the company and to each other. On top of that, we can't wait to meet our customers again.