WhatsApp's new privacy settings Signal change for instant messaging
After Facebook updated its privacy settings for WhatsApp, concerned voices from Israel and the world start pondering an alternative
In a move that perhaps surprised few people, WhatsApp has updated its privacy terms to reserve the right to share user data, such as location or phone number, with its parent company Facebook. As a result, messaging rival Signal is topping the charts of most downloaded apps both in Israel and around the world

On Sunday, 810,000 users installed Signal which is 18 times as many people compared to January 6th, before the new privacy terms came into effect. At the same time, WhatsApp has seen a 7% decline in daily installs compared to the same day, bringing in 'only' 1.2 million new users. Signal was the most popular free app on both the Israeli App Store and on local Google Play.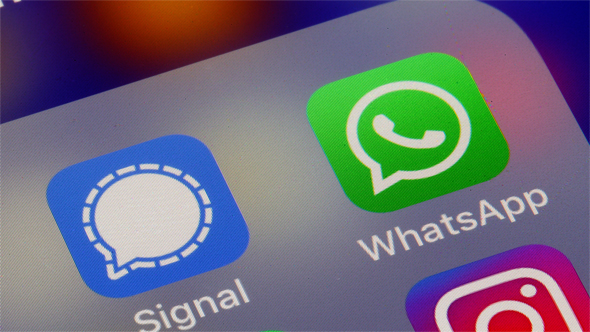 The messaging app has seen an 18 fold increase in downloads in recent days. Photo: Getty

'Privacy Israel', a prominent Twitter account that promotes the right of privacy both on and off the internet, applauded the recent shift in app stores around the world. The account 'Quote Retweeted' a technology journalist from a local publication who reported on its jump to the number one spot with the caption (translated from Hebrew): "We are not the only lunatics."

The sudden shift highlights how people are increasingly more aware of how their information is used by large companies like Facebook, Google, and Amazon who collect large amounts of data on its users. Recent events like the Cambridge Analytica scandal and Netflix's hit movie 'The Social Dilemma' has done little to curb the concerns felt by an increasing number of people.

Ever since the social media giant bought the messaging service for a meteoric $19 billion in 2014, it was a price tag that few could justify. Fast forward almost seven years and WhatsApp is today used by two billion people each month. It makes sense that Facebook would want to tap into that data mine as a way to make back some of its money.

While WhatsApp grew, concerns were quietly bubbling about how it planned to one day use its data. Conflicts came to a boil after its founder, Jan Kou, resigned from Facebook in 2018 after Facebook's attempt to weaken the encryption methods it was applying to chats. Nonetheless, Mark Zuckerberg continued to craft it into his ecosystem of apps and services and today users are seamlessly able to share and send messages, images, and voice notes across its Holy Trinity: Facebook Messenger, Instagram, and WhatsApp.

Meanwhile, any competitor to WhatsApp would be slowly but surely picking up the pace. One such competitor is Signal. A platform popular among journalists and human rights activists, it was founded in 2014 (a few months after Facebook's acquisition was announced) and is a cross-platform encrypted messaging service. Importantly, it is a non-profit that vows to never share its user data. So basically, your memes are safe.

Elon Musk is among the fans of Signal. Photo:Twitter/ElonMusk

The shift comes at a fascinating time, particularly as the world seems to be entering into a new era of privacy and free speech concerns. Just as WhatsApp makes it easier to sell your data, other companies are shutting down organic alternatives to conventional messaging and social platforms. Free speech platform Parler was eradicated from the internet (that is, App Store, Google Play, and AWS Servers) all in one day after extremists swarmed the U.S Capitol. The app, which was slowly becoming an attractive alternative to Twitter, was erased from the internet before it had a chance to properly compete. There is no guarantee this won't happen to other new services like Signal or its sidekick, Telegram.

Either way, it appears that the public is now more aware of some of the steps that Big Tech companies take to keep you operating in their ecosystems and playing by their rules. Each time that band is stretched a little further, resistance to it snaps back a little harder. It is unclear if WhatsApp will ever be dethroned, but 2021 might just mark the start of its reckoning.