Fyllo acquires DataOwl to expand online marketing services for cannabis industry
DataOwl's marketing and loyalty solutions power more than 320 cannabis retailers
Fyllo, a marketing platform for the cannabis industry, is purchasing DataOwl, which provides cannabis retail point-of-sale marketing and loyalty solutions, for a sum estimated at $13-15 million. Fyllo has raised to date $26 million from leading funds in the cannabis sector such as K2 and JW Asset Management. The acquisition of DataOwl boosts Fyllo's offering with loyalty club solutions and expands its database.

Fyllo was founded in 2019 and employs 110 people. The company's development center is based in Israel and it also has offices in New York, Chicago, Los Angeles, Denver and Tuson. The company offers a range of compliance cloud solutions for the cannabis industry, including deterministic cannabis and CBD consumer data solutions, managed service digital media solutions built specifically for cannabis brands, an intelligent regulatory database that aggregates and automates federal, state and local cannabis research and CRM, loyalty and point-of-sale marketing solutions for cannabis retailers.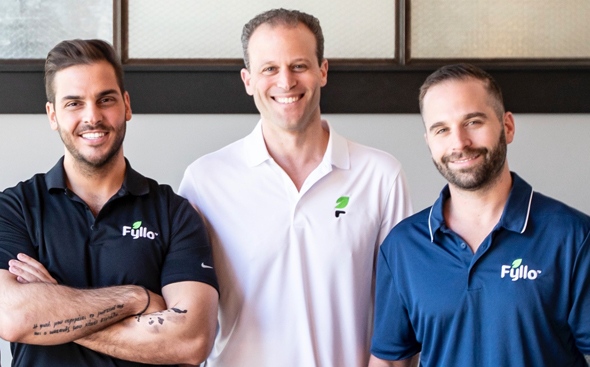 Fyllo co-founders Chak Bronstein (from right), Erik Shani and Aristotle Loumis. Photo: Fyllo
DataOwl's marketing and loyalty solutions power more than 320 cannabis retailers across 25 states as well as Puerto Rico and Jamaica, serving over 3 million network members. DataOwl's AI-powered retail solutions will be integrated into Fyllo's Compliance Cloud, creating the industry's first end-to-end, brand-safe marketing platform, allowing cannabis brands to target consumers at every level of the sales funnel.
A little over a week ago, Fyllo also announced it was entering into a strategic partnership with OpenGov, combining OpenGov's industry-leading cloud ERP and Citizen Services software for the nation's cities, counties, and state agencies with Fyllo's compliance solutions to create the first comprehensive cannabis licensing, regulatory and compliance tracking solution for local municipalities.
Fyllo was founded by Israeli entrepreneur Erik Shani, who also serves as the CPO, Chad Bronstein (CEO) and Aristotle Loumis. The Israeli office is run by Amihay Schwarz, VP, Head of Engineering.