Israel's UBQ Materials and Clairion declared winners of SustainIL Startup Competition
The companies were selected from more than 100 applicants in the Cleantech space
Waste conversion company UBQ Materials and Clairion, which develops a solution for simultaneous removal of pollutants from industrial emissions, were announced as the winners of SustainIL, a cleantech and Sustainability startup competition hosted by Start-Up Nation Central (SNC) and Environmental Sustainability Innovation Lab (ESIL). UBQ materials won the 'Mature Stage' track and Clairion won the 'Early Stage' track, respectively, during an event that took place online.
The companies were selected from more than 100 applicants, of which six were consequently chosen as finalists to compete against a judging panel.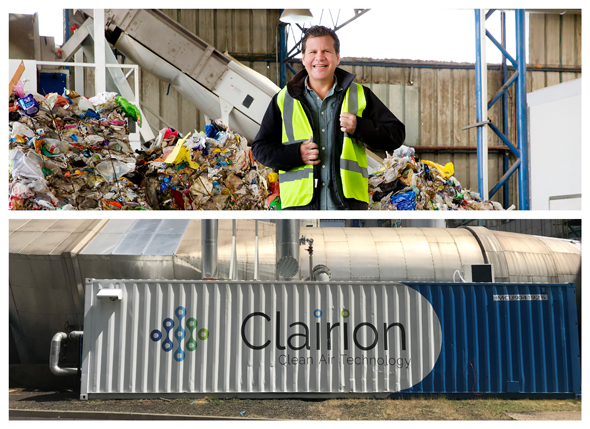 Jack (Tato) Bigio, Co-founder and CEO of UBQ Materials and the Clairion logo. Photo: Kfir Ziv/Clairion

"Our climate-positive scientific breakthrough is able to substitute conventional, oil-based resins in the manufacturing of goods in industries spanning construction, furniture, supply chain logistics, and even auto parts," explained Jack (Tato) Bigio, Co-founder and CEO of UBQ Materials. "We are very proud to have been chosen as finalists alongside such remarkable startups, representing Israel's world-changing innovation. Thank you for including UBQ Materials in this impressive initiative."

Clairion, on the other hand, efficiently removes pollutants from industrial flue gas emissions and transforms them into useful products, with absorbing liquid continuously regenerated as part of the process while maintaining its properties and efficiency. "The beauty of our solution is that it can be adopted by almost any polluting industry to assure economic and environmental benefits," said Hagay Keller, CEO of Clairion. "We are proud to be recognized again for our innovative technology and potential for global impact. I wish to thank Start-Up Nation Central and ESIL for the opportunity and for the decision. Thank you."

Israel is ranked sixth on the Global Cleantech Innovation Index and is among the countries with the greatest potential to produce commercially viable cleantech companies over the next 10 years. SustainIL, which was organized together with EDF Renewables, Bazan, and Johnson Matthey, sought to celebrate these companies that blend tech with the environment so seamlessly. As part of their prize, the companies will receive warm introductions to a variety of large corporations, VCs, and governmental entities, as well as an undisclosed cash prize.

Daniela Kandel, Senior Director at SNC, highlighted Israel's role as 'Impact Nation' bringing attention to more than 750 startups currently in the space. SNC is a nonprofit that builds bridges to innovation by connecting governments and NGO leaders to private businesses. ESIL, helps accelerate and commercialize startups by delivering economically viable technology solutions for a 'NetZero' world.

ESIL's CEO Eli Cymbalista added: "ESIL Innovation Lab is proud to support young and promising entrepreneurs who are working today on tomorrow's biggest challenges. Realizing that they have the capabilities and knowledge to meet said challenges, and that we can support them in their important role, our mission is to accelerate this process. In today's Israel, environmental and sustainability technologies are an integral part of the high-tech scene, with a new stock market index and an overall support from investors and the industry. We are confident that UBQ Materials and Clairion have the full potential today to be the new "Augwind" or "Electreon" and we look forward to seeing them join the era of the global tech-climate revolution led by Israel".