HR Post Covid
For Melio, it's all about the People… Analytics
To get a better understanding of how to care for its employees, the fintech startup makes data-driven decisions based on human experiences
"We are a data-driven company and we take pride in implementing data analytics in all aspects of operations, including 'People Analytics,' out of the belief that the data will enable us to improve processes and make better and more informed decisions over time," explained Melio's Head of People Operations, Yarin Yeger.
"The company, which was in the middle of hyper-growth when Covid-19 hit, keeps track of all HR related-data and processes to regularly revisit and learn from our data. As a firm believer in People Analytics and the benefits it can bring to the company, we aspire to fully integrate it into Melio's operations," she added.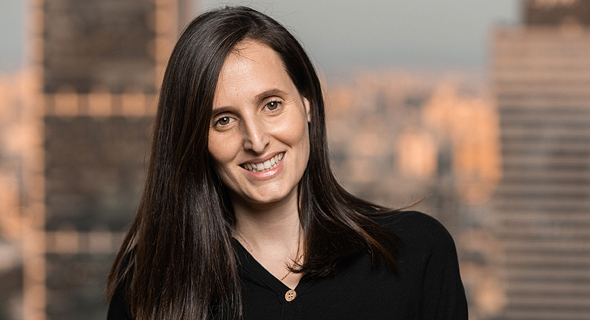 Melio's Head of People Operations, Yarin Yeger. Photo: Michael Tumarkin, Melio

Melio has joined CTech for its HR Post Covid series to share how the company is caring for its employees following a year of lockdowns and social distancing.

Company Name: Melio

HR Leader: Yarin Yeger

Field of Activity: Melio is a fintech startup founded in 2018. It services the U.S. market with offices in New York and Tel Aviv.

Melio is on a mission to keep small businesses in business by providing a smart B2B payment solution tailor-made for their needs. Melio's digital accounts payable and receivable dashboard provides business owners and accounting professionals with an integrated tool to manage online payments quickly and easily, giving them oversight and control over cash flow, eliminating late payment costs, and saving time.

Number of employees/location: 105 in Tel Aviv and 191 in total.

Professional background of HR Manager:

I've been in Human Resources Management for over a decade. I started my career in Barclays Investment Bank Israel, where I managed the Human Resource operations for nearly eight years. After having my first child, I was offered the fantastic opportunity to join Melio - then a small startup with a big dream - to revolutionize the way small businesses manage their payments.

Back when we started in 2018 we were just eight team members, including the founders. I was used to an entirely different philosophy than Melio's in terms of hierarchy and formality of personal interactions inside the company. Melio had from the start a "good vibes'' mentality, favoring positive human connections, open and non-formal communication over strict hierarchy. Before starting my work, I was having concerns over the need to adjust to such a different approach, but these concerns faded quickly, simply because it's easier to adapt to a way of doing things that is clearly the right way.

It was also challenging for me to leave a "safe" job in a large company in favor of what was back then a risk of joining a small startup taking its baby steps. But I believed in the mission and saw that the founders have full conviction, a clear vision, and the determination to succeed in that mission.

I took a leap of faith and joined the journey, knowing that I have full trust in the mission and my companions. The company is changing and growing daily, so there are many challenges ahead, but I start every day with a sense of gratitude for the decision to join Melio.

On a scale of 1-10, how much did the coronavirus pandemic disrupt operations at the company?

It's hard to pick a number since we've managed to successfully adapt to the new reality. The pandemic posed a tremendous challenge for us, as Melio was in a critical stage of growth when it hit. We were just picking up the momentum, and we had to handle recruitment, new employee onboarding, and all employee experience functions remotely, from home. The hyper-growth goals were already challenging in themselves, but since we were forced to work from home, it was an entirely different level of challenge, especially for those of us who are parents.

We had to recruit via Zoom and rapidly find solutions to enable our employees to work conveniently from home.

We arranged for employees to have all the equipment they needed to be sent to their homes. We also realized that employees who were parents had to sustain an impossible routine of having their children at home at all times, with no schools or kindergartens available, while still trying to get work done. We decided to fund daycare services for our employees, and we set up a designated "Melio Kids" section in our budget.

For new employees, we focused on providing them with the best onboarding experience we could despite the pandemic — they received a full onboarding package filled with perks and Melio swag, such as high-quality backpacks and reusable drinking bottles.

We took extra care to make sure new employees enjoyed a seamless onboarding experience as possible. We did that by being actively communicative with them throughout the onboarding process and being attentive to their needs to make sure they felt that we're there for them (and with them) every step of the way.

What interesting technological tools do you use in employee management/recruitment?

We work with Bamboo HR for our employee information management system and GreenHouse for the recruitment process. Nowadays, we're also integrating a system called Culture Amp, for performance reviews and evaluation surveys for employees and candidates. We are a data-driven company and we take pride in implementing data analytics in all aspects of operations, including "People Analytics", out of the belief that the data will enable us to improve processes and make better and more informed decisions over time. That is why we keep track of all HR related-data and processes and make it a point to regularly revisit and learn from our data. As a firm believer in People Analytics and the benefits it can bring to the company, we aspire to fully integrate it into Melio's operations.

What positive and/or negative impact did the outbreak have on the human capital of the company?

We definitely had to find and utilize our hidden creativity and agility to deal with the pandemic's challenges. In other words, thinking 'outside the box' is now an everyday, all-day activity for us.

As to the work itself, after an adjustment period, it can be even more convenient to work from home, for some, if not most of us.

The negative impact manifests in that no matter how hard we try to keep the company culture and the human connection between our team, there's no substitute for the real thing.

This sense of togetherness is not only essential for Melio as a company, but for our team's personal welfare as well, and we try hard to come up with ways for our team members to get to know one another on a personal level. We have many cultural activities to promote personal connections between our team members. We also operate with an understanding that even when the pandemic is over, the work model will not return to what we used to know. Companies will have a 'hybrid' work model combining office attendance and work from home, so the challenges we're facing now will remain with us in the foreseeable future.

What are the two major challenges you are coping with these days?

First, employee engagement: people who work from home are not acquainted with their colleagues personally. They have limited knowledge of what other teams do and have a narrow perception of the company. As most of our team members joined after the pandemic, some of us have never visited the offices.

The second challenge is in preserving our "family" mentality (we refer to ourselves as a "FaMellio") throughout our rapid growth, which is expected to continue and even increase during 2021. This proves to be more challenging as the company expands and recruits more team members.

We handle both challenges with a similar mindset: by promoting human connections all the time.

That is why we put significant effort into activities connecting employees inside the teams and between teams. We also share team successes and processes with the entire company.

We have a dedicated budget for quarterly company activities and bi-weekly company and team talks (all on Zoom). Teams and team members share what they're working on, the challenges they encounter, and future plans.

We often send perks (such as cocktails and drinks) to go along with cultural activities. We also promote social communication on platforms such as Whatsapp, Slack, and our emails, introducing and congratulating new employees, sending congratulatory gift baskets for birthdays, family occasions, and housewarmings.

As for new employees joining us, we recently launched "STAR TREK" - the onboarding 'journey' of employees where they get a 360-degree introduction to all company aspects.

We've also realized that in terms of decision-making processes, if we want to maintain fairness and uniformity in our decisions, we have to adapt and evolve from our "small startup" mentality of making decisions in informal, "on-the-go" ad-hoc ways, to a more streamlined and organized process. There's a delicate balance here between this seemingly "big corporation" approach and our desire to maintain our intimate startup spirit, and a lot of thought goes into maintaining the balance as we grow in the years ahead.

Are you actively recruiting? If so, what is the process and where can the applicants find you?

Yes, we are actively and vigorously recruiting to match our rapid activity growth. We are currently 105 team members in Tel Aviv alone, and we have a destination goal of reaching 250 employees by 2022.

We recruited the amazing Tahel Roy, a recruitment leader with vast global experience, to lead us in our ongoing global recruiting efforts.

We're growing and recruiting in all roles and departments - development, product design, growth, BI, risk, biz dev, finance, and people operations - and are on the perpetual search for exceptional people to join our team and mission.

While the process varies depending on the role we're recruiting for, we always make sure the candidate fits our company's 'good vibes' positive mentality, culture, and core values.

We post regularly on Linkedin, Facebook, and any other social media platform. Open positions are also posted on our website: https://www.meliopayments.com/careers

Which changes forced upon you by the circumstances will stay in place after Covid-19 is over, and which are you most eager to revert back to normal?

As I've mentioned before, the 'hybrid' model of combining work-from-home with in-office work is most likely here to stay. We realized that we manage to perform pretty well as a company, even when working remotely. People enjoy having the choice of working from home when they prefer, so there's no reason not to accommodate it if our employees are happier because of it.

The one thing we know for sure we will get back the moment we can do so is holding company events. We love having parties, celebrations and enjoying each other's company, and I personally miss it dearly. I am counting the days until we can visit our colleagues in New York City.