HR Post Covid
"The Covid-19 crisis has proved an outstanding opportunity for Team8's portfolio companies to recruit strong talents"
It's one thing to operate HR services for a startup - how about HR for a whole portfolio of them?
For venture group Team8, its HR operations make sure it doesn't just operate itself like a family, but the company quite literally has a family of startups with which it works. Balancing that, and making sure they grow successfully, has proven challenging during the ongoing Coronavirus (Covid-19) pandemic.
"I believe that recruiting has a major impact on startups," said Aviv Yonas, Team8's HR and Recruitment Manager. "The mission of building the first core-team is one of the critical pillars of the company's success, among the research, cutting-edge technology infrastructure, go-to-market strategy, and finance."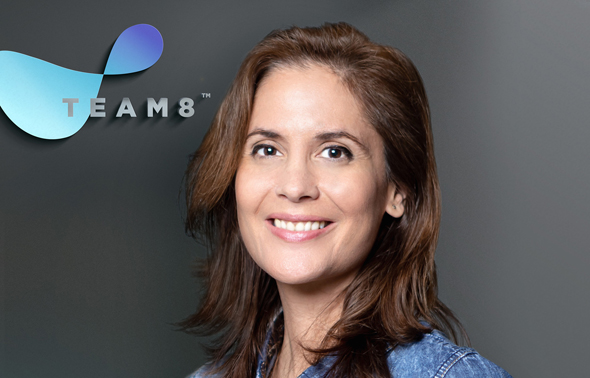 Aviv Yonas, Team8's HR and Recruitment Manager. Photo: Dudu Rosen

Team8 joined CTech for its HR Post Covid series to share how a VC tackles the unique challenges of Covid-19 compared to regular startups.

Company Name: Team8

HR Leader: Aviv Yonas, HR and Recruitment Manager.

Field of Activity:

Team8 is a global venture group with deep domain expertise that builds and invests in companies specializing in enterprise technology, cybersecurity, data science, AI, and fintech. Leveraging an in-house, multi-disciplinary team of company-builders integrated with a dedicated community of C-level executives and thought leaders, Team8's signature foundry model is designed to outline big problems, ideate solutions, and help accelerate success through technology, market fit, and talent acquisition. Team8's leadership team represents serial entrepreneurs, industry pioneers, former CEOs, and the former leadership of Israel's elite tech and intelligence Unit 8200. Founded in 2014, Team8 is backed by global companies including Microsoft, Walmart, Cisco, Barclays, and Moody's, among others.

Number of employees/location: 45 employees at the VC in both Tel Aviv and New York City. We have more than 500 employees globally over Team8's portfolio companies.

Professional background of HR Manager:

I joined Team8 two years ago and have had an outstanding opportunity to be part of the exciting company-building process of four brand new portfolio companies (and counting!). I have 15 years of experience in tech recruiting and HR.

I believe that recruiting has a major impact on startups. The mission of building the first core-team is one of the critical pillars of the company's success, among the research, cutting-edge technology infrastructure, go-to-market strategy, and finance.

On a scale of 1-10, how much did the coronavirus pandemic disrupt operations at the company?

The pandemic didn't disrupt operations for the Team8 Group. We adapted to the new reality quickly since Team8 has a dynamic DNA that moves very fast, is results-driven, and innovative.

Team8 supplied employees with equipment to build their home offices and gave special support to parents with young children. We also moved the social events and weekly Yoga/ Pilates lessons to Zoom.

In Israel, we are currently working in an open office mode. Many of the teams came back to work from the office twice a week. People missed their friends and their colleagues and wished to work from the office when possible.

We also created two brand new startups during Covid-19, and it is very important to get together in person in order to build deep relationships.

Employees who either feel more comfortable working from home or for personal reasons cannot make it to the office stay at home, however, most of the employees prefer to work from the office twice a week.

What interesting technological tools do you use in employee management/recruitment?

We use various HR and Recruitment tools and information systems, however, our major and optimal way for recruiting is not through the use of tech tools but through a rich network that is based on our companies and cross-companies employees and referrals. We enjoy a strong employer brand and our main recruitment source is referrals. We invest our efforts in building our referral network.

Additionally, we believe in maintaining long-term relationships with our candidates and employees and we retain these relationships, for example, by hosting interesting tech meetups, led by employees from Team8's portfolio companies, which are open events for those interested in joining. These meetups build our community and are designed to expose our cutting-edge technologies and the cool things that we create at Team8 companies.

Furthermore, our employees publish their research/insights into the tech community and participate in competitions at Defcon.

Finally, we use social media channels for sourcing candidates and optimizing our brand awareness.

What positive and/or negative impact did the outbreak have on the human capital of the company?

The Covid-19 crisis has proved an outstanding opportunity for Team8's portfolio companies to recruit strong talents. During 2020, Team8 Group and its young companies have grown with more than 70 new employees in Israel, and its mature portfolio companies have experienced hyper-growth with more than 150 new employees globally.

What are the two major challenges you are coping with these days?

We consistently build and invest in new companies. The lockdowns challenge us since we have new teams that need to build significant relationships in a short period of time in order to grow fast and to develop their technology and products. The co-founders connect the team by using managerial routines as "good morning" Zoom meetings whose purpose is to get to know each other and to connect the employees.

The second challenge is how to preserve the outstanding Team8's candidates' experience that we had before Covid-19. Candidates interview the workplace at the same time as the employer interviews them, and they wish to feel how it is to be our employee. Before Covid-19, we had a huge advantage since candidates could visit our cool offices in Tel Aviv and New York City, meet the talented co-workers and experience the innovative vibe and Team8's special DNA. Now, we develop alternative ways and means to illustrate the special atmosphere and company culture that we have.

Are you actively recruiting? If so, what is the process and where can the applicants find you?

We are hiring and growing all the time. We have dozens of open positions at Team8's portfolio companies, in Israel and overseas.

You can find our current openings here: https://team8.vc/careers/

Usually, the process includes Zoom interviews and when possible, meeting at the office. That's very important for us to improve the candidate's experience, so during the final meeting, we introduce the candidates to the current team, via VC. That's important for the candidates to meet their future team members.

Which changes forced upon you by the circumstances will stay in place after Covid-19 is over, and which are you most eager to revert back to normal?

I think that the flexibility that is exercised will stay, and that's an advantage and an improvement in our day-to-day life. This flexibility has helped us to recruit talents that live far away from Tel Aviv, thereby expanding the net of talent we can employ. Before Covid-19, people from outside of the city wanted to avoid traffic (understandably) and may have preferred a workplace that is near their city.

Personally, I'm missing the cosmopolitan atmosphere that we had before Covid-19, with visits from co-workers from New York and delegations from all over the world who came to get to know the Israeli startup environment and our unique group. I especially miss seeing the building in Totzeret Haaretz street, Tel-Aviv, fully booked with 10 startup companies with a great synergy between them.