Which tech jobs will land you the highest salaries in Israel?
Job seekers' priorities are shifting with adoption of work from home; salaries have bounced back up after Covid-downturn
The most sought after employees in the Israeli tech market nowadays are deep learning algorithm developers, with demand for their skills climbing by 35% in the recent year, data from tech job placement company SQLink reveals. As a result, their salaries have increased accordingly hitting NIS 35,000 to NIS 45,000 a month for people with between three to six years of experience.

Other positions for whom demand grew significantly this year were Node developers (21%), and Java Server and Python programmers (18%).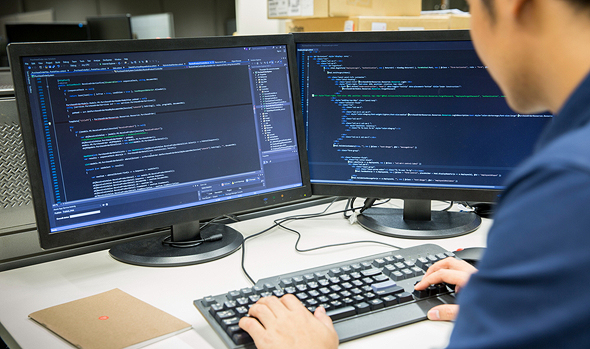 A software programmer. Photo: Shutterstock

Anyone who is considering a job in programming should be aware that the five most in-demand languages at the moment are Node C++, Java, Python, and React. Node programmers with 2-5 years of experience earn between NIS 22,000-30,000 a month, while Java and Python programmers earn between NIS 25,000-32,0000.

The hottest tech sectors nowadays are medical equipment, which saw employee demand climb by 27%, Artificial Intelligence (28%), Big Data (22%), Deep Learning, Cybersecurity, and finance and insurance technology companies.

SQLink's figures are based on thousands of monthly recruitment processes that took place in hundreds of companies throughout 2019-2020. "There was a significant increase in the number of recruitments in the second half of 2020 following the first lockdown," said Lotem Gabay Danino, SQLink's VP of recruitment.

Salaries last year remained much the same as they were in 2019. "The year can be divided into two. In the first half of the year, there was a decline in salaries due to companies freezing recruitment processes and unemployed techies willing to compromise on wages. The last quarter of the year saw a marked increase in demand for employees that caused salaries to climb to slightly above what they were in 2019," Gabay said.

The top earners are cybersecurity researchers, who earn between NIS 29,000 and NIS 60,000 a month. DevOps developers rank second, with salaries of between NIS 35,000-45,000 a month for people with between three to six years of experience, followed by Linux Kernel developers (NIS 32,000-45,000) and Big Data Python developers (NIS 28,000-38,000).

Applicants for their part, search for jobs that meet the following priorities: working conditions, salaries, professional challenges and development, impact, work-life balance, and finally proximity to the workplace. "Workplace stability is more important to employees than before, which makes them a lot more selective when choosing a place to work. Since nowadays there is little importance to social life and company culture, candidates tend to place higher significance on compensation," said Gabay.