After 5 years of being bootstrapped, Lusha raises $40 million series A
"We've had many investment offers, but we wanted a partner who would bring added value and who we'd enjoy working with," said CEO
Israeli startup Lusha announced on Wednesday that it has raised $40 million in a Series A funding round led by American growth equity firm Providence Strategic Growth (PSG), for which this is its first investment in Israel. Lusha's cloud-based platform enables salespeople to share accurate contact and company information with each other, providing sales professionals with vital insights on the customers they target. The new round included a secondary element in which shares were bought from the company's managers and employees, but according to the company's co-founder and CEO Yoni Tserruya, most of the money will be invested in the company.

Lusha is an oddity in the local ecosystem in that it hasn't raised external capital since it was founded in 2016. Speaking to Calcalist, Tserruya said they started generating revenues and grew their team to 120 people within months of founding the company. "We decided to raise money now because we realized that we required a financial partner to help us achieve our vision and realize the market opportunity that's open to us."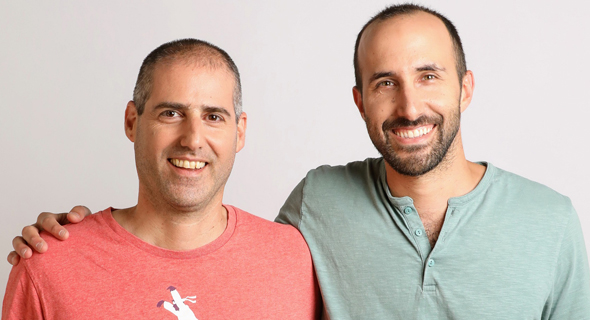 Lusha co-founders Assaf Eisenstein (left) and Yoni Tserruya. Photo: Geva Talmor
The company, which Tserruya founded together with Assaf Eisenstein, currently boasts upwards of 14,000 paying customers and 520,000 registered users around the world, including brands such as Google, Facebook, Amazon, Uber, and others. The funding will allow Lusha to further grow its international sales community. It will also expand its database and expedite research and development of its product to make accurate data accessible to all B2B sales professionals.
"Lusha helps sales and marketing people reach potential clients and generate sales leads. Our main competitor is the formerly Israeli company ZoomInfo, which currently leads the market," Tserruya said. "Our product is free to use, allowing clients to choose when they can start to pay if they need to expand. Our vision is to create the world's largest community of salespeople. We will reach 200 employees by the end of the year and are planning to open an office in Boston in the near future. We have sales of tens of millions of dollars and our doubling in revenues every year.
"We've had many investment offers, but we wanted a partner who would bring added value and who we'd enjoy working with. PSG made the best impression on us and they also come from a product company worldview, as we do," Tserruya said. "The investors have no intention of managing the company, but their very presence and our discourse with them makes us a better company."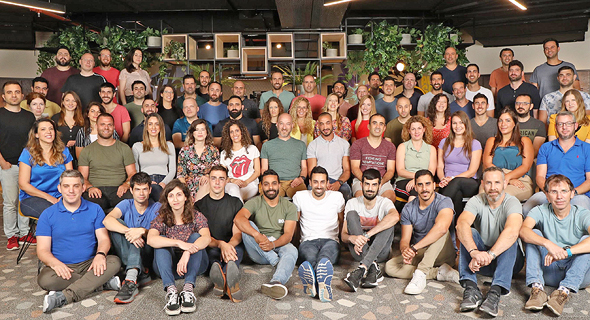 Lusha's team. Photo: Geva Talmor
Lusha's cloud-based platform enables salespeople to share accurate contact and company information with each other, providing sales professionals with vital insights on the customers they target. Lusha also recommends relevant prospects and organizations, eliminating cumbersome research and allowing salespeople to focus on what they do best - sell.
The community facilitates salespeople sharing contact information and company insights, which validates Lusha's data and ensures high accuracy. The company's community approach and affordability also ensure that salespeople from organizations of all sizes have access to the data they need to optimize their sales outreach.
"In an industry dominated by lengthy sales cycles, organizational buy-in and yearly contracts costing tens-of-thousands of dollars, Lusha's unique approach offers salespeople a much-needed alternative," said Eisenstein, who serves as Lusha's CEO. "Salespeople need instant results and access to affordable data. Lusha's simplicity and variety of packages allow them to instantly use Lusha - without the need for company approval or significant investment. We are excited to use the funds raised to further develop technology that makes data available for all salespeople and to take a step closer to our goal of turning Lusha into B2Bs largest data-sharing community."
"Lusha's core contact information database is one of the most comprehensive and accurate in the industry and solves a critical pain point in the B2B lead generation workflow, particularly in the remote work environment," said Adam Marcus, Managing Director at PSG. "In a short period of time, Lusha's talented team has set the company on an impressive trajectory with a highly capital-efficient business model, and we're thrilled to have the opportunity to support their continued growth and innovation."