HR Post Covid
To keep creativity alive, Lightricks initiated its 'Creativity Festival'
It can be hard to be creative when working from home during a year-long pandemic. Here's how Lightricks inspired its staff
"In the current situation, new employees join the company but don't necessarily get to experience everything that Lightricks has to offer," explained Neta Geva, Director of Human Resources at Lightricks. "This led us to create and celebrate our very first company 'Creativity Festival' - a month-long remote and on-site creative activity, where different people from various teams work together to create creative solutions for our company and products."
According to Geva, the results from the new creative activity were "incredible", and the company even included some of them in its 2021 roadmap. Lightricks has joined CTech for its HR Post Covid series to explore how companies can make sure their employees are cared for.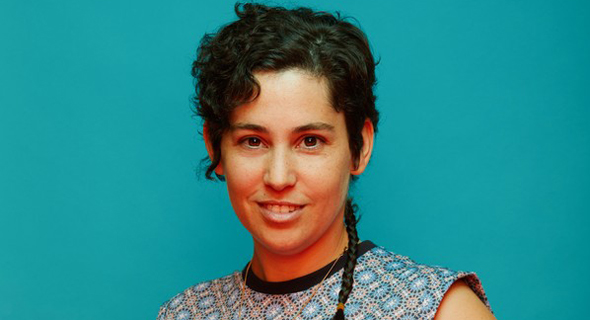 Neta Geva, Director of Human Resources at Lightricks. Photo: Ofir Aba
Company Name: Lightricks Ltd.
HR Leader: Neta Geva, Director of Human Resources
Field of Activity: Consumer technology, mobile apps, content creation
Number of employees/location: Jerusalem - 430; London - 22
Professional background of HR Manager:
I have a Bachelor's degree in physics and a Master's degree in philosophy. During my Master's degree, I co-founded and managed a non-profit advocating for gender education, at that time the organization oversaw the work of 80 volunteers. I joined Lightricks three and a half years ago, back when the company had only 70 employees and no one was in charge of HR. I established our HR department which today includes 10 team members. With the rapid success and hyper-growth of our company (which today consists of 450 employees), a substantial part of my job is to drive the forefront of the HR strategy while supporting the various departments, managers, and employees, in their efforts to continuously grow.
On a scale of 1-10, how much did the coronavirus pandemic disrupt operations at the company?
From a business perspective, our company saw tremendous growth. We saw some of the biggest surges in app downloads, usage, and sharing of visual content during the first part of the pandemic, and due to user demand for easy-to-use creative resources during Covid-19, we managed to create and release new products into the market. Hence, we needed to continuously grow and recruit.
From an operational point of view, we quickly shifted to a complete work-from-home model. Our Operations team did some incredible work providing employees with everything they needed in order to create the optimal work environment at home - from chairs and tables to anything else employees might need. We also offered different benefits such as subsidized babysitter services, internet discounts, and changed our 10bis (employee meal plan) policy.
We also reimagined our office to make sure we provide a safe office environment for our employees. Our office is sanitized daily and we created designated spaces for employees who wish to work solely from the office and hotspots for those who wish to come occasionally. We provided employees with a car rental service to avoid using crowded public transportation and offered on-site rapid PCR tests for everyone.
One of the main challenges is to preserve the company culture and the sense of community which is a core part of the company DNA. As we now employ the hybrid model, we try to create more social interactions for the company employees. We established multiple communication channels with our employees such as social Slack channels, support groups for parents, and daily syncs with our management team.
We onboarded over 130 new employees to Lightricks during Covid-19 and for that purpose, we made several customizations to our hiring and onboarding processes, conducting the entire interview process remotely while making sure that new employees have a 'soft landing' in our company. Our employees receive all needed equipment a week prior to their first day at work and we make sure they have frequent syncs with professional and social mentors to support them during the onboarding process.
What interesting technological tools do you use in employee management/recruitment?
Like most of the other companies, we use Zoom and Google Meet for our daily meetings. We maintain several Slack channels for company culture purposes such as online coffee breaks, different employee interest groups, and a specific channel where employees can ask our CEO direct questions for our weekly company Q&A.
One of the things we're most proud of is the in-house HR system that we developed to follow up on employees' option plans and salaries, it saves us a lot of manual labor and helps us make data-driven decisions regarding compensation.
What positive and/or negative impact did the outbreak have on the human capital of the company?
This state of uncertainty has obviously had a negative effect on everyone, especially dealing with the ongoing lockdowns. We want to make sure our employees feel seen and that they don't reach the point where they feel burned out. This was one of the reasons we provided the babysitting services for parents and encouraged everyone to take days off. On a positive note, being a Jerusalem-based company and having implemented the hybrid work model, we can attract talent from almost everywhere in the country and also encourage a work/life balance.
What are the two major challenges you are coping with these days?
At Lightricks, we dream big - which means almost every team is in need of talent. Over the years, Lightricks was able to release products into the market quickly and effectively but in order to maintain the success of those products we needed to find the manpower to support them. I think our biggest challenge is to find the balance between our significant growth and the need to create a gradual process. We constantly have to prioritize our recruitment needs and make sure we preserve the company's DNA.
As a creative company, we put great effort into creating an office atmosphere with different social and creative activities like our weekly yoga classes and game nights. In the current situation, new employees join the company but don't necessarily get to experience everything that Lightricks has to offer. This led us to create and celebrate our very first company 'Creativity Festival' - a month-long remote and on-site creative activity, where different people from various teams work together to produce creative solutions for our company and products. The results were incredible and we even included some of them in our 2021 roadmap.
Are you actively recruiting? If so, what is the process and where can the applicants find you?
Yes, we are! The company currently holds about 40 open positions, both technological and creative roles. We keep all the information updated on our website and you can find all our open positions here, we also post on our social media channels, so make sure to follow.
We shifted to a virtual recruiting process pretty quickly. We conduct our interviews via Zoom and usually include an assignment in the process. We strive to make sure that our candidates have all the information they need about our recruitment process and the day-to-day work at Lightricks.
Which changes forced upon you by the circumstances will stay in place after Covid-19 is over, and which are you most eager to revert back to normal?
We're planning on staying in a hybrid work model at least for 2021. Having said that, we strongly believe in creating a social work environment and we will continue to encourage people to come to work at the office. We miss having everyone around and we hope to find a long-term solution that fits our employees.