HR Post Covid
Lightrun is ready to "swipe-right" on talent… even in a pandemic
While it can be hard to experience hyper-growth in Covid-19, Lightrun has found a way to make it fun
"As a fast-growing startup, we are always looking to swipe-right on the best candidates to join our team," explained Gal Shor, HR & Operations Manager at Lightrun. "We are totally committed to candidates and people in general."

According to Shor, women represent half of Lightrun's executives and 40% of its overall company. "If we're a match, get ready, because things are going to move fast…"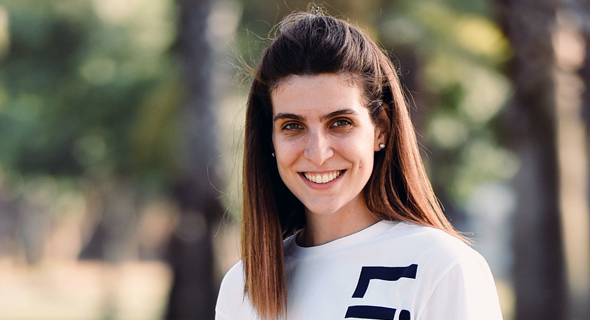 Gal Shor, HR & Operations Manager at Lightrun. Photo: Tomer Rotenberg

Even though Covid-19 stopped a lot of companies in their tracks, it appears that Lightrun is still ready to 'commit' to new employees, even having cake and coffee dates once offices open up again. The company joined CTech for its HR Post Covid series to explore how it spots and attracts top talent.

Company's summary:

Founded in 2019, Lightrun is a Tel Aviv-based startup building a platform for developers, by developers. Towards the end of 2019, we successfully raised $6.5 million in a seed round led by Glilot Capital Partners with participation from a number of engineering executives from several Fortune 500 firms. The company was co-founded by Ilan Peleg and Leonid Blouvshtein, serving as CEO and CTO, respectively. Today, Lightrun has customers such as Taboola, Sisense, Tufin, and more.

Company Name: Lightrun

HR Leader: Gal Shor, HR & Operations Manager

Field of Activity: Our product allows developers to get a firmer grip on their production services without breaking development flow, by enabling them to understand how their applications "behave", code line by code line. Customers adopting Lightrun consistently reduce their customer-facing issues time-to-resolution by 50-60% and boost their developers' productivity.

Number of employees/location:

20 people in Tel Aviv, Israel. We are expecting to double the number of employees this year, mostly in the fields of development, product management, and GTM.

Professional background of HR Manager:

I've always been interested in people and what makes them tick, but my original path was a little bit different from that which I'm on now. In the beginning, I moved into investment banking and studied economics.

During my studies, I undertook a couple of organizational behavior courses and discovered that this was my passion. Everything came intuitively to me. My aunt, who is a business anthropologist, aided me in moving forward in this profession and pointed me in the direction of a few interesting studies on the subject. One of these studies left a lasting impression on me.

I learned that more than 70% of people were looking for new jobs while being employed, and I found this statistic sad yet intriguing. I wanted to make a difference and create a community where staff could realize their personal ambitions as part of a team working towards one goal, where they would feel satisfied, and where we could forge a sense of loyalty and togetherness.

I decided to start my new vocation in startups and joined CHEQ as one of the first members of the team. I found the job and the challenges that came with working at a startup incredibly stimulating and I loved seeing how an individual would contribute to the company and vice versa. After an enlightening experience at CHEQ where I helped to build the company's DNA and increase employee engagement and happiness, I joined the incredible team at Lightrun: a team built upon extraordinary personality, modesty, and professionalism. My debut at Lightrun coincided with the emergence of the Covid-19 pandemic which has brought with it a plethora of challenges, but ones that together we've enjoyed overcoming.

On a scale of 1-10, how much did the coronavirus pandemic disrupt operations at the company?

Surprisingly (or not), Covid-19 actually helped our business. The Lightrun platform is built on remote work, so it naturally had a special use during this period.

In terms of people and logistics, our company is highly organized and we really care about each other. During the first nationwide quarantine, we immediately adjusted to the new situation by having personal catch-up meetings (with Zoom obviously) with the direct manager and the CEO, adding weekly gatherings for our staff to share their feelings and thoughts (really), and providing online workout classes for the employees and their families.

We wanted to put emphasis on helping our team stay connected to each other, given that we wouldn't be able to meet in the office. We knew that being a young startup promoting the social and human side of our work now more than ever was imperative to maintaining our team's camaraderie and so we came up with innovative ideas to help us do this.

Taking our family's family into consideration, we've continuously tried to be as flexible as possible with defined working hours and have created DIY art boxes for their children to keep them occupied while their parents work.

Inspired by the study "The Experimental Generation of Interpersonal Closeness" (Aron et al., 1997), I tweaked a questionnaire from it and then asked our crew different questions in our weekly meetings.

In the beginning, the questions were relatively simple and straightforward; things such as, "Tell me one thing you like about one of your colleagues", and "Given the choice of anyone in the world, whom would you want as a dinner guest?" but gradually as the weeks progressed these questions became tougher and more thought-provoking. The idea was that throughout the weeks in lockdown that the team would get to know each other on a deeper level, helping to foster a stronger culture that we all felt a part of.

Now, we have a weekly gathering that we coined "The Bitching Hour" where each one of us shares what we are going through because let's face it - the Covid-19 pandemic has affected our personal lives and many people have had to learn to cope with newfound struggles and frustrations. We created a place for our teammates to share their frustrations - you feel better when you talk to friends after all.

For most people, their home is where they feel the most secure - so it makes sense that during this time we have actually seen our team feel more comfortable in talking about their feelings both about work and their day-to-day lives. This has served us well, helping us really bond as One Team.

In addition to the weekly gathering, we also set coffee breaks between teammates in their calendars to help them stay in touch and continue to strengthen their relationships.

What interesting technological tools do you use in employee management/recruitment?

At Lightrun we've designed a tool to improve the way developers debug their applications. But with people, we prefer to put technology aside - it's not computers we're hiring after all.

In general, recruitment during the pandemic is more competitive than ever before. We have put a lot of thought into what the best way of recruiting people is, and what potential new candidates would need to thrive in their roles.

The recipe we've conjured up to create a company culture is a delicate one, with ingredients that we've picked carefully to ensure they enhance the flavor of the final outcome. For this reason, even before we look at budding candidates' technical backgrounds, we need to ensure they are the right person for our Michelin startup.

"What makes you happy?" Easy right? Unexpected question. Not the first question in a job interview that the potential candidates think about. At Lightrun we believe human conversation is always the best way to filter your candidates. As a growing startup, the best tool that we have at our disposal is our interpersonal skills.

What are the two major challenges you are coping with these days?

Firstly, recruitment-wise, being on the hunt for outstanding A-players, both personally and professionally, is not an easy task. This is true even more so in our current competitive environment, combined with our strict standards and the fact that we're in hyper-growth mode right now. It takes us a little extra time, but all our new additions have been superb so far.

We also take the social aspects very seriously; as I described already, we dedicate a lot of time and planning to make sure mental health is cared for and the same is true for meet-ups whenever conditions allow such. It's our number one priority that we preserve the DNA of our culture at Lightrun. That also means we eat a lot - but … I guess we'll take the challenge of the waistline next.

Are you actively recruiting? If so, what is the process and where can the applicants find you?

As a fast-growing startup, we are ALWAYS looking to swipe-right on the best candidates to join our team.

We are totally committed to candidates and people in general (yes.. the committed type). Right now, women represent half of our Executives and 40% of our overall company. If we come across a go-getter who loves to build from scratch, has a track record of excellence, and is open-minded, we set out to get them. If we're a match, get ready, because things are going to move fast.

Right now, we're looking for frontend software engineers, a product designer, and GTM-qualified people to join us. Lightrun is looking for the creme de la creme - if you think that you have what it takes to get serious with us, we're sure you'll find a way.

Which changes forced upon you by the circumstances will stay in place after Covid-19 is over, and which are you most eager to revert back to normal?

We are totally going to maintain openness as part of our DNA and promote sharing your feelings and emotions whether you're in a bad mood, or having the time of your life.

As for the office, the best ideas come when talented employees think together. We love to be together at the office as often as possible, and our team is eager to share blueberry-eating breaks together whenever we can.

If we dare to dream, then we would love to have a drink together at an establishment (ok and to eat something good) but we don't need any more than that.