Israel-based Acumen raises $7 million in seed for engineering solutions platform
Customers of the engineering intelligence platform include Bizzabo, Cloudshare, and Logz.io
Engineering intelligence platform Acumen has announced that it has secured $7 million in seed funding, with Hetz Ventures, 10D, Crescendo Venture Partners, and Jibe all participating in the round. Acumen helps software development teams boost predictability and productivity by unifying data from different engineering systems and highlights hidden patterns using machine learning.
"As they scale, engineering teams face major obstacles staying aligned and focusing on the highest-priority issues," said Nevo Alva, CEO and co-founder of Acumen. "Solving these challenges requires both a comprehensive view of the team from across systems and contextual intelligence: not just what happened, but what it means – and what to do about it."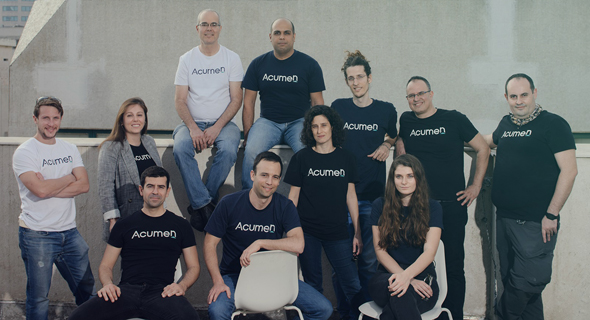 The Acumen Team. Photo: Tom Bartov

Software engineering typically involves many systems and dependencies between teams. In today's remote-working environment, it can be challenging for teams to identify areas of improvement, pinpoint focus areas, or avoid risks. While traditional solutions consist of descriptive analytics, Acumen unifies and mines data from multiple sources to help improve team outcomes.

The Acumen platform is used by engineering teams from companies such as Bizzabo, Cloudshare, and Logz.io, whose VP Engineering Doron Gill said that Acumen provides "a continuous flow of highly relevant insights that help us avoid risks and continuously improve execution."

"At a time when every team in the enterprise is becoming more data-driven, engineering has struggled to keep up," added Pavel Livshiz, Partner at Hetz. "Acumen finally delivers the cross-system visibility and intelligent guidance that teams need to make engineering less of an art and more of a science."

Acumen was founded in 2019 by Alva, who had previously served as the CEO of Visualead, which was acquired by Alibaba for $15 million, alongside Daniel Shir (CTO) and Itamar Mula (VP R&D). Shir and Mula were the co-founders of social gaming developer Nextpeer, which was sold to Viber Rakuten for $9 milloin in 2015.