SoftBank and Adam Neumann squeezing WeWork for all that it has
After a much-publicized fallout and with a public offering beckoning, the Japanese conglomerate and the Israeli entrepreneur are nearing a settlement
Is $480 million a little or a lot? Well, that depends on your point of view. According to a settlement agreement signed between Adam Neumann and SoftBank back in 2019, the Israeli founder of WeWork was meant to receive around $1 billion following his departure. With that in mind, $480 million doesn't seem like that much.

The agreement at the time valued the shared workspaces company at $9 billion, with SoftBank agreeing to pay $3 billion for 21% of the company's stock. However, SoftBank CEO Masayoshi Son backtracked at the beginning of last year and Neumann responded with a lawsuit.

The two parties are now reportedly close to agreeing on a settlement according to which SoftBank will acquire 10.5% of the company's shares for $1.5 billion, which will mean Neumann will receive half the sum he was initially promised. However, the new agreement will also leave Neumann as the largest private shareholder in the company which he founded and built up, only to be ousted following its IPO debacle.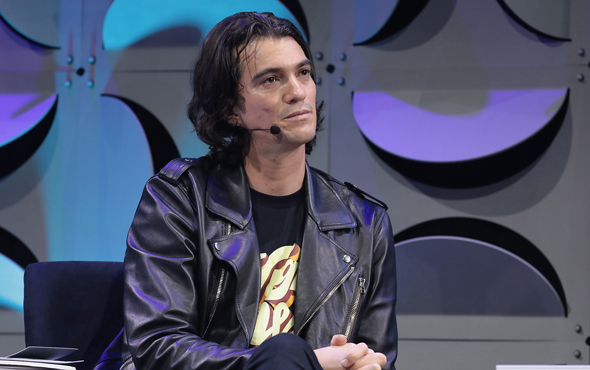 Adam Neumann. Photo: Bloomberg

The motivation behind the settlement is the return of the dream of taking WeWork public, this time at a $10 billion valuation. The dream seems within reach on the back of the recent SPAC trend which has taken the U.S. market by storm.

SoftBank wants to move forward as quickly as possible with its renewed plan to get WeWork listed in order to make the most of the current momentum, and with the understanding that the opportunity could dissipate at any moment. The fallout with Neumann doesn't look very good, even to institutional investors who are already willing to invest in WeWork again.

SoftBank has already taken a loss amounting to tens of billions of dollars on its shared-workspace adventure, so what is another $1.5 billion on the way to the much-awaited public offering?

If it wasn't for the offering, Sun and Neumann would have likely battled it out in court for many years, with Sun carrying all the risk while Neumann would be left without the big money that was supposed to act as compensation for his public ousting. Both sides now recognize the opportunity that has arisen courtesy of the surging stock market and the unfathomable ease with which unprofitable companies are going public via SPACs.

Alongside the report on the potential compromise, sources at WeWork also disclosed that the company is nearing an agreement to merge with the SPAC Bow Capital. Bow Capital has raised $350 million to date, but WeWork is targeting a greater sum, which is why the aforementioned SPAC is currently trying to raise hundreds of million of dollars via a PIPE investment (private investment in public equity).

It seems likely that SoftBank will already sell some of its shares in WeWork as part of the upcoming public offering. The Japanese multinational conglomerate holding company will have a 90% stake in the company following an agreement with Neumann, who may also decide to offload shares as part of the offering.

A $10 billion valuation was not Neumann and Son's big dream, as they had hoped to take WeWork public at a valuation of $40 billion back in 2019. However, that still seems like quite a bit of money following the revelations regarding the company's mammoth losses and its rotten organizational culture - part of which has already been published in a book and which is also set to be highlighted in a new Apple series named WeCrashed starring Jared Leto as Adam Neumann and Anne Hathaway as his wife Rebekah,

Following the approval of the settlement agreement, Neumann will be able to call himself a billionaire once more, a status which he lost in 2019 when the WeWork bubble burst. His fortune was estimated at just $450 million after he was forced to depart, compared to a record $14 billion in the company's heyday.

How is WeWork of 2019 different from WeWork of 2021? For one, there is far less hype and hibris than the days of Neumann. The company is currently headed by two executives that are extremely dull in comparison to the long-haired Israeli entrepreneur which they were brought in by SoftBank to replace and clear up his mess.

The company has undergone significant cutbacks since their arrival, laying off around 2,000 employees. According to a report at the end of last year, WeWork recorded income of $811 million in the third quarter of 2020, while the company posted a cash burn of $517 million. According to estimates, the company has $3 billion in its coffers courtesy of SoftBank's funding.

The past year was complex for the entire office real-estate market due to the move to remote work. However, the effects on shared workspaces companies are still unclear. On the one hand, one of WeWork's biggest competitors, Knotel, had to recently file for bankruptcy. On the other hand, there is some optimism regarding the sector which is based on the belief that big companies will want to provide their employees with small accessible workspaces closer to their homes and avoid having to fund massive headquarters with long-term deals. WeWork has the advantage of having a strong and recognizable brand, which absurdly is in no small part the result of Neumann's antics that will soon reach TV, like for example, consuming drugs on a private plane that cost the company $60 million.