Abu Dhabi Investment Office (ADIO) establishes formal ties with two more Israeli government entities
The agreements with Invest in Israel and Israel Innovation Authority are part of a series of strategic initiatives following the Abraham Accords
The Abu Dhabi Investment Office (ADIO) has announced that it has established formal ties with Invest in Israel and the Israel Innovation Authority, two key government entities that help accelerate private sector collaboration on investment and innovation. The agreements, which were both signed independently, are part of a series of strategic initiatives that the ADIO is undertaking to foster greater opportunities with Israel.

"Abu Dhabi is an established destination for businesses and startups from all over the world" said H.E. Dr. Tariq Bin Hendi, Director General of ADIO, the government hub supporting private sector investment in the Emirate of Abu Dhabi. "The cooperation agreements with Invest in Israel and the Israel Innovation Authority will accelerate partnerships and opportunities for businesses in our two markets. It is truly amazing to see how far we have come since our initial meeting with Ziva Eger and her team at Invest in Israel in the days following the announcement of the Abraham Accords. Both of these partnerships and much of the activity to date can be attributed to that historic moment."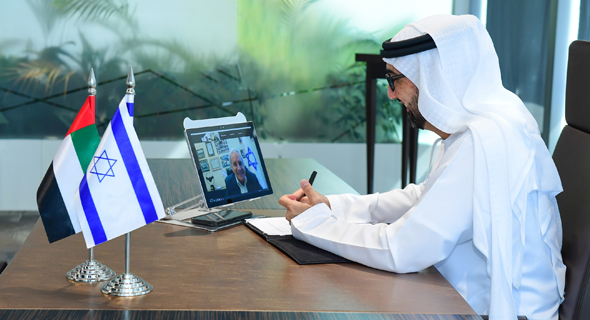 H.E. Dr. Tariq Bin Hendi speaking with Director General of the Ministry of Economy David Leffler. Photo: PR

Invest in Israel operates as a 'one-stop-shop' for foreign investors, as well as a connector between private and public sectors as a way to attract investment in Israel. The Israel Innovation Authority is an agency that operates under the Ministry of Economy responsible for fostering the development of industrial R&D in Israel.

"The agreement catalyzes partnerships between Emirati and Israeli companies at all growth stages as well as institutions, investors, startups and aspiring entrepreneurs for the development of advanced technological innovations in leading sectors such as agriculture and healthcare," added Dr. Ami Appelbaum, Chief Scientist, Ministry of Economy and Industry and Chairman of the Israel Innovation Authority.

The agreements follow the announcement last month that ADIO had chosen Tel Aviv as one of its eight new investment hubs.