IL Tech in NY
Moving to New York? Don't forget your Chutzpah!
As part of IL Tech in NY in collaboration with Israeli Mapped in NY, IoT cybersecurity company Firedome discusses what Israelis can take into the office - and what should be left behind
"While trying to speak 'American' and fitting in, don't forget your Israeli Chutzpah," say the executives from IoT cybersecurity company Firedome. "Hustle and use it to get the intro, and to land the deal. We're Israeli, we have this superpower - use it."

It can be hard for any person to cross oceans and set up a business in a foreign culture. While there are etiquettes to adopt, it's also important to take some of your local attitudes with you. Just make sure not to bring too much.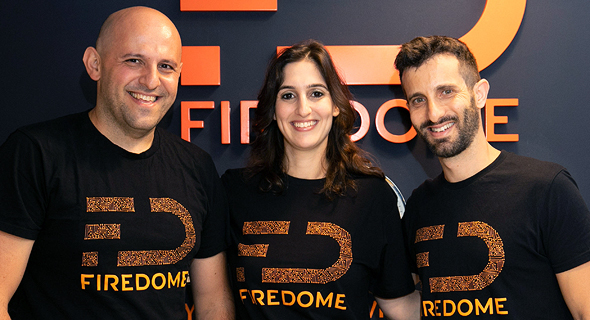 Firedome's Moti Shkolnik, Sharon Mirsky, and Orr Chen. Photo: PR

"That said, be professional," advise Moti Shkolnik, Sharon Mirsky, and Orr Chen. "Don't be late for meetings. Come prepared, send follow-up emails on time, be process-oriented, and be respectful to everyone involved."

Firedome has joined CTech for IL Tech in NY to discuss some of the nuances that need to be carefully balanced if you intend to take your company - and its culture - overseas.

Company name: Firedome

Field of activity/product: IoT cybersecurity

Founders: Moti Shkolnik, Sharon Mirsky, Orr Chen

Year of founding/start of New York operations: 2018

Number of employees and whether the company is active in other locations: 35 team members spread across our three sites New York City, Tel Aviv, and Minsk.

Sum of total funding to date/funding rounds completed: $14.5 million.

Names of investors/VC backers: Two Sigma Ventures, World Trade Ventures, Silverstein Ventures, as well as private investors from the computer electronics industry.

General background on the founders/senior managers:

Moti Shkolnik: Co-Founder and CEO

Moti served as a Brigadier General in the Israeli Defense Forces. With 15 years of cybersecurity and R&D leadership experience, he headed the Cyber Division directly under the Office of the Prime Minister, putting him at the forefront of Israel's national cybersecurity. In addition to Moti's work at Firedome, He is a cybersecurity advisor for one of the largest VCs in Israel as well as a member of the UL 2900 Security Standard Technical Panel that defines global cybersecurity standards for IoT devices and manufacturers.

Sharon Mirsky: Co-Founder and COO

Prior to founding Firedome, Sharon was the CEO of Kyozou Inc. Sharon also co-founded and ran operations at ICONYC labs, which was the first startup accelerator for Israeli startups in New York City. Sharon has over 15 years of experience in technology and management with a deep focus on software startups, cybersecurity, and telecommunications. Sharon is an alumnus of the Israeli elite intelligence Unit 8200.

Orr Chen: Co-Founder and VP R&D

Prior to founding Firedome, Orr was a co-founder and CTO at PushApps, a monetization platform for mobile push notifications that was acquired by AirPush in 2017. Orr has vast experience in software development on mobile, web, and cloud, both as a manager and as a developer, working with startups and enterprises and helping them build scalable full-stack solutions.

Background on the product/service/platform/solution:

The IoT market has been poised for explosive growth for a few years, yet, while growing exponentially, it has not produced the growth numbers that were expected. The largest hindrance to growth is the privacy and security concerns from all sides.

Firedome is driving a revolution in the IoT device space by providing an advanced end-to-end monitored cybersecurity platform for devices, users, and brands. We provide brands with the tools required to protect their devices while leveraging security to grow their business exponentially. Our advanced cybersecurity offering is unmatched and we are working with some of the largest brands in the world to drive a new standard of privacy and security for all connected devices.

Why New York? What advantages does it offer? How does the market differ from Israel? How does the competition differ?

While serving as Head of Cybersecurity at Israel's Security Agency, Firedome Co-Founder and CEO, Moti Shkolnik, learned just how easy it is for attackers to gain access to IoT devices. His hands-on experience on the offensive side taught him the severity of the collateral damage such breaches pose. The IoT market was growing rapidly in the USA and to be part of this fast-moving industry, it was important to be in the epicenter of the growth.

In the summer of 2017, Moti moved to New York City with his family where he met Sharon Mirsky who was already living in New York City and together with Orr Chen, decided to establish Firedome.

As for competition, there are a few other competitors that started around the same time as Firedome. That said, the IoT market is vast and our value proposition is unique so we don't really feel the competition so far.

Two things you learned about the U.S. market from operating in New York
Relationships are key. Unlike Israel, where there is a maximum of two degrees of separation between any two people and you can call your buddy from your army unit to hear about any potential client, employee, or investor, the US. is massive and the way to build trust is through establishing value-oriented relationships.
New York is not the U.S. The U.S is huge and people are very different from one state to another and one city to another. Being in New York is being in the center of the world. You have art, technology, the best schools, and an amazing and eclectic population.

Things you learned about American investors as a result of starting operations there:
American Investors will not tell you outright what they think and are polite with business acumen (Israeli investors are blunt and direct). Board meetings with American investors are usually also calm and civil.
From our experience with U.S investors, we feel that they have respect for the different roles and values of founders/operators vs. board members. The American VCs we have worked with do not try to take the driver's seat and enable founders to lead the company and make the operating decisions while they advise and provide support from the sidelines.

Suggestions for Israeli entrepreneurs on what to do in New York:
Utilize the Israeli community. The Israeli Tech Community in New York City is very tight-knit and helpful and any Israeli founder can and should reach out to other founders and startup executives in the city. It saves a lot of time and can truly accelerate success.
Learn the subtleties of American feedback to save time and frustration. If someone said it's very interesting - you will most likely never hear from them again! If someone said they want to 'do coffee' - they probably don't want to speak with you.
When you grow your team to non-Israelis remember to only speak English next to them. It can be very hard to crack into Israeli startup culture. Help your team members by speaking English and bridging the cultural gap. For example, if you'd say to an American employee "how about that idea?" they will go ahead and execute it, whereas an Israeli employee will probably debate whether or not this is the right decision.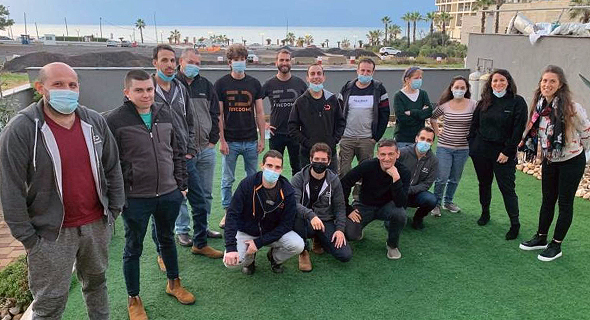 The Firedome Team. Photo: PR
Two suggestions for Israeli entrepreneurs on what not to do in New York:
While trying to speak "American" and fitting in, don't forget your Israeli Chutzpah Hzpa. Hustle and use it to get the intro, and to land the deal. We're Israeli, we have this superpower - use it.
That said, be professional. Don't be late for meetings. Come prepared, send follow-up emails on time, be process-oriented, and be respectful to everyone involved.

On a scale of 1-10 how much did the Covid-19 pandemic impact your work?

After Covid-19 started we left our beautiful Chelsea offices and started to work from home. In the past, we would travel to almost every sales meeting and spend a lot of our time in face-to-face customer meetings, dinners, conferences, and events. We see that the productivity levels of employees are not negatively impacted from working from home, quite the opposite.

While we miss traveling and face-to-face interactions, from a sales perspective we are closing large enterprise deals in a short period of time without ever meeting the customer in person, so we see there is another way to conduct business.

In parallel we do see how important it is to maintain the company spirit and enable the strong connection between the team members and to address these issues, we have a full strategy in place that creates opportunities for the employees to hang out, work, and enjoy together in both the digital and the real world. Some examples are how we rented an offsite space, we've built a virtual office application for collaboration, etc.

What are the differences when it comes to recruiting employees?

Pre-Covid-19 we were very against working from home on a regular basis. We were always flexible although we wanted our team members next to us and together as a team. Covid-19 made remote the status quo and we realized fairly quickly that we need to embrace the change and use it to our advantage. We decided to take this as an opportunity and hire the best people from anywhere in the world which has allowed us to diversify our talent pool significantly.

What are some of the workplace culture differences between Israel and New York?
In the U.S, people do not talk about personal life at work, whereas in Israel everything is fair game and there are no filters.
In the U.S, the culture is very politically correct, which includes not speaking about politics, being very sensitive to the potential misinterpretation of words, and being respectful to all minorities. In Israel, there is much less sensitive to these issues, no political correctness and everything goes.
In the U.S, disagreements and arguments are civil, whereas in Israel, we live for passionate and loud arguments.

The IL Tech in NY project is a collaboration between CTech and Israeli Mapped in NY. For more information email Guy Franklin via the site.