Aleph Farms partners with BRF to bring cultivated meat to Brazil
Brazil is one of the largest beef producers in the world - and a strategic market for the producer of cultivated meat
Israel's Aleph Farms has signed a Memorandum of Understanding (MoU) with BRF, a Brazillian meat and food company, to bring cultivated meat to Brazillian tables. Per the new agreement, the companies will co-develop and produce the meat using Aleph Farm's BioFarm production platform. In turn, BRF will distribute the beef products across Brazil.

"We are thrilled to join forces with BRF, a global food and meat industries leader," said Didier Toubia, Co-Founder and CEO of Aleph Farms. "This new partnership advances Aleph Farms' strategy to integrate into the existing ecosystem as part of our go-to-market plans. Leveraging the expertise and infrastructure of leading food and meat companies will drive a faster scale-up of cultivated meat and eventually lead to a broader positive impact... We are convinced that shared values are the key to a successful long-term partnership."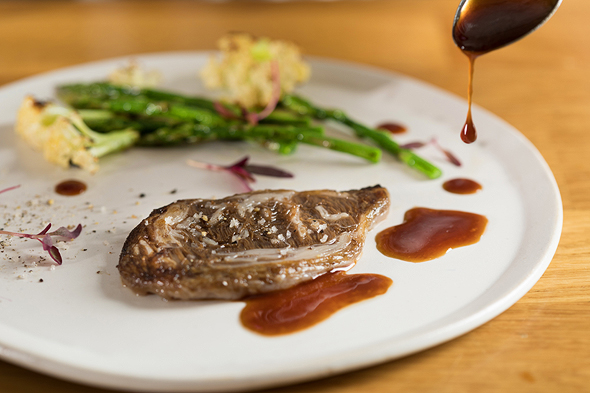 A look at a Ribeye steak made from Aleph Farms' technology. Photo: Aleph Farms

BRF has more than 30 brands in its portfolio, making it one of the largest meat producers in the world. It has a reported annual revenue of $7.25 billion, $28 million of which it invests in environmental and sustainable projects. The partnership between the two companies comes at a time when Brazil recently reaffirmed its commitment to reduce its total net greenhouse gas emissions by 43% in 2020. Since livestock accounts for a significant portion of greenhouse gas emissions, the MoU demonstrates how each company can help each other achieve a more sustainable future.

"BRF is ready and charged to play a leading role in this food revolution and be an active participant in one the greatest industry transformations of this generation," added Lorival Luz, CEO of BRF. "Since 2014, we have witnessed an increasing global demand for new sources of protein driven by several factors, namely environmental concerns, new diets and lifestyles, which has spurred the growth of new dietary genres including flexitarianism, vegetarianism and more."

Aleph Farms was founded in 2017 by The Kitchen, a food-tech incubator from Strauss Group in collaboration with Technion Israel Institute of Technology. Its technology can cultivate different types of beef from non-genetically engineered cells isolated from a cow to produce fat, muscle, and blood vessel cells, to create a patty or substance that resembles a 'real' cut of meat. BRF is one of the world's largest food companies and is present in more than 130 countries. In total, it has 95,000 employees, 300,000 clients, and 10,000 partners in Brazil.