Pepticom raises $2.6 million for PeptiCov, spin-off company combatting Covid-19
PeptiCov will use Pepticom's AI technology to design, discover and develop novel peptide molecules
Artificial Intelligence peptide drug design company Pepticom has raised $2.6 million to establish a company that can treat the SARS-Cov-2 virus responsible for the Covid-19 outbreak. The funding round, which was led by the Chartered Group, has resulted in PeptiCov, which will implement AI technology to design, discover and develop novel peptide molecules

"Unfortunately, Covid-19 and the various viral mutations will likely be with us for a long time and thus effective treatment is key," said Immanuel Lerner, Founder and CEO of Pepticom. "PeptiCov is focused on discovering and developing an effective treatment for SARS-Cov-2, which would allow the world to live alongside the virus rather than remain in lockdowns and other drastic measures."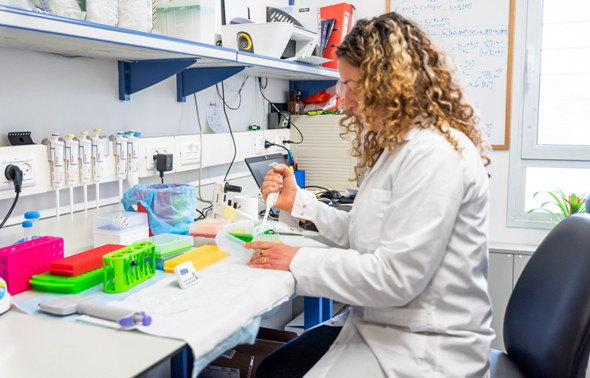 A look inside the Pepticom Lab. Photo: Itai Monnickendam

Pepticom's AI technology streamlines and accelerates the process that discovers candidates for peptide-based drugs. It does this by searching for sets of possible solutions and reducing the risk of failure as it filters out the most suitable candidates, considering properties such as solubility and permeability, amongst others.

"We made this investment out of our belief in Pepticom's application of AI via PeptiCov for SARS-Cov-2 drug discovery and early development," said Eyal Agmoni, Chairman of Chartered Group and Technology division, which has previously invested in Peticom. "Pepticom's unique AI platform allows for various drug discovery efforts, and we are excited to join this spinoff company."

Pepticom was founded in 2011 by Ph.D. graduates of the Hebrew University of Jerusalem and offers AI peptide drug discovery solutions. It can help research centers, pharmaceuticals, and agricultural companies to speed up molecule discovery to help with metabolic diseases and immuno-modulators. It has raised a total of $7.6 million following a $5 million round in August 2019.

The Chartered Group's Technology division invests in companies relating to the biomedical, artificial intelligence and IoT industries. The Chartered Group is an anchor investor in TAU Ventures, the venture capital fund of Tel Aviv University.