"Salesforce for eCommerce": Cymbio raises $7 million series A for its brand connectivity solution
The round was led by Vertex Ventures with participation from Payoneer founder Yuval Tal
Brand-to-retail connector Cymbio announced on Wednesday that it has raised $7 million in series A funding for its platform helping connect brands to online marketplaces and retailers. The round was led by Vertex Ventures and included participation from Yuval Tal, founder of Payoneer - one of Israel's most valuable fintech companies.

Ever since the rise of online shopping and the decrease of physical stores, a trend only accelerated by Covid-19, brands have been expected to manage hundreds of retail landscapes to sell their products. This can include using different images, texts, formats, and adjusting to each requirement for each specific retail channel online - a problem that Cymbio believes it can solve for brands seeking to promote their items online.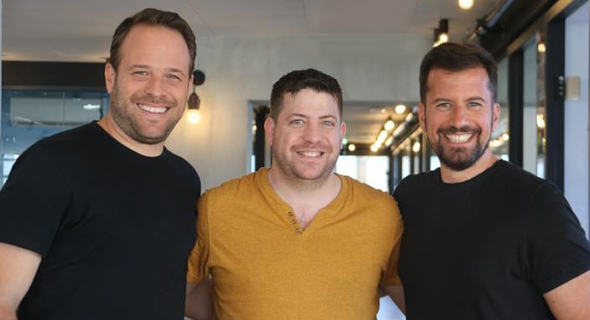 Left to Right: Mor Lavi, Co-founder & COO; Gilad Zirkel Co-founder & CTO; Roy Avidor Co-founder & CEO. Photo: Cymbio

The agnostic platform automates all drop ship and marketplace operations for brands, including product data, mapping, taxonomy, inventory syncing, orders, returns, and more.

"There was a big gold rush towards online stores and marketplaces," Cymbio CEO and co-founder Roy Avidor told CTech when looking back at April 2020. "The problem, or challenge, for the brands was that each one of those retailers or marketplaces has a ton of requirements and different ways and processes of working and doing business. What we do for the brands is streamline the entire process with each retailer and each marketplace so they don't need to do anything manually and the entire process is automated."

Cymbio has been around since 2015, but the last 18 months have seen impressive growth for the platform due to Covid-19, something Avidor describes as "definitely an accelerator but not a trendsetter." Brick and mortar stores were on the decline before the world was sent to stay home for a year - and Cymbio can help brands be where their customers are.

Today, Cymbio works with more than 300 different brands, helping them streamline the process that is needed to get their items in as many retail stores and marketplaces as possible. The company already has 600 retailers and is adding more each day, creating a "network effect" between brands and retailers.

"The way we see it is that we support brands, we empower and enable them to connect and sell through any marketplace they want to work with," he added.

Following the Covid-19 pandemic, Cymbio experienced significant growth. It saw its customer headcount increase 12-fold to include brands selling fashion, footwear, home, beauty, and cosmetic items, among others.

"We believe deeply that Cymbio's technology will fundamentally change the game for brands that sell online, making long, cumbersome integrations a thing of the past," said Emanuel Timor, General Partner at Vertex Ventures Israel in a statement. "More than just an incredibly disruptive technology - the Cymbio team is world-class, and we are excited to work together as partners as Cymbio ushers in a new reality for the online retail industry."

According to Yoav Sebba, Managing Director of XT Hi-Tech and a board member of Cymbio, the company is "redefining a new category in eCommerce logistics, similar to what SAP and Salesforce did for ERP and CRM." And as brands get used to selling to a bigger customer base online, Cymbio claims that 91% of them have experienced an average digital revenue increase of over 65% and an increase of 47% in average units sold. Cymbio then takes a cut of the additional revenues produced by the brands to deploy its product, a process that takes "days, not months" like the current method of doing it manually.

Cymbio was founded in 2015 by Avidor, Mor Lavi, and Gilad Zirkel, who serve as COO and CTO, respectively. It helps brands connect to marketplaces and retailers, helping them grow sales and expose brands to global ecosystems. Today, it is used by international retailers such as Macy's, Nordstrom, Bloomingdale's Costco, and others.