Techies Paradise? Olim share their stories of relocating to Israel
The last year may have been unprecedented, but two employees from The Floor share what it's like to come to Israel from overseas in the year of the pandemic
The skies may be closed but the doors to Israel are still open for overseas Jews who want to make a life for themselves in the country. According to official estimations, roughly 250,000 people are expected to 'make Aliyah' (Hebrew for ascending) - the process of immigrating to Israel - over the next three to five years. There are a myriad of reasons why people may choose to do so, most notably their faith and commitment to the world's only Jewish state. However, increasingly there are those who move to Startup Nation to dip their toes in the country's entrepreneurial opportunities.

CTech spoke to Yves Bettan and Judith Levy Silberberg from Israel's Fintech company, The Floor, to understand some of the reasons and motivations that people may come to Israel to start a new life away from one home and into another.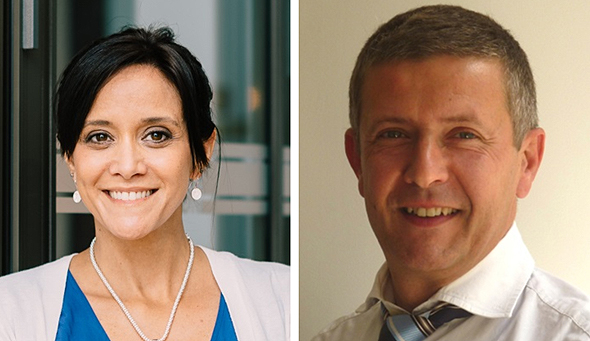 Judith Levy Silberberg and Yves Bettan. Photo: The Floor/Nathaniel Tobias

"It was a nightmare - more difficult than Covid"

Relocating between countries in normal times can be difficult enough. But making the move while in the middle of lockdowns and social distancing, makes things even tougher. Coming to Israel, a country that even in routine times is determined to ensure its security and safety, can quickly become a bureaucratic nightmare.

"Typically, in the process to get the documents, there were a lot of requests to have birth certificates from France and it was a nightmare - more difficult than Covid," joked Yves Bettan, The Floor's Head of Business Development. At the end of 2020, he and his family decided to finally make the move to Israel and relocate into their Ramat Gan apartment they had bought six years earlier.

And so, the Fintech company gained a new Head of Business Development who had moved to Israel from France via a five-year stint in New York. With a background in banking and management consulting, it appeared to be the right step for Bettan, who loves looking for solutions for some of banking's biggest problems.

"I had this dream for a long time, I wanted to come to Israel," he told CTech about his decision to finally take the plunge. "When I was looking at the business in Israel and speaking to people here, they told me the market was going to be different. The management consulting market is quite different here in Israel."

The Floor is a SaaS platform that helps banks to manage their vendor offerings alongside internal stacks. In terms of Fintech, Israel is one of the strongest ecosystems in the world - with more than 700 startups seeking to disrupt the traditional banking sector.

"There is a business culture which is strong here and strong in the U.S, which is kind of different in France where I feel there is… I wouldn't call it old-fashioned but there is this kind of… you don't go straight in the business. You take time," Bettan explained. Starting his career in France and European markets, Bettan confessed that his five years in New York acted as a natural stepping stone between the two cultures. "I think the gap is smaller than if I (had) moved directly from France."

"Everyone knows each other and the people are connected"

For Judith Levy Silberberg, moving to Israel two years ago and joining The Floor as its Product Management Director meant leaving Uruguay and gaining exposure to technologies that aren't yet available to those in poorer regions.

"Uruguay is a small and poor country," she told CTech. "It's not the poorest, but it's not a country with a lot of money to budget or invest in technology solutions… one of the things that's the best is that you're working with the latest technologies and the latest things you can have in the market. After they test them here or in the U.S, then they go to the other parts of the world. For me, this is the best."

Silberberg moved two years ago with her two children after 20 years of experience in the banking industry. As a Jew, she felt she got to the stage in her life where she wanted to explore new opportunities overseas. Just more than two weeks after moving and making Aliyah, she was introduced to someone at The Floor at a job fair.

"It was interesting to find here that a lot of Fintechs (here) are trying to find solutions for the main challenges that banks are facing today," she told CTech about discovering Israel's startup scene. "When you're working in Fintech, it's much easier to find good solutions for big problems. But when you are in a big company, sometimes you don't have the time thinking about the solution for a specific challenge."

It's been two years and Silberberg today spends her days "on the other side of the table", now providing the very solutions she used to look for. According to her, The Floor is "very good to find a place, explain, or help what is going on and to (help) the banks find the best solution and know what they are looking for."

Of course, Fintech is only one of the sectors that are fostered and maintained in Israel's booming startup scene. While Silberberg and Bettan have had experience applying their international knowledge to one of the ecosystems, Olim from around the world are encouraged to try their luck in other areas such as cybersecurity, Medtech, or gaming. All you need is an introduction.

"Sometimes I hear here that people compare Israel to Silicon Valley, but it's not the same," said Silberberg. "Although it's not so small, everyone knows each other and the people are connected."

"Be prepared"

"I have the feeling here that if you have a good idea, (then) it's easiest to get included," said Bettan when talking about the approachability of CEOs in startups compared to other countries. According to him, in the U.S "the door is always open" to the CEO and upper management whereas in France it may take time to establish that rapport with seniors. Israel is more like America when it comes to that - for better and for worse.

"Be prepared," Bettan said he was told by colleagues before his departure. "I had a lot of discussions with people here in banking, computing, French and American people… I had someone saying 'consulting is going to be tough because the Israeli people, they think they are the smartest people in the world so they don't think they need any advice.'"

For a management consultant, that can be a challenge both professionally and culturally. "I was prepared," Bettan said with a smile. "It was going to be difficult and I had to be open and look at the opportunity. The Floor couldn't be better. I love it and I'm really happy, and a little bit lucky."

"It's an amazing place to be"

"If you are a person where you like the 'techs,' this is amazing and you need to be here," said Silberberg. "I think it's not the same if you talk to people from the U.S." For lovers of all things tech, she believes that Israel is more than the sum of its parts and can offer something for everyone - regardless of their industry.

"I think it's an amazing place to be… I think it is an excellent experience to have and work here as a professional. I see that people who have a background in the army have different skills and they have a different way to think and work and I like it," she said.

Israel's Olim community brings with it something different from national army service, of course. Its eclectic mix of international cultures makes for a melting pot of experience and knowledge to boost industries and sectors. And as it soars ahead in its vaccination program, professionals like Bettan and Silberberg believe there's no time like today to join its ecosystem.