Israel's BlueGreen Water deployed in South Africa to improve drinking water
It is estimated that 62% of South African water bodies are subject to toxic algal blooms
Israel water tech company BlueGreen Water Technologies has started implementing its algae treatment solution at Setumo Dam, located on the Molopo River in North West South Africa. The procedure, which started earlier this month, is in collaboration with Sedibeng Water, the local company overseen by the government's Department of Water and Sanitation.

BlueGreen uses satellite imagery and in-situ data to identify and surgically treat algal hotspots. Its Lake Guard solution is expected to provide somewhat of a lifeline for the Setumo Dam, where drinking water has been severely impacted due to years of uninterrupted algal growth in the area. It is the second time the Israeli company has used its technology to assist South Africa following its first deployment last year at Roodeplaat Dam, Pretoria.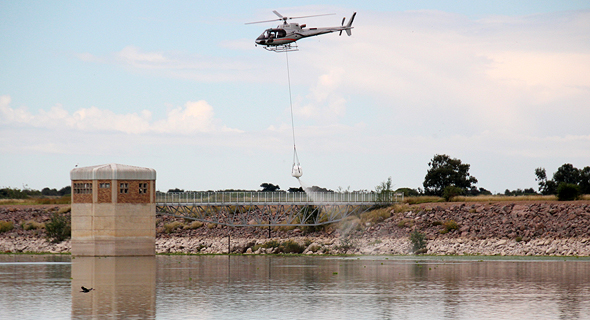 Setumo Dam in South Africa. Photo: Eyal Harel

"We want to help South Africans realize their basic human right to clean water," said BlueGreen Water Technologies CEO, Eyal Harel. "Our work at Setumo Dam is another milestone in our joint efforts with South African authorities to improve water availability and water quality in the country."

In 2015, it was estimated that around 62% of South African water bodies were impacted by toxic algal blooms. Cyanobacteria, which form the blue-green algae blooms, are reported to infest approximately 60 million lakes around the world. If left untreated, they increase in frequency and severity year-over-year and can turn infected water bodies into dead aquatic zones and toxic regions. It is hoped that the Lake Guard solution can have a positive effect on the environment, human and animal health, and the economy.

"Water bodies like Setumo Dam are in desperate need of intervention and rehabilitation," explained Jurgens van Loggerenberg, GM of BlueGreen Water Technologies in South Africa. "In a water-scarce country like South Africa, every drop of water in every lake, dam, river, and stream is precious. Working with local government, we can turn the tide on contaminated water sources, helping to provide clean water for all, including underprivileged communities."

BlueGreen Water Technologies, formerly Sha'ked Microbial Solutions, was founded in 2014 by Eyal Harel, Moshe Harel (CTO), Gadi Appelbaum (Chairman), and Aaron Kaplan (IP Director). The company has developed floating, slow-release algicides that can control algal blooms and is commercially available for bodies of water of all sizes.