Israel's Ayalon Insurance Company integrates next-gen 911 system Carbyne into its systems
Representatives can now video call customers who recently suffered an incident and can immediately offer support and review damage
Next-gen 911 service Carbyne will have its live video, live chat, and location-sharing services integrated into Ayalon Insurance Company's dispatch following a successful pilot of its technology. During the pilot, Ayalon was successful in lowering handling times and insurance claims by allowing the company to personally connect with its customers by providing one-on-one communication between the customer and a dispatch representative.

"We have identified that during an accident, people need more personal support," said Elinor Levinson-Gafni, Digital and Initiative CO at Ayalon Insurance Company. "Carbyne's system solution allows the customer to call us live from the scene of an accident, both on video or text chat, allowing us to support and help them deal with the situation they are in, in a safe and personal way. Carbyne's solution also allows us, as an insurance company, to acquire reliable and authentic data which allows us to deal in a more efficient and effective way concerning insurance cases. We are continuing to test and adopt innovative insurtech solutions to improve our business activity throughout the digital channels."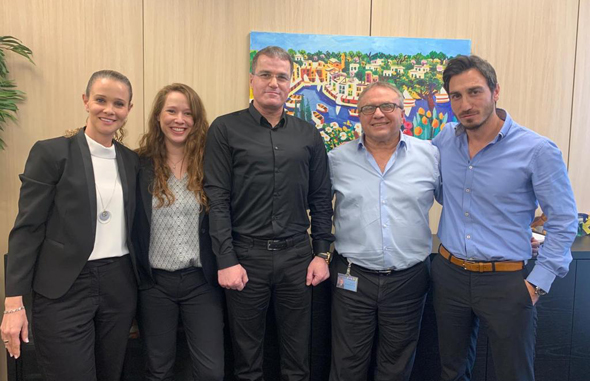 Carbyne and Ayalon Insurance Company together. Photo: Carbyne

Once a call is received at Ayalon's call center following an incident, the representative can then connect to a live video chat via an SMS link or WhatsApp message. This can help both with the calming down of customers who may be in shock following an accident, and can also help mitigate insurance scams since Ayalon can have immediate access to videos and photos documenting conditions of drivers and vehicles.

Erez Tzur, President of Carbyne added how "in the digital world, customers expect to establish an immediate, live communication channel with their service providers. The transition from the traditional, long exhausting, phone call to live communication through video and instant chat finally creates a dynamic connection between the caller and the dispatch. The live connection not only improves the quality of the technical service provided but also increases the satisfaction and calmness on the caller's end, especially when found in an uncomfortable situation like the scene of a car accident."

Carbyne was established in 2014 and provides a real-time emergency communication platform for public safety answering points and call centers. Its system integrates with existing 911 legacy infrastructure to help victims of accidents and crimes immediately video call and share their live location with emergency services. It has raised a total of $46.75 million over four rounds.

Ayalon Insurance Company is one of the six largest insurance and finance groups in Israel. Established in 1976, it employs 1,100 people and operates in Tel Aviv, Haifa, Jerusalem, and Netanyta, offering insurance for apartments, vehicles, and cyber attacks.