The 50 Startups List
Minute Media gave fans their content fix during sports' darkest days
Covid-19 saw a surge of new users flock to the company's platforms, which are redefining the meaning of fan engagement
"I never thought, when we just got started, that we would reach such dimensions," Asaf Peled, the CEO, and co-founder of Minute Media said when asked about the vision of his company, which was ranked in first place in Calcalist's list of the 50 most promising startups for 2021. "I figured we'd build a small company, mess around with it for a few years, and move on." Today it seems obvious but in 2011 the word 'influencer' didn't exist in its current meaning, and YouTube was mostly filled with cat videos and Destiny's Child music clips.

Minute Media came to life as a result of Peled's dream of working in something sports-related, and probably due to a touch of clairvoyance. The company that developed a platform that enables sports fans to create unique content now controls five media brands that employ its technological solution. Over the past two years, Minute Media carried out four acquisitions, including the popular American media brand The Players' Tribune. The company boasts more than 350 million monthly users and more than 4,000 content producers that together create 20,000 unique offerings every month. According to a source familiar with the company, it generates $170 million in annual recurring revenue, a high amount relative to the local tech scene.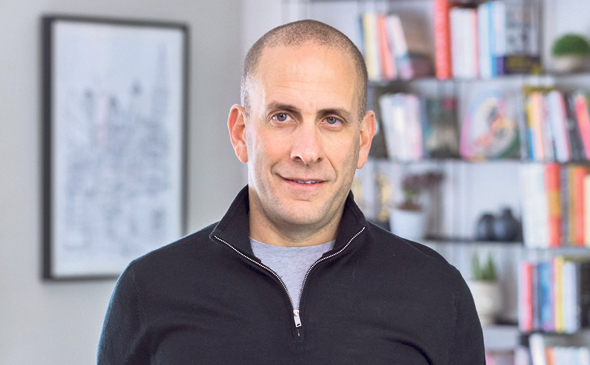 Minute Media CEO Asaf Peled. Photo: Shai Dolev

All an athlete or fan who wants to create content has to do is log on to one of Minute Media's platforms, open a user profile and get to work using either the videos or images that exist in the system or materials that they upload themselves. After they're done, the product is reviewed by Minute Media's team of editors to ensure quality control. If necessary, particularly for first-timers, they provide feedback, and after receiving Minute Media's technological treatment, the final product is distributed on one of the company's platforms or other content sites it partners with.

Peled (47) founded Minute Media after 15 years as an investor, including at Evergreen and Cisco, and following a brief period as an entrepreneur at Top7. "When we got started, I had no idea what we were actually building and I had very little operative experience," he admits. "I wanted to found a startup in order to be able to be involved in sports, which is something I always loved. Today, nearly a decade later, we are still closer to the starting position than we are to the finish line. We grew substantially, but our potential growth over the next 10 or 20 years is bigger than we ever imagined."

Like many tech companies, particularly content producers, Minute Media registered impressive growth during the pandemic, even though competitive sports had all but come to a standstill. The growth caught Peled, who describes the start of the pandemic as a time of great trepidation, by surprise. "In March and April of last year, sporting events were canceled one after another. We couldn't believe what was happening. Even during World War II they never stopped playing soccer in England, and there was never a day without sports in the U.S. I thought the business would suffer a severe blow. It took us a couple of months to realize that there was a huge opportunity for us because we don't deal with live broadcasts and since people were hungry for content and stuck at home."

Did you take any action, or did the fan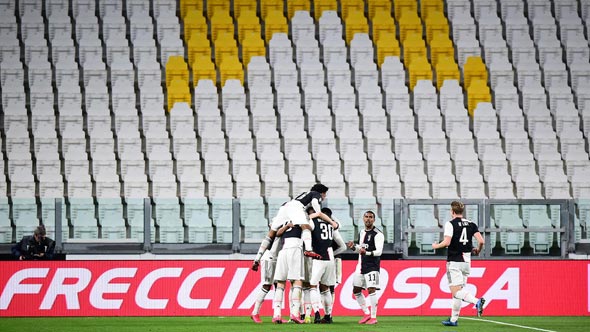 A Champions League game being played in front of an empty stadium. Photo: Reuters

s just show up?

"We made major changes to the content we sought to create. We realized there would be less content that revolves around the games themselves so we took things in a more personal direction, with content describing what the athletes experience during the off-season and how they spend their time. It was also a year of many crises and in the U.S., for example, we helped athletes take part in the anti-racism protests. We discovered an opportunity to take the lead and engage in the public discourse and it proved to be a good strategy."

Peled said that the acquisition of The Players' Tribune, a moment before Covid-19 broke out also contributed a great deal. "It's a platform that enables elite athletes to create content themselves. If in the past every time we produced content with athletes we'd have to fly over with a film crew, because of the lockdowns, athletes got used to producing lighter types of content by themselves. They were also bored out of their minds so were more inclined to create content." Peled himself resides in London and describes a feeling of being disconnected from the company he founded. "Two months beforehand we had acquired two companies with 100 people in the U.S. and had to absorb them into the company," he recalled.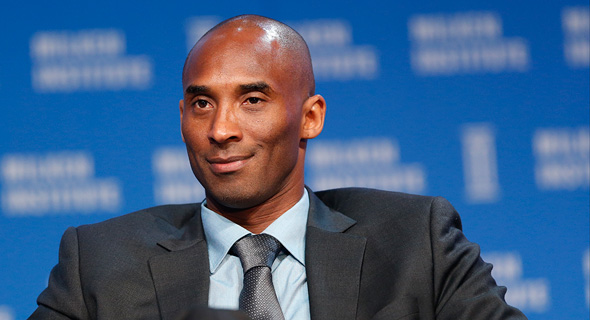 Basketball legend Kobe Bryant announced his retirement on The Players' Tribune. Photo: Bloomberg

Things were also challenging on a personal level. "On the 11th of March last year I traveled by train with my son to watch the Champions League quarter-final between Liverpool and Atlético Madrid because my son was celebrating his eighth birthday and he's an Atlético Madrid fan. It was revealed, that very night, that Covid-19 had hit the sports world, we woke up in the morning to the announcement that the NBA would cease its activity, and immediately after that, they stopped playing soccer too. We ended up attending the last game played in front of an audience in Europe and hundreds of people got infected in that game. Seventy fans died and our whole family got sick because of that trip."

Similar content existed before Minute Media came on the scene. What did you actually bring to the table?

"We introduced two central features. The first is an innovative approach to short sports content, both its creation and its distribution through fans and influencers. When we came on the scene there were sports broadcasts and websites that wrote about sports. What we took to the next level was the formation of a platform that enables fans to create short, fast-paced, and cool content bits, which changed part of the creation and distribution experience. When we got started, content was an afterthought. Today it is part of the mainstream. We may not be the only ones who are doing it, but we were the first to do it on a global scale and make it into a business. Secondly, we are the only company that brings deep technology into the business of creating and distributing sports content. All of our competitors, both a decade ago and now, may be strong players, but they don't offer the tech."

For the viewers, who access the content on YouTube regardless, why should they prefer one platform for creating and consuming sports content over another?

"There are two types of platforms that compete over our time and attention. The new platforms, like YouTube, Facebook, and Instagram, on all of which you can find content on sports and athletes, and the dedicated sports websites, like Sky Sports or ESPN. YouTube may have a lot of sports content, but at the end of the day, it is a general and generic platform. It isn't seen as an end-to-end solution for sports fans. That's what we offer. What we also offer is the curation element. On YouTube, anyone can upload anything they want, we, on the other hand, carry out content curation that ensures that you as a fan receive only high-quality content that suits what you're looking for, making it a more unique and personalized sports experience.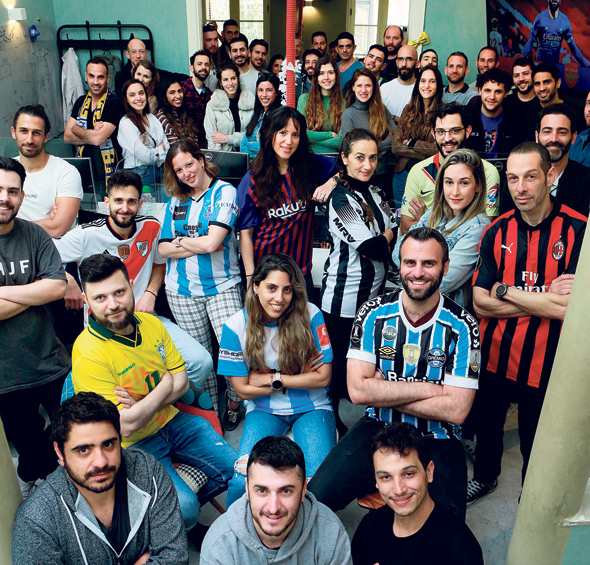 Minute Media's team. Photo: Amit Shaal

The industry is still in flux. Only recently, Amazon signed a contract for exclusive sports broadcasts.

"Three years ago I was interviewed at a Calcalist event in London, and the headline that came out of the interview was that I believe that in a few years Amazon would become a major payer in the sports broadcasting world, so it comes as no surprise. I watch soccer with the kids on Amazon Prime. We don't compete over broadcast rights so it doesn't really interest me. We are a platform for creating and distributing everything that isn't dependent on broadcast rights. From that perspective, the fact that additional players are entering the market is actually good for us because it gets more users, especially young people, to consume sports in additional ways. One field that we are entering is game highlights. We don't pay for the rights for them, but more and more players who do, see us as their distribution partners because we have access to hundreds of millions of fans. Users come to us to see the goals for two or three minutes, not to watch the full games. We will have more and more partners who pay the leagues for the rights and use us for distribution."

But Amazon is not ESPN, why wouldn't it launch its own platform instead of paying you or a third-party provider?

"Amazon is a global player in the content world, including in sports, but its business is to pay for mega-productions and broadcasting rights, not for fan-produced content. They purchase content and we even collaborate with them."

It is important for Peled to stress that Minute Media is not just any other content provider, but is essentially a technology company. "That is the major difference between us and our competitors. We have nearly 100 people in Tel Aviv and most of them are on the technology and product teams. Our competitors barely have any technology to speak of. Since the days we got started, there have been strategic changes in the world of content creation and distribution. First with the transition to mobile, and secondly, the users got younger. Finally, there was the shift from textual content to video and multimedia. In order to enable the consumption, distribution, and creation of content by people who are not media professionals, but athletes and fans, in a simple and smooth way, you require deep technology. The only market players who enable that on scale today are the social media networks. Publishers don't operate like that and the reason we are able to, is because of our technological capabilities. We own the rights to all of the technology that allows fans to regularly produce content." It's that which allows Minute Media to remain independent and bring in higher profits than its competitors. "In recent years, many publishers relied heavily on Facebook or YouTube, while we decided not to. We do have an online presence, but all of the business and the users are on our platform, which is an incredibly substantial challenge."

Minute Media owes most of its revenues (90%) to advertisers, and 70% of it to video ads that generate higher profit margins. Its additional income derives from platform licensing and its entrance into the legal sports betting industry in the U.S— fantasy leagues. "Over the last three or four years, we have opened the platform up to media players and other publishers. Nowadays if there is a large website that wants to take its sports content to the next level, it can use our platform. We provide service for around 80 large media players."

There is a growing trend to switch from an advertising-based model to a subscription-based one. Is that something you are considering too?

"We are aware of the trend and that's why we have income that doesn't come from advertising, but we're not that confident about the global scale of it. The advertising market is huge, and if you're a global company, nothing can compete with that scale. Consider the really big players in the world — Snap, Facebook, or YouTube — they also work mostly on advertising and that will remain the case. Since we have access to many athletes, there may be opportunities for more innovative revenue models, but it will never compete with the global scale of advertising earnings."

Do you pay for content production?

"We didn't use to, but nowadays, with a certain percentage of them, particularly the professionals or more veteran creators, we share revenues. If an athlete uses our platform to share a personal story with their fans, we won't pay them, but if they work together with us as part of their campaign with an advertiser, then we'll share part of the revenues. For that reason, the cost of content production on our platform is very low compared to traditional media."

It seems like these days athletes don't budge unless they are being sponsored.

"I thought the same thing before we acquired The Players' Tribune, but there is something very unique and authentic in the brand they built and they were able to establish a trusting relationship with the athletes. When an athlete wants to tell their personal story, like why they want to switch teams or to take a stand on a social issue, they come to us to create oftentimes very lengthy content, without asking for payment. It's the only platform where the whole world knows that the content is personal and authentic, and if we introduce an element of payment, it will damage the trust that's been established. Athletes have plenty of platforms to generate income from and they use this platform to offer a more personal voice. There is a clear distinction between sponsored content and non-commercial content on the platform."

Have you ever met an athlete that you were really excited to be working with?

"I still get nervous when I meet athletes that me or my kids admire. It's a childlike excitement. But the first time was several years ago when I joined a film crew here in London for one of our first campaigns. We were creating content with Eden Hazard, who was then playing for Chelsea, and there was something about the interaction with him that was very personal and really moved me. Since then there have been many others."

Peled talks about the late Kobe Bryant, who was among the founders of The Player
Eden Hazard wearing his Chelsae FC kit. Photo: AP

s Tribune and used the platform to announce his retirement from basketball, and about Tom Brady who used it to publish a letter to fans in which he wrote about his move to Tampa Bay, the most publicized switching of teams in NFL history.

Though it is available worldwide, most of Minute Media's focus has been geared to the U.S. market. "Americans tend to be more willing to pay for content and in addition, most American fans support teams in several sports, so it was easier for us as a young company to build up our commercial side there and today it makes up more than 90% of our income," Peled explains. "But we want to see our global revenues grow at a faster pace. There is great potential in other markets like Asia, South America, and Europe."

Minute Media also wants to expand the number of sports it covers. So far it has focused on soccer, American sports, and e-sports. It only started working on the latter over the last three years and has benefitted from its growing popularity, but Peled notes, somewhat surprisingly, that it is facing difficulty generating large profits. "Five years from now it will be super influential," Peled says. "Even though there are a lot of players and a lot of interest, it is still in its early stages as far as business goes. In order for it to be a bigger revenue generator for us, we need more advertising money to be dedicated to it and that takes years."

It is a field with lots of successful platforms. Aren't you afraid someone will overtake you?

"We aren't worried about being overtaken in our niche. Amazon, for example, acquired Twitch, which is a broadcasting platform. But that's not the business we're in. Our business is fans who cover everything that takes place in the game itself and that is completely distinct from Amazon or YouTube. They are television and we are everything that surrounds it and we have collaborations with them. But even Amazon, which paid a billion dollars for Twitch, is far from fully realizing the sector. It takes a long time to build up business in it. That's why I'm not too worried about competition. What is more interesting to see is when the big advertising budgets from ad agencies will arrive. Until that happens, we will find ourselves with lots of users and content, but not a lot of income."

Talking about sports that still don't generate profits, what about covering women's sports?

"That's something we already do, mostly women's soccer. But to be honest, the way we cover it nowadays is not sufficient and we want to increase it. It is a field that suffers from poor coverage and it is definitely an opportunity for us as a company to provide more interesting coverage than any of the competitors. We are more liberal and open and anyone can produce content for us and that provides us with the opportunity."