The 50 Startups List
The 50 Most Promising Israeli Startups - 2021
We look beyond the blinding valuations to choose the companies that not only survived the Covid-19 crisis but thrived and are now best positioned for future success
This article first appeared on April 14, 2021 and is being reshared as part of CTech's Top 10 stories of 2021.
Click here for the 2022 edition of Israeli top 50 most promising startups
Even the biggest optimists couldn't predict the turnaround that the Israeli tech sector experienced over the past year. April of 2020 was a period of crippling uncertainty, with the entire county under lockdown, businesses closing down and mass waves of layoffs and furloughs, with a seemingly inescapable economic crisis arriving in the wake of the Covid-19 pandemic. But the local tech scene went on to see a 25% increase in capital raised with nearly $10 billion flowing into the sector by the end of 2020. Funding rounds of $100 million, $200 million, and even $300 million became par for the course and more than 20 new unicorns emerged, nearly doubling the previous count.
The result is not just a tech bubble that detached itself from the rest of the market, but the development of two divergent schools of thought within the industry itself. On one side, there are the companies and founders that side with rapid growth and huge funding rounds, while on the other there are those who insisted on adopting more gradual growth and found themselves refusing investors who were knocking down their doors. The former appear in this year's unicorns list, while the latter make up Calcalist's ranking of the 50 Most Promising Startups.
Top 50 Israeli Startups - 2020 Edition >>
Top 50 Israeli Startups - 2019 Edition >>
Top 50 Israeli Startups - 2018 Edition >>
The VC industry's natural tendency, indeed that of the entire financial sector, is to measure success according to valuations, based on the reasoning that the higher the valuation, the more successful the company is. This reasoning is not necessarily accurate, and even less so when it comes to the venture capital market, where the factors that go into determining valuations — and particularly the identity of those making the choices — are not objective and are heavily influenced by parameters that don't necessarily indicate success.
Moreover, some entrepreneurs have an easier time raising capital than others, they like the investors and the investors like them. Others prefer the tight-knit work alongside their team members; often they are the kind of founders who still open their computers to write code from time to time. It's important to note that the companies who chose not to secure funding rounds this year are those who could afford to give up on the capital simply because their revenues grew at a scale that enabled massive growth even without new investments.
In any case, after the capital bonanza of 2020, enterprise valuations have become almost irrelevant. There are quite a few companies on the ranking that are already generating revenues of $100 million or more a year — far more than what some of the new unicorns are bringing in.
In the absence of a different method for measuring things, valuations will continue to drive the activity of the venture capital industry and it's safe to assume that the massive funding rounds witnessed lately will impact Israel's tech culture throughout the coming years. Some founders will take advantage of the demand to liquidate their holdings early on and a brutal competition over talented employees will engulf some sectors, and in turn will only increase reliance on foreign developers.
Over the previous 12 years that the ranking has been published, we at Calcalist have insisted on highlighting the companies that according to our assessment will become the next big thing. We did so, not just based on their valuations by venture capital funds, but by using parameters that are as objective as possible: the product they develop, the market they operate in, their competition, the innovation on display, the knowledge they have accumulated, the quality of their founders, and the experience of their investors. We did the same thing this year. The process may have been more complicated under the constant thunderous barrage of new investment figures, but it was no less enjoyable and the results, we hope, are no less accurate than in previous years.
- Hagar Ravet
1. Minute Media
Product: Digital media platform
Year founded: 2011 • Founders: Asaf Peled, Gili Beiman, Yuval Larom
Employees: 400 (100 in Israel) • Funding: $180 million from Battery Ventures, Qumra Capital, Gemini Israel Ventures, Sampoerna Strategic, Vintage Investment Partners, and Dawn Capital
No fleeting success
As the pandemic resulted in the sports industry's darkest days, fan content platform Minute Media was able to increase both the number of users and their level of engagement
Minute Media came to life as a result of Peled's dream of working in something sports-related, and probably due to a touch of clairvoyance. The company that developed a platform that enables sports fans to create unique content now controls five media brands that employ its technological solution. Over the past two years, Minute Media carried out four acquisitions, including the popular American media brand The Players' Tribune. The company boasts more than 350 million monthly users and more than 4,000 content producers that together create 20,000 unique offerings every month. According to a source familiar with the company, it generates $170 million in annual recurring revenue, a high amount relative to the local tech scene.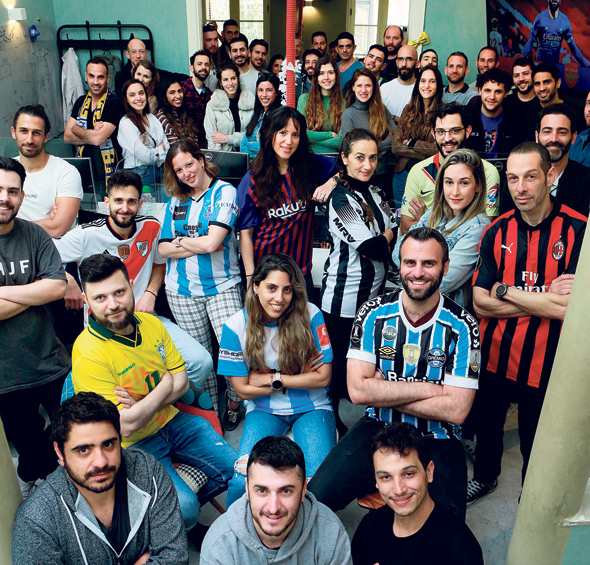 Minute Media's team. Photo: Amit Shaal
Like many tech companies, particularly content producers, Minute Media registered impressive growth during the pandemic, even though competitive sports had all but come to a standstill. In a special interview with Calcalist, Peled talks about how he turned his dream into a reality, the competitive landscape his company stepped into, and his plans for the future which include a focus on women's sports and the blistering eSports scene.
- Hagar Ravet
2. Transmit Security
Product: Customer authentication
Year founded: 2014 • Founders: Mickey Boodaei and Rakesh Loonkar
Employees: 100-200 in Israel and an additional 100 spread out across the world • Funding: Zero outside funding
A rare bootstrapped gem
After a series of successful exits, Mickey Boodaei and Rakesh Loonkar are turning Transmit Security into an independent Israeli powerhouse
Israeli cyber companies are known as serial fundraisers, who embark on a new round as soon as the previous one is secured. Transmit Security is an odd duck in the local pond, in that it could have had its pick of investors, but aside from an initial founders' loan, which has long since been paid back, it has raised no external capital. The company, which developed an app-free portable authenticator that uses device-based biometrics for customer authentication, has managed to generate $100 million in annual revenues, boasting a 50% growth rate. It counts major banks such as UBS, Wells Fargo, Santander, HSBC, and Israel's Bank Leumi among its clients.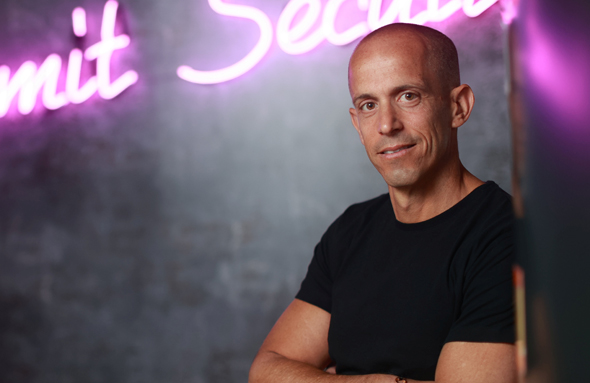 Transmit Security co-founder Mickey Boodaei. Photo: Amit Shaal
In an interview with Calcalist, Mickey Boodaei talks about the company's journey so far, the importance of being user-friendly, and its plans for the future ("When we decide to go public it won't be via a SPAC") and offers his take on the thriving Israeli cyber community.
- Meir Orbach
3. Verbit
Product: Automated transcription service
Year founded: 2017 • Founders: Tom Livne, Eric Shellef, Kobi Ben Tzvi (the latter two are no longer active in the company)
Employees: 145, plus 30,000 freelancers • Funding: $122 million from Stripes Group, Viola Ventures, Vertex Ventures, Oryzn Capital, HV Holtzbrinck Ventures, Clal-Tech, and Sapphire Ventures
Filling a void
Verbit is a market leader in the automated transcription industry, becoming one of the world's largest captioning providers and can even detect contradictions in text
Verbit is a fascinating example of a tech company that identified a specific need, developed advanced technology to meet it, and became the dominant brand, if not the only player of its kind, in the sector. In Verbit's case, it is automated text transcription technology that currently focuses on three main content fields: law, media, and education. The company's tech is augmented by the help of more than 30,000 human transcribers from more than 120 countries, who work on a freelance basis to improve the accuracy of the automated translation, which still faces difficulties overcoming things like strong accents, the pace of speech, industry-specific jargon, and background noises.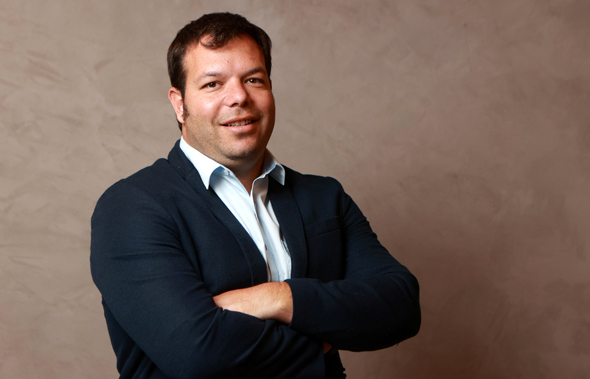 Verbit founder Tom Livne. Photo: Amit Shaal
Naturally, Covid-19 increased demand for the company's products. In the education world, for example, the switch to remote learning emphasized the need for lecture transcription. In order to increase its capabilities and its media sector client base, Verbit recently acquired a traditional transcription company and switched its clients over to its own platform, a move that made Verbit one of the leading captioning providers in the world. The company is bent on making further acquisitions and even employs a team, whose sole job is to identify potential targets and ease their integration into the company.
In an interview with Calcalist, Tom Livne discusses how he identified the company's use case as a lawyer 10 years ago, what it's like competing with the likes of Google and Microsoft, and the dozens of new verticals Verbit is looking to expand into.
- Hagar Ravet
4. JoyTunes
Product: Music education apps
Year founded: 2011 • Founders: Yigal Kaminka, Yuval Kaminka, Roey Izkovsky
Employees: 100 • Funding: $43 million from Qumra Capital, Insight Partners, Aleph, Kaedan Capital, and Zohar Gilon
The sweet sounds of success
After teaching the world how to play the piano, JoyTunes moved on to guitar and other instruments, while riding the wave of boredom brought on by the pandemic lockdowns. It led to a 150% jump in its revenues
Even a decade after it was founded, JoyTunes remains a small startup: it is constantly recruiting new employees, but while other companies are growing by 200 people a year, JoyTunes is happy with 20. That attitude also comes across in the company's decision not to raise new capital in this Covid-19 year that saw it register its highest growth ever: 2020 revenues climbed by 150%, in a large part due to a new guitar-teaching app that it launched, in addition, it moved into new offices.
JoyTunes' vision was to become the world's largest and most well-known music instrument teaching tool and it appears it has found the right formula to do it: a year ago, following years of trial and error during which it developed a piano-teaching tool, it added the guitar to its offering and is now working hard to roll out new instruments at a faster pace, alongside collaborations with leading tech companies.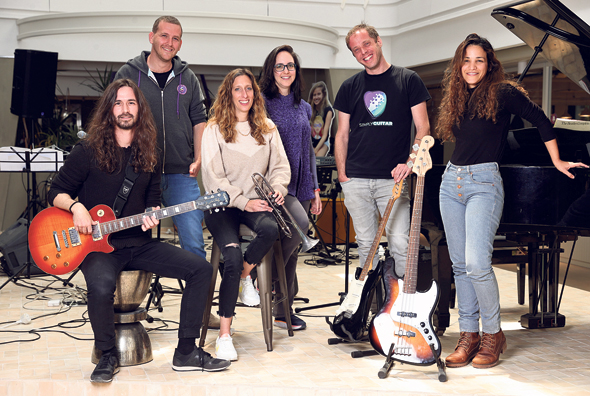 JoyTunes' team. Photo: Abigail Uzi
JoyTunes' growth came in tandem with the various waves of pandemic-induced lockdowns around the world: every country's announcement of a new closure saw the number of its app's downloads in that country spike. However, despite the prevailing near-global sense of a return to normal, people's consumption habits have altered — this is apparent in the high rate of use of digital tools even after lockdowns are lifted, especially tools that provided a good user experience.
It's rare to find Israeli startups that cater to the end-user; Startup Nations' strong suit is B2B companies that develop software or protection products. JoyTunes was able to develop a product that overcame the language and geography barriers and was able to find a global audience — all while, for the time being, never leaving Tel Aviv.
Hagar Ravet
5. Elementor
Product: Front-end website building tools for WordPress
Year founded: 2016 • Founders: Yoni Luksenberg, Ariel Klikstein
Employees: 250 • Funding: $16 million from Lightspeed Venture Partners and Globis Capital Partners
Breaking into the Big Leagues
The spike in demand for Elementor's website building tools nearly led to its support center collapsing. Now it is recruiting new employees, opening a new development center in the Negev, and launching a cloud-based product
Elementor has moved well past being known as 'that ultra-Orthodox startup" on the list. The company which started out as a graphic design studio, may be a success story out of the predominantly Haredi city of Bnei Brak, but it made the list on merit. Elementor develops tools for website building professionals that are offered free of charge as open-source code; payment is only for its premium version. The pandemic, which forced many small business owners to quickly establish a digital presence, caused a massive spike in demand for the company's products, so much so, in fact, that its support department nearly collapsed, forcing it to temporarily halt the onboarding of new clients. In order to meet the demand, Elementor embarked on a hiring spree and is about to open a new development center in the Negev that will employ 30 people. In addition, the company recently quietly launched a beta version of its new cloud-based product, putting it on track to join the big leagues alongside the worlds' largest website-building companies.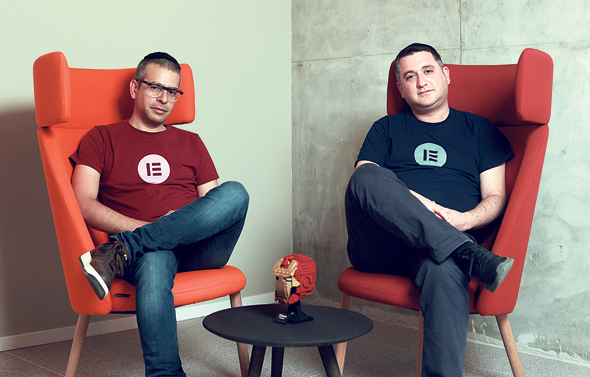 Elementor co-founders Yoni Luksenberg and Ariel Klikstein. Photo: Amit Shaal
What stands Elementor apart is its insistence to stick with open-source code and the fact that it puts professional users, not amateurs, at the forefront — people who require tools that will make their lives easier, while providing sophisticated and cutting-edge performance. Elementor hopes to recruit nearly 200 employees in 2021 to keep up its current growth momentum.
All that has been spearheaded by two outsiders who so far have raised less than $20 million. Perhaps the rest of the industry has something to learn from them.
- Hagar Ravet
6. GuardiCore
Product: Network security solutions for data centers
Year founded: 2013 • Founders: Pavel Gurvich, Ariel Zeitlin, and Dror Sal'ee
Employees: 250 • Funding: $110 million from Qumra Capital, Cisco, Dell, DTCP-Deutsche Telekom Capital Partners, Partech, ClalTech, Battery Ventures, 83North, Greylock, TPG, and Ehud Barak
Protectors of the cloud
Cloud service protection, which is GuardiCore's specialty, emerged during the pandemic as one of the best sectors to be in as more and more large companies accelerated their services transition to the cloud
GuardiCore is a member of Israel's most exclusive club — cloud protection providers, an industry that draws hundreds of millions of dollars in investments. Despite receiving a multitude of investment offers, the company decided to ride out the year without raising new capital, its latest round having been completed in 2019.
Two of the company's founders, Pavel Gurvich and Ariel Zeitlin, first met during their military service and when they were discharged they decided to found a startup together, determined that it would not deal with cybersecurity. However, despite their determination, they discovered that every other field they came up with suffered from security problems, so ended up sticking to what they knew best. GurdiCore's technology enables large companies, such as financial institutions, to compartmentalize their servers in order to prevent security issues, data breaches, and identify attacks. What's unique about GurdiCore's solution is that it is purely software-based and doesn't require any hardware installation on clients' servers. Most large companies nowadays, employ a large number of private and public servers, with the more activity there is on the cloud, the more difficult it is to track and map out. GuardiCore's product enables clients to attain a clear picture of what's taking place on the cloud in order to determine key rules and detect vulnerabilities and breaches.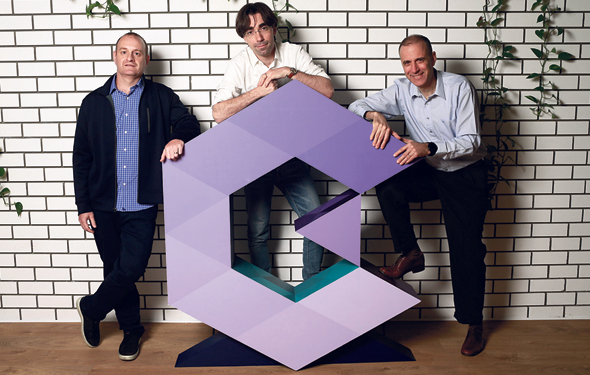 Guardicore co-founders Ariel Zeitlin (left), Pavel Gurvich, and Dror Sal'ee. Photo: Amit Shaal
Covid-19 may have accelerated the transition to the cloud and led to handsome growth in the company, but at the start of it, the company experienced great uncertainty, which caused it to halt recruiting new employees and cut back on expenses. As a result, it completed 2020 in possession of most of the funds from its previous funding round and a balance that for the first time brought it close to profitability. The company aims to put its foot back on the gas pedal this year, recruiting 100 new employees, moving to larger offices, and accelerating growth.
- Hagar Ravet
7. IntSights
Product: Threat intelligence and mitigation platform
Year founded: 2015 • Founders: Gal Ben-David, Guy Nizan, and Alon Arvatz
Employees: 200+ • Funding: $71 million from Qumra Capital, Glilot Capital, ClearSky, Blackstone, Blumberg Capital, and Tola Capital
Not backing down from the darkness
IntSights' new product enables its clients to carry out risk assessments and due diligence for third parties as protection in advance of completing major transactions
Even amid one of the busiest and most successful periods that Israel's cyber sector has ever known, Insights has been able to stand out due to its focus on intelligence gathering as opposed to pure protection. A large portion of the company's activities is dedicated to monitoring the "darknet". The data it collects from there is fed into a platform that analyzes cyber threats to large organizations, providing intelligence on potential threats and attack vectors, and activates preventative measures before the attacks take place. The company's clients include Forbes, Novartis, Ford, and American Eagle.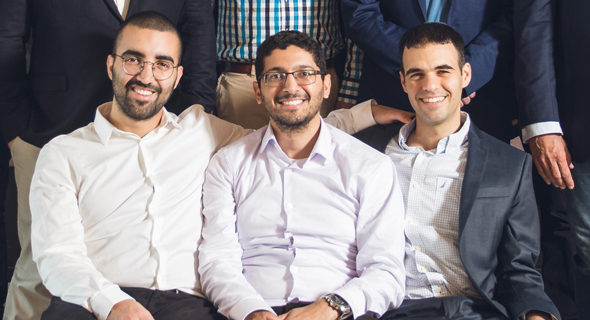 IntSights founders Gal Ben-David (left), Guy Nizan, and Alon Arvatz. Photo: PR
The widespread transition to the cloud has created a new arena for hackers and as a result, for cyber companies. Most of the Israeli cyber companies that recorded major funding rounds are companies that developed security products for the cloud, with investors nearly blinded by the field's seemingly limitless potential. That acceleration had a big impact on Instights' bottom line, having developed new capabilities for cloud-based companies and providers —- but its biggest advantage remains the monitoring capabilities that it has developed over the years. Intsights' researchers have their fingers on the pulse and are familiar with hackers' most advanced offensive methods as well as their preferences.
Despite its growth, IntSights is one of the companies that chose not to raise capital over the past year, having completed its last round in January 2020. It didn't prevent the company from adding new clients and even developed a new product that aids companies carry out risk assessment and due diligence prior to signing important contracts. Cyber risks and vulnerabilities are becoming a major factor in assessing companies' stability; up until now they were not given separate attention, but that is changing. Intsights' expertise at gathering and analyzing data is precisely what's needed to perform such assessments, even for third parties.
- Hagar Ravet
8. Fireblocks
Product: Digital asset security platform
Year founded: 2018 • Founders: Idan Ofrat, Michael Shaulov, and Pavel Berengoltz
Employees: 100 (70 in Israel) • Funding: $179 million from Stripes Group, Ribbit Capital, Coatue Management, Galaxy Digital, Swisscom Ventures, Tenaya Capital, and Cyberstarts Ventures
Flowing with digital cash
Fireblocks' cryptocurrency platform is responsible for transferring 6% of the world's digital currency and handles more than $100 billion in assets a month
Last month, Fireblocks raised a $133 million series C funding round and made it clear to anyone who may not have noticed it, that Israeli is leading the way in developing a secure infrastructure for the blockchain world. The company's experienced founders were exposed to the world of cryptography and blockchain when they worked together at Check Point. It was at a time that alongside a growing interest in cryptocurrencies, hacks of crypto exchanges became routine with hundreds of millions of dollars worth of digital assets stolen overnight. Fireblocks offers financial institutions that work with blockchain a system that includes secure wallets, a secure transfer network, and a tokenization platform.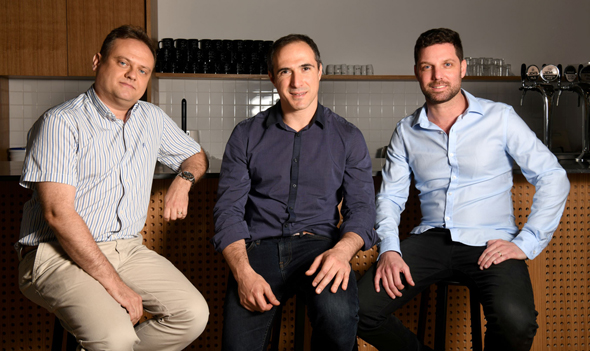 Fireblocks co-founders Idan Ofrat (from right), Michael Shaulov and Pavel Berengoltz. Photo: Yossi Zeliger
Fireblocks' platform, which was only launched in June 2019, is already responsible for between 5% and 7% of all the transfers in the crypto market. In February it aided the transfer of assets worth an accumulated $105 billion - a volume that surpassed even the company's best-case predictions. The company has a subscription-based business model that offers users a sliding scale of payment based on their transfer volume.
The cryptocurrency market is currently valued at more than a trillion dollars, and it has gradually shaken off the 'wild-west' mentality of its early days — though the sector is still awaiting regulatory approval in many countries. In the meantime, Fireblocks has achieved technological and business leadership in its field of activity. If it maintains its current growth rate, last month's giant funding round will look like a drop in the bucket.
- Hagar Ravet
9. At-Bay
Product: Cyber insurance
Year founded: 2016 • Founders: Rotem Iram, Roman Itskovich, Etai Hochman and Tehila Kalisky
Employees: 100 • Funding: $91 million from Qumra Capital, M12, Shlomo Kramer, Lightspeed Venture Partners, Munich Re Ventures, and Acrew Capital
Fixing and insuring cyber vulnerabilities
At-Bay identifies vulnerabilities in companies' cyber defenses and once fixed, it insures them. These services led to a 600% growth in the number of new policies over the past year
At-Bay discovered that it is possible to bridge two of today's hottest tech sectors: cybersecurity on the one hand and fintech, or more specifically digital insurance, on the other.
Over the past year, cyberattacks have become so routine that traditional insurance companies have either declined to insure companies or raise their prices to such a degree as to make it cost-prohibitive. The void in cyber-insurance was filled by At-Bay which offers AI-based adjustable insurance against cyberattacks. The method is pretty simple: every company that approaches At-Bay must undergo a full systems scan and afterward receive not only a price quote but also a list of recommendations of vulnerabilities that need fixing. At-Bay only issues a policy after they are remedied. In this way, At-Bay dramatically reduces the insurance expenses. Demand for the company's service has climbed significantly recently, reporting a 600% growth rate in new policies issued over the past year — and the pace is climbing from quarter to quarter. At-Bay has a large development center in Tel Aviv and has opened a string of new offices in New York, Atlanta, Chicago, Portland, Los Angeles, and Dallas.
- Meir Orbach
10. ImmunAI
Product: Immune system mapping technology
Year founded: 2018 • Founders: Noam Solomon and Luis Voloch
Employees: 70 • Funding: $80 million from TLV Partners, Viola Ventures, Schusterman Family Investments, Duquesne Family Office, Catalio Capital, Dexcel Pharma, Gefen Capital, Meron Capital, and iAngels
An immune system atlas
ImmunAI is shattering the paradigm of drug development: instead of searching for a specific gene, it offers pharma companies a full mapping of the entire immune system that can be researched using artificial intelligence
Very few Israeli companies are as ambitious as ImmunAI: the company is seeking to create the first comprehensive map of the human immune system and employ AI to study it.
The immune system is spread out across several organs with trillions of connecting cells. The founders of Immunai discovered that if they could successfully measure the system using advanced technological tools, they could achieve significant breakthroughs in the research of diseases and the development of new drugs. Mapping out the entire immune system can produce a massive database that can help explain things like why people react differently to viruses, cancer, or degenerative diseases like Alzheimers.
Pharma companies have traditionally taken the drill-down approach when it came to developing drugs — for example, by trying to identify a specific gene and developing a drug that affected it. Immunai, meanwhile, aspires to create an atlas of sorts that maps out the entire immune system in an effort to identify a larger number of genes and the connections between them in order to discover new correlative assessments and produce therapies using entirely new methods. The challenge is not only in the mapping process itself, but rather, similarly to mapping the genome, the ability to derive insights and actionable analyses.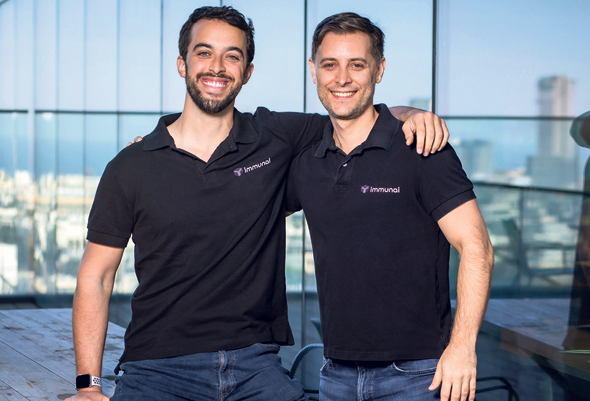 ImmunAI co-founders Noam Solomon and Luis Voloch. Photo: Arik Sultan
ImmunAI, whose founding team includes a list of world-renowned scientists, operates both in Israel and in the U.S.: it has established research activity in the U.S. but wants to have a parallel research center in Israel too in order to create long-term research and business activity here as well. It has already formed research partnerships with several local hospitals.
Covid-19, and particularly the ability to find and produce a vaccine for it in record time, has raised awareness of the importance of using AI for medical research, with an emphasis on the human immune system. As a result, Immunai is generating a lot of interest among investors, pharma companies, and researchers from all over the world. In 2021, it may rise to be one of the best-known names in the local tech industry.
- Hagar Ravet
11. Tomorrow.io (Climacell)
Product: Weather prediction technology
Year founded: 2016 • Founders: Shimon Elkabetz, Rei Gofer and Itai Zlotnik
Employees: 120 • Funding: $185 million from Stonecourt Capital, Highline Capital, Pitango Growth, and Square Peg Capital
Resting on clouds
Tomorrow.io offers the most accurate weather prediction available, but it's not stopping there: now it wants to be the first company in the business with global satellite coverage
In the age of global warming, the weather plays an ever more important role. But unlike many other fields that rushed to adopt new technologies, weather predictions have tended to march in place. While most weather information is based on weather radar data, most of the people live outside of these radars' coverage areas.
Tomorrow.io's founders, three IDF special forces veterans who currently live in the U.S., recognized that conditions were ripe for disruption. They developed a system that collects data from an immense range of sources — cellular networks, satellite dishes, aircraft, connected vehicles, IoT sensors, and more — and were able to produce forecasts that are accurate to the 500-yard range and up to the minute. It then fits the data to suit its clients' needs: so for example, a shipping company can change the course of its ships to avoid storms, farmers can prepare for heat waves in specific locations, and municipalities can plan ahead to avoid flooding in certain neighborhoods. Tomorrow.io's clients include delivery companies (Uber, Rappi), auto manufacturers (Ford, Porsche), airlines (Delta), insurance companies, energy providers, and even the U.S. Open Tennis Tournament.
However, for Tomorrow.io, which just finished raising $77 million, the current level of accuracy is not enough. Over the last few years, it has developed a miniaturized weather radar that can be installed on a small satellite. Starting in 2022, it plans to launch a fleet of 30-40 such satellites to cover every part of the globe. The radars will all hook up to an AI-based platform to dramatically improve the company's forecasts.
- Meir Orbach
12. HoneyBook
Product: Business management software
Year founded: 2013 • Founders: Oz Alon, Naama Alon, and Dror Shimoni
Employees: 100 • Funding: $100 million from Citi Ventures, Norwest Venture Partners, and Aleph
Sweet on SMBs
Covid-19 forced HoneyBook to adopt a new business model, switching from supplying business management networks to providing small businesses with credit
HoneyBook was founded in 2013 as a company that offered American small businesses and solopreneurs tools for business and financial management, that allowed them to provide processing services, issue invoices, etc…. When Covid-19 shuffled the cards, the company suffered a blow: hundreds of businesses, mostly from the events industry, froze their operations nearly overnight. HoneyBook's volumes plummeted to zero and it was forced to take protective measures, including cutting salaries. Instead of collapsing though, HoneyBook managed to bounce back in breathtaking fashion.
The big change came once HoneyBook's managers decided to think outside the box: In interviews with Calcalist, its founders described how they came to the conclusion that the pandemic was the best time to take risks. Upon seeing a sharp increase in demand for the processing services it offered small enterprises, it identified the opportunity to offer them lines of credit on a factoring model: when its clients need to bankroll a deferred payment, HoneyBook advances them the money in exchange for a commission and puts the deferred payment on its own books. Another product the company offers allows businesses to bypass the traditional three-day waiting period and receive the money from HoneyBook immediately, for a fee. In both cases, the risk that HoneyBook takes on is minimal, both because of the low sums and because it is intimately familiar with the clients' revenue flow.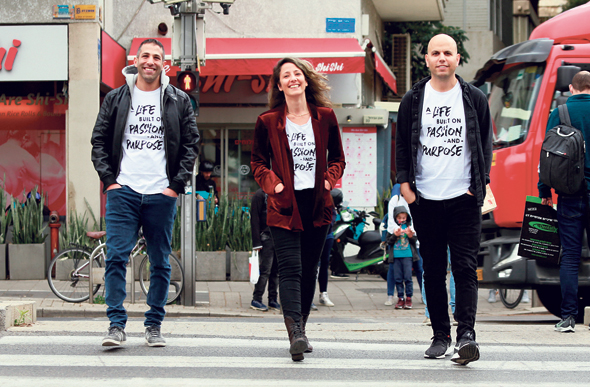 HoneyBook co-founders Oz Alon, Naama Alon, and Dror Shimoni. Photo: Amit Shaal
This year is expected to be a particularly strong one for the company. It is already witnessing an increase in demand from small businesses as well as a diversification of its clientele: now in addition to the events industry, which is gradually resuming activity, a new wave of consultants, personal trainers, coaches, interior designers and many more are joining HoneyBook's ranks. The company's revenues have doubled and are reaching tens of millions of dollars. Its employee headcount is also expected to double this year. On top of that, it is set to sign financing agreements with several U.S. banks and financial institutions that will allow it to offer larger lines of credit.
- Meir Orbach
13. Overwolf
Product: Development platform for video game apps
Year founded: 2010 • Founders: Uri Marchand, Alon Rabinovitz, and Gil Or
Employees: 81 • Funding: $75 million from Ubisoft, Meg Whitman, Griffin Gaming Partners, Insight Partners, Warner Music Group, Jibe Ventures, Gen G. chairman Kevin Chou, Intel Capital, Liberty Technology Venture Capital, and Marker
Playing with the big boys
Overwolf, a development platform for video game apps, secured investments from Meg Whitman and Ubisoft and acquired CurseForge, paving its way to a major breakthrough
Covid-19 gave the video game sector the final seal of approval it required to become a legitimate investment channel. After Playtika's giant IPO announcement in January, along came Overwolf in March and announced a $52 million financing round — with the participation of industry powerhouse Ubisoft and Meg Whitman, who is one of the most esteemed executives in Silicon Valley — proving that the potential of the Israeli gaming sector was just only taking its first steps. Overwolf was valued at $200 million, which is mostly a testament to the modesty of its founders who didn't rush to achieve an overly bloated valuation.
Overwolf, which developed a platform that enables creators to build, distribute, and monetize in-game apps and mods for PC games (such as Counter-Strike, League of Legends, and Fortnite) is headed towards a major breakthrough in the coming year, following its acquisition from Twitch of the CurseForge platform — the world's biggest repository of mods for video games, including for games such as World Of Warcraft and Minecraft. The acquisition allows Overwolf, for the first time ever, to offer the global gaming community the chance to develop new mods for all of the leading games. With the assistance of some super-investors, the company is now on the cusp of a revenue breakthrough and is already reporting significant growth.
- Meir Orbach
14. Optibus
Product: Public transit optimization software
Year founded: 2014 • Founders: Amos Haggiag and Eitan Yanovsky
Employees: 150 • Funding: $160 million from Bessemer Venture Partners, Insight Partners, Verizon Ventures, Pitango, and New Era
Life in the fast lane
When Covid-19 transformed public transportation, Optibus leaped on the opportunity with its cloud-based remote transportation management solution
The coronavirus pandemic struck a severe blow to public transportation, routes that once bustled with passengers were suddenly discontinued and new ones, adapted to the demands of the pandemic, appeared on the scene. Most of the public authorities, companies, and organizations that operate in the space were forced to cope with the changing reality while using antiquated technology. That's where Optibus entered the picture with its cloud-based optimization engine that enabled stakeholders to adjust to the frequent changes: clients could plan travel routes, schedule their vehicles and operators, and manage the entire transportation grid remotely, from any spot on the globe.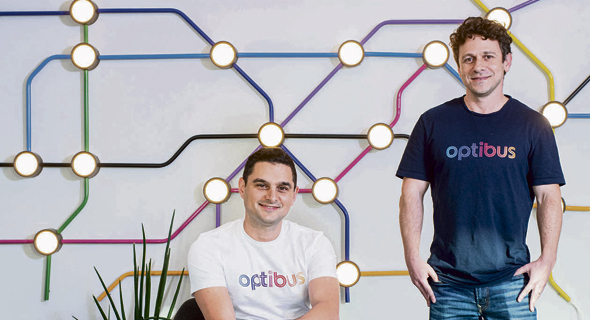 Optibus co-founders Amos Haggiag (left) and Eitan Yanovsky. Photo: Yuval Chen
Like other Israeli companies, Optibus was facing a great deal of uncertainty a year ago. That changed pretty abruptly when demand started flowing in — from existing clients, but mostly from local authorities and transportation companies. Nowadays, the company boasts 450 clients all over the world (including New York, Los Angeles, London, Melbourne, Brasilia, Hong Kong, Israel and Singapore) and raised a handsome sum of $107 million in March 2021.
- Meir Orbach
15. Logz.io
Product: Predictive log analytics platform
Year founded: 2014 • Founders: Tomer Levy and Asaf Yigal
Employees: 250 (170 in Israel) • Funding: $121 million from General Catalyst, OpenView Ventures, 83North, Vintage, Giza, Greenspring Associates, and Next47
Logic-based success
The digital transformation that the business world experienced generated a string of new clients for Logz.io. When it became an industry leader in open source ELK, the door was opened to new collaborations with companies all over the world
Everyone knows that every action we take online, from making online purchases to checking our bank balance, generates data that is accumulated by companies and organizations. That data is organized in logs — files that record every transaction made using the software. Logz.io developed an open-source code that helps programmers detect possible issues in the files and enables companies to manage their data protection and monitor it to ensure that everything is working as it should.
The usual suspects when it comes to Logz's client base are startups who themselves are developing code and employ a large number of programmers, but Covid-19 brought players from more traditional businesses, that are undergoing rapid digital transformation, into the fold. Last year, also saw a revolution in the open-source code world when Elastic, which developed a highly popular one called ELK, decided not to support it any longer. Logz.io took it upon itself to continue managing the code, which caused dozens of tech companies that wanted to take part in the project into Logz's sphere, including a young company by the name of Amazon.
- Hagar Ravet
16. Artlist
Product: Music, video, and images licensing platform
Year founded: 2016 • Founders: Ira Belsky, Itzik Elbaz, Assaf Ayalon, and Eyal Raz
Employees: 180 • Funding: $48 million from KKR and Elephant Partners
Where Youtubers go to shop
Hoisted by coronavirus-backed growth, Artlist continues to establish its position as a developer of content for video makers
Artlist, which started off as a technology company that developed content tools for video makers, is now an empire that builds and maintains a vast subscription-based catalog of digital assets that includes music clips, and sound effects for video projects.
Covid-19 left billions of people at home, which in turn dramatically increased their time on social media and raised content creators to lofty positions. Many such creators make use of Artist's catalog to add sound and images to their work. In recent years, the company has grown at a rapid rate and its managers say revenues have increased accordingly making the company profitable, an uncommon feat when it comes to growth companies, who often choose rapid growth over profitability. The company, which was founded in 2016, was bootstrapped up until its first funding round in 2018 and it completed a second one in 2020.
Near the end of the year, Artlist acquired U.S.-based Motion Array, which too provides a catalog of products for video makers. The acquisition doubled Artlist's reach to six million global users and increased its offering by 500,000 new digital media options.
- Meir Orbach
17. Viz.ai
Product: Medical diagnostic devices
Year founded: 2016 • Founders: Chris Mansi and David Golan
Employees: 170 • Funding: $150 million from Insight Partners, Scale Ventures, Greenoaks, Kleiner Perkins innovation endeavors, Threshold Ventures, and CRV
A glimpse into the brain
Viz.ai's system employs deep-learning technology to automatically detect urgent large vessel occlusions that cause strokes. It now plans to expand into cardiology and other fields
Strokes are a medical condition that requires immediate treatment. The founders of Viz.ai, a neurosurgeon (Mansi) and an expert in AI (Golan), realized that their knowledge could be combined to provide physicians with a powerful tool. The system the company developed automatically reads CT scans in real-time and alerts in the case that an occlusion is detected. Physicians receive the alert via a phone app, which provides them with access to the scans and the patient's medical details and communicate with hospital crews securely in order to quickly reach a decision on treatment. Viz.ai is already in use in more than 600 U.S. hospitals after being cleared by the FDA and it is generating revenue at an expedited rate. Last year, the company raised $71 million to expand its operation to the fields of trauma, cardiology, and respiratory ailments.
- Meir Orbach
18. Controlup
Product: Remote organizational computing management solutions
Year founded: 2011 • Founders: Asaf Ganot and Yoni Avital
Employees: 200 • Funding: $40 million from JVP and K1 Investment Management
Home comforts
ControlUp, which enables organizations to remotely manage their entire computer network, was bolstered by the Work From Home revolution and is currently on the lookout for acquisitions
The large-scale transition to remote work came at a perfect time for ControlUp: overnight millions of people all over the world began working from home — either using their own PCs or those provided by their companies. IT providers were suddenly asked to cope with thousands of technical support requests from employees. ControlUp, which developed technology to allow organizations to manage their entire computer system remotely, pre-identify malfunctions, and provide employee support across the board, successfully marched into the fray.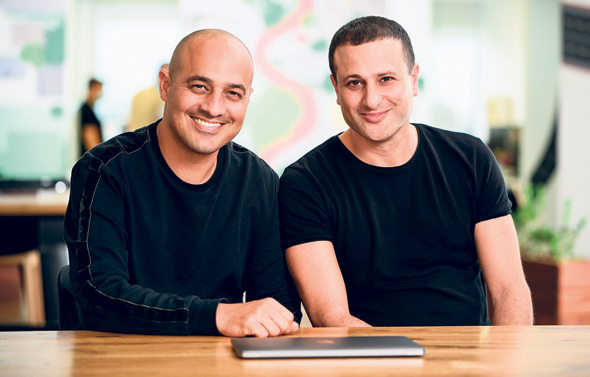 Controlup co-founders Asaf Ganot (left) and Yoni Avital. Photo: David Garb
Since it was founded in 2011, ControlUp has experienced consistent growth, reporting a 50% leap in its revenues last year. The company works mainly with giant businesses that employ thousands of people and counts American Express, Sprint Verizon, T-Mobile, and dozens more Fortune 100 companies among its 1,200 clients. Recently, ControlUp has begun acquiring competing and complementary companies: last December it acquired Avacee and is on the hunt for other purchases.
- Meir Orbach
19. Augury
Product: Production line diagnostics and prediction
Year founded: 2011 • Founders: Saar Yoskovitz and Gal Shaul
Employees: 180 (90 in Israel) • Funding: $106 million from Qumra Capital, Insight Partners, Eclipse Ventures, Munich Re Venture Capital, Qualcomm Ventures, and Lerer Hippeau Ventures
Deus ex machina
Augury's AI monitors the activity of manufacturing lines and locates malfunctions to provide efficient and cost-reducing maintenance
Haifa-based Augury, whose founders met while studying at the Technion, developed a solution for a traditional industry, which is currently undergoing a transformation. Factory manufacturing lines are relative newcomers to the digital revolution: it is a sector with an aging workforce and aging equipment, where opportunities for innovation are rare. Nowadays, however, 17% of the workforce is leaving the sector every year and manufacturers from a large range of fields have recognized that now is the time to reconsider their work procedures.
For such companies, Augury developed a service that performs diagnostics on production machines: a series of sensors that "listen" to them and transmit their performance results to the cloud, where an AI network compares it to the machines' past performance and to that of other similar machines enabling it to detect and even predict malfunctions and provide insights into proper maintenance practices. Traditionally, maintenance was performed based on an annual schedule and not in response to acute requirements. Augury disrupts that model and instead builds a maintenance routine that is adjusted per factory and per machine. While there is no shortage of technology companies that employ generic sensors to try to diagnose glitches in factories, Augury stands out due to the dedicated AI it developed.
The Covid-19 pandemic forced Augury to also develop remote installation capabilities, which in turn expedited its ability to expand into new markets. The company has its sights primarily on the fields of pharma, packaging, and food & beverage. It currently lists Nestle, Tnuva, Heineken, and Colgate among its clients.
- Hagar Ravet
20. Capitolis
Product: Online marketplace for capital management
Year founded: 2012 • Founders: Gil Mandelzis, Tom Glocer, and Igor Teleshevsky
Employees: 92 • Funding: $170 million from Andreesen Horowitz, Index Ventures, Sequoia Capital, Spark Capital, SVB Capital, Citi, J.P. Morgan, S Capital, and State Street
Open Credit
Capitolis's technology links between financial institutions and enables them to better manage clients' lines of credit
Capitolis was one of the fintech companies that managed to identify and fill an unaccounted-for void in the financial market. Following the 2008 financial crisis, many banks found themselves in a world that was new to them: customers, chiefly giant corporations, wanted more and larger lines of credit, while regulators demanded that they capture capital as collateral. That's where Capitolis's solutions came in: its platform enables financial institutions to optimize their balance sheet exposures through collaborative technology by eliminating unnecessary positions and finding the most suitable party to hold the remaining positions while freeing up money for further transactions.
Last month, Capitolis raised $90 million, in a round led by the highly esteemed Silicon Valley VC Andreesen Horowitz. To date, Capitolis has eliminated $8 trillion in overall positions for more than 75 financial institutions.
-Meir Orbach
21. Zoomin
Product: Content interaction analytics
Year founded: 2016 • Founders: Gal Oron, Hannan Saltzman, and Joe Gelb
Employees: 100 • Funding: $73 million from General Atlantic, Bessemer Venture Partners, Salesforce Ventures, and Viola Growth
An answer to all your questions
The convenience and efficiency of Zoomin's knowledge orchestration solutions is responsible for the expedited growth, resulting in two funding rounds in three months
Technical materials may not make for the most riveting reading, but nearly all companies are forced to deal with seemingly endless amounts of it. In the digital age, all that information must be accessible, organized, and easily analyzed so that consumers can find answers quickly — and that's just what Zoomin does.
In 2020, Zoomin saw companies like Mastercard, Dell, and McAfee pounce on its technology. It doubled its year-on-year sales and its use popped up by more than 300%, providing answers to more than 55 million technical queries worldwide.
The company completed its first round of funding at the end of 2020 but has already raised an additional $52 million round, led by General Atlantic, one of the U.S.'s leading global growth equity firms, in March of this year, while quadrupling its valuation between the two rounds. The next couple of years look to be breakaway years for the company.
-Meir Orbach
22. TytoCare
Product: Remote medical diagnosis tool
Year founded: 2012 • Founders: Dedi Gilad, Ofer Tzadik
Employees: 120 (80 in Israel) • Funding: $154 million from Insight Partners, Olive Tree Ventures, Qualcomm Ventures, Orbimed, Cambia Health Solutions, Qumra Capital, and LionBird
Just what the doctor ordered
TytoCare's equipment enables various medical tests to be carried out at home and is proving popular in the U.S. and U.K.
Israeli readers need no introduction to TytoCare: The product it developed is available to clients of local healthcare providers and its use has only gone up over the past year. Like many companies in the telemedicine field, Tyto experienced a surge in demand during the pandemic. The solution it offers, however, isn't derived from any specific disease but instead from the continuously growing burden on healthcare systems around the world due to aging populations.
Even though the telemedicine industry has taken center stage, it is important to note that in order to realize the mind-boggling potential of remote healthcare, the proper equipment is required. A virtual visit to the doctor will be forced to remain in the realm of science fiction unless the hardware and software to enable it exists. That's where TytoCare comes in.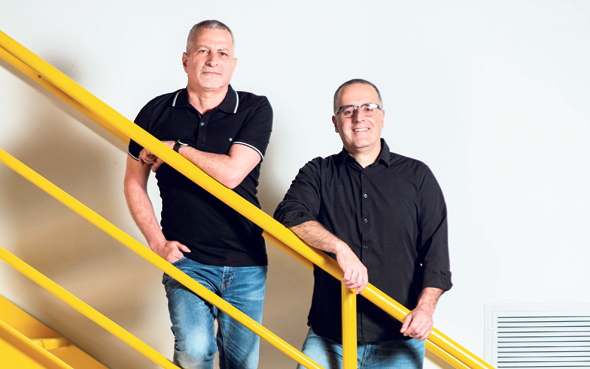 TytoCare co-founders Dedi Gilad and Ofer Tzadik. Photo Tommy Harpaz
In the wake of the Covid-19 pandemic, Tyto tripled its sales; and since it operates on a subscription basis, it must be able to show that its technology is consistently being used by both doctors and patients.
Over the past year, Tyto carried out close to 650,000 examinations and is being regularly used by 8,000 physicians. The company is currently in negotiations with one of the biggest technological players in the field, has begun working with some of the largest healthcare providers in the U.S., and has established a significant foothold in the European market too, by collaborating with the UK's NHS
- Hagar Ravet
23. Namogoo
Product: Customer hijacking prevention platform
Year founded: 2014 • Founders: Chemi Katz, Ohad Greenshpan
Employees: 130 (85 in Israel) • Funding: $69 million from Blumberg Capital, GreatPoint Ventures, Hanaco Venture Capital, Oak HC/FT
Keeping the customer close
Namogoo, which helps e-commerce sites maintain their clientele and generate more revenues, is managing to grow and is even planning acquisitions without the need for additional funding rounds
The leap in online shopping throughout the Covid-19 pandemic has been kind to Namogoo: all of its clients, which include household brands in the fields of fashion, food, and finance, have experienced major growth in digital sales and the Israeli company grew alongside them. Namogoo's primary product focuses on client retention by improving the shopping experience on websites. It doesn't emphasize onboarding new customers, but rather on increasing revenues from returning visitors.
Namogoo carried out an acquisition a year ago that helped it enter the sale promotions and personalized discounts field. The volume of e-commerce may have grown over the past year, but many brands carried out ambitious promotional sales to retain their clients, which lowered their profit margins. The ability to offer tailored discounts is one of the biggest trends in the online shopping world at the moment and helped Namogoo gain many new clients. Namogoo is also set to launch a brand new product this year: a browser extension for e-commerce websites.
Extending its line of products, as well as reaching out to a new market of medium-sized businesses, enabled Namogoo to conclude the past year without having to raise additional capital. Even though several investors had reached out to them, the company's managers decided to support its growth by relying on revenues that are growing by hundreds of percent year-on-year. Rejecting investment rounds isn't preventing Namogoo from planning future acquisitions that can help it expand its product basket with the goal of offering a range of solutions to increasing online sales.
- Hagar Ravet
24. NextSilicon
Product: Computer chips
Year founded: 2017 • Founders: Elad Raz
Employees: 101 • Funding: $80-100 million from Playground Global, Aleph, Liberty Technology Venture, and Amiti Ventures
Accelerating supercomputers
The microchips developed by stealthy NextSilicon are considered revolutionary and increase the processing power of the world's leading supercomputers
NextSilicon was founded three and a half years ago and little is known about the company that is operating in stealth mode. It was founded by Elad Raz whose previous company Integrity-Project was acquired by Mellanox in 2014 for $10 million. Its VP of development is Eyal Nagar, who was previously a senior manager at Intel's Perceptual Computing Group and a design manager on its Atom-based SoC.
NextSilicon works with some of the world's leading supercomputer computing centers that deal with cutting-edge scientific research. The computing centers conduct simulations on tens of thousands of servers that aid in the discovery of new vaccines, provide early warning for forest fires or storms, aid in the discovery of new substances, and more. NextSilicon developed a chip that's considered revolutionary, capable of accelerating the computer world significantly with a new architecture that enables supercomputers to increase their current computing power and answer previously unfathomable scientific questions.
The company employs 100 people, 80 of them in its Tel Aviv offices in the trendy Sarona Tower. It also has offices in Jerusalem, Be'er Sheva, and Austin, Texas. It plans to expand its Israel operations throughout 2021, doubling its employee headcount.
- Meir Orbach
25. Beyond Minds
Product: Developing AI solutions for large enterprises
Year founded: 2018 • Founders: Rotem Alaluf and Roey Mechraz
Employees: 100 • Funding: $16 million from Grove Ventures, Ehud Weinstein, and Marius Nacht
Doing your thinking for you
Established companies in the fields of industry, insurance, and finance face difficulties developing advanced AI solutions. Beyond Minds does it for them.
Artificial intelligence is one of the hottest buzzwords of recent years and the foundation of nearly every advanced technological solution. However, for many established companies AI is a difficult obstacle to overcome. It is not just about the ability to develop an AI-based solution, but also about manufacturing the product and making sure it remains relevant in a rapidly changing market. Beyond Minds, which currently focuses on developing sophisticated solutions for industry 4.0, insurance, and finances, was created precisely for these sorts of companies.
The company developed a basic platform that is suitable for most enterprises, which it then augments with additional features tailored to the clients' needs — a process that can take between weeks and several years. Beyond Minds' goal is to provide enterprises with advanced, long-term development capabilities even if they don't operate their own development center or employ technological teams. So far the company's advanced AI solutions have been integrated into companies such as Microsoft, Samsung, KLA, Citibank, HSBC, and KPMG, as well as in military organizations and financial institutions.
- Hagar Ravet
Rounding out this year's top 50 most promising startups are:
26. Cheq
Sector: Cyber
Funding: $22 million from Battery Ventures, MizMaa
27. Bringg
Sector: Logistics
Funding: $84 million from Viola Growth, Salesforce, Next47, OG Ventures, GLP, Aleph
28. Qwilt
Sector: Video
Funding: $100 million from Cisco, Bessemer Venture Partners, Disruptive Accel, Marker
29. Zencity
Sector: Jobtech
Funding: $21 million from TLV Partners Salesforce Ventures M12, Vertex Ventures, Canaan Partners Israel (CPI), i3 Equity Partners
30. Bizzabo
Sector: Events
Funding: $119 million from Insight Partners, Viola Growth, Next47, OurCrowd
31. Healthy.io
Sector: Telemedicine
Funding: $93 million from Corner Ventures, Joy Capital Ventures, Ansonia Holdings, Aleph, Samsung next
32. CYE
Sector: Cyber
Funding: $120 million from 83North, EQT Private Equity
33. Stampli
Sector: Fintech
Funding: $35 million from SignalFire - Hillsven Capital, Bloomberg Beta UpWest
34. Ukko
Sector: Biotech
Funding: $50 million from Leaps by Bayer (Bayer), Continental Grain Company, PeakBridge Ventures, Skyviews LifeScience, Fall Line Capital, Khosla Ventures, Innovation Endeavors, TIME Ventures
35. Medigate
Sector: Cyber/Healthtech
Funding: $50 million from Partech, YL Ventures, U.S. Venture Partners, Blumberg Capital, Maor Investments
36. Cloudinary
Sector: AI
Funding: $10 million from Bessemer Venture Partners
37. Gloat
Sector: HR-tech
Funding: $45 million from Eight Roads Ventures, Intel Capital, Magma Venture Partners, PICO Partners
38. Pliops
Sector: Storage
Funding: $115 million from Softbank Ventures Asia, Viola Ventures, Intel Capital, SOMV, Western Digital Capital, XilinxCapital
39. eko
Sector: Media
Funding: $62 million from Sony, Group11, Innovation Endeavors, Sequoia Capital, Intel Capital
40. Granulate
Sector: IT
Funding: $45 million from Red Dot Capital Partners, Hetz Ventures, TLV Partners, Insight Partners, Dawn Capital
41. Gigantic
Sector: Gaming
Funding: $9 million from NFX Capital Fund, Union Tech Ventures, Vgames
42. Oribi
Sector: Retail
Funding: $27 million from Ibex Investors, MoreTech, Sequoia, S-Capital, TLV Partners
43. Claroty
Sector: Cyber
Funding: $93 million from Temasek Siemens, Envision Ventures, Tefken Ventures, Team8, Bessemer Venture Partners, Innovation Endeavors, ICV, Mitsui
44. Mine
Sector: Cyber
Funding: $12 million from Gradient Ventures, e.ventures, MassMutual Ventures, Battery Ventures, Saban Ventures
45. Pecan
Sector: AI
Funding: $15 million from Dell Technologies Capital, S-Capital
46. Aidoc
Sector: Healthtech
Funding: $60 million from Emerge, Alpha Intelligence Capital, Maor Investments
47. Run:AI
Sector: AI
Funding: $43 million from Insight Partners, TLV Partners, S-Capital
48. Windward
Sector: Software
Funding: $39 million from Aleph, Horizon Ventures, Marc Benioff, XL innovate
49. Juganu
Sector: Cleantech
Funding: $40 million from Comcast Ventures, Viola Growth, Amdocs
50. Wiliot
Sector: IoT
Funding: $70 million from Pepsice vintage, Maersk Growth, NTT, DOCOMO, AWS, Samsung Ventures Investment, Avery Dennison, Norwest Venture Partners, 83North, Grove Ventures, M Ventures, Qualcomm Ventures
This is the 13th year that Calcalist has ranked the top 50 most promising privately-owned tech companies in Israel. In order to create the ranking, we turned to a long list of the country's leading investors, consultants, and entrepreneurs. We asked the participants to mark the startups that are growing, generating revenues, with the biggest momentum and the greatest chances to carry out a substantial business move in the coming year, emphasizing that they mustn't include companies that are in their own investment portfolios. After compiling the figures and the notes from the experts, Calcalist's reporters, and editors, who are intimately aware of the behind-the-scenes goings-on of the industry, finalized the ranking.
This year's ranking contributors are:
Team8
Leumi Tech
Bessemer Venture Partners
Firstime Venture Capital
Poalim HiTech
Qualcomm Ventures
Grove Ventures
Pitango Venture Capital
Insight Partners
JVP
StageOne Ventures
S-Capital
CTCP
Aleph
Red Dot Capital
YL Ventures
Intel Capital
Samsung Next
Citi Ventures
Peregrine
Dell Technologies Capital
NFX
OurCrowd
SOMV
Qumra Capital
Vertex Ventures
83North
Viola Group
OG Tech