Pairzon aims to 'pair' your online identity with stores and retailers
Retails and brands often struggle to link between shoppers - even if they're the same person
The world moved online last year, and one of the largest sectors to feel the seismic shift in the change in user behavior was e-commerce and retail. Suddenly, shops, restaurants, and services had to cater online to serve their client base offline. It was a widening gap that Pairzon saw - and wanted to fix.

Founded in February 2020 - soon before the pandemic - Pairzon is an AI solution for retailers that connect in-store consumer behavior to the shops' online identities, helping retailers boost retention, customer engagements, and sales. Its founders, Galit Arizon and Oded Mega (CEO and CTO) founded the company after being partners in a previous organization four years prior.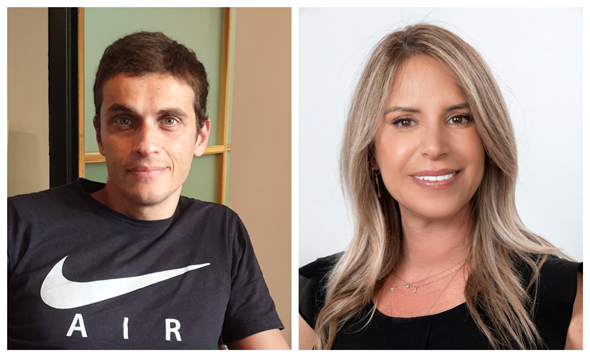 Pairzon founders, Galit Arizon and Oded Mega. Photo: PR

"Even after Covid-19, still 86% of the purchases were happening in physical stores, and e-commerce was 11% of purchases, and it's now 15%," explained Arizon, who has 20 years experience in the retail industry. "What we bring to the table is the ability to identify 85% of typical purchases. We know how to connect physical to digital and collect an identifier after a transaction, once the shoppers enter the physical store."

Pairzon achieves this by connecting directly to their customers' (in this case, the retailer) website and their CRM. Then, it collects the data and through there can filter the most relevant information via specific parameters to generate the most reliant - and profitable - audience with targeted advertising. All of this is done in accordance with GDPR regulations and achieved by collecting cookies, similar to how Google uses and monetizes data.

"Our retailers and customers see us as partners," said Arizon. "We are their hand, the personality that enables them to see a full picture of their customers in their business… The decision-making is being done using our technology in terms of what product you would place (in an advert) to buy. What is done today in terms of campaigns? Which platforms? Which customers or audience or product? Everything is being measured using our technology."

The world may have spent the last year online, but according to Pairzon it was a surprisingly temporary shift. "We analyze many verticals such as fashion, food, and electronics," explained Mega. "And we see the difference between those verticals before (the pandemic), during the lockdown, and when they opened back the market." According to the duo, the shift to online went to "50%", until shops reopened and shoppers demonstrably preferred going to physical stores once they could.

"We can see a total increase in the number of baskets and the retention of those customers that people were eager to go back to physical stores to see, touch, feel, and try on and we can see the numbers are high," Arizon explained.

Pairzon therefore can help these shops who have customers place things in their online baskets only to covert that purchase in the physical store once they have confirmed it in-person. And while March was "a tremendously successful month in the retail industry in Israel", retailers need to fill that gap.

According to the founders, brands use their technology "not only to eliminate you from less relevant targeting but (to) provide the business and respond to complementary products that can be of interest and not waste irrelevant ads," Arizon added. "If you just bought a computer and you visit a site, why would they offer you a computer? We can offer something relevant."

Today, Pairzon already has 20 paying customers from different verticals such as fashion, electronic stores, video companies, and fintech companies. Some of those include Decathlon, a French sporting goods retailer with 1647 stores and popular among Israelis. The company is currently in the middle of fundraising its seed round, aiming for a $3 million target.