Tech on the Roof
"Israel's tech sector beat Covid-19," says Calcalist publisher
Despite the challenging year to the local and global economy, Israeli tech companies racked up incredible achievements, Yoel Esteron said at the 'Tech on the Roof' event hosted by Calcalist and Bank Hapoalim
More than 200 of the top figures from the Israeli tech scene and executives from Bank Hapoalim converged early Monday evening on a rooftop in Jaffa in the type of event that used to be routine until a year ago but has become a rarity since the outbreak of Covid-19. After more than a year of being locked down at home and conducting meetings primarily on Zoom, it was a chance for Israeli tech entrepreneurs, investors, and bankers to celebrate not only the industry's finest hour, but also the return to a sense of normalcy, meeting friends and colleagues in the open air, and for the first time in many months, without the requirement to wear protective face masks.

"It was a challenging year for the economy, but the Israeli tech sector managed to beat Covid-19 and over the last few months has racked up incredible achievements in the form of funding rounds and IPOs," Calcalist publisher Yoel Esteron said at the 'Tech on the Roof' event. "During a year of political instability with a dysfunctional government, it became clear once more, and to a greater degree, that the country's rulers need the tech community more than the industry needs the government. Therefore, I propose that the government just stay out of the way and let the tech sector flourish."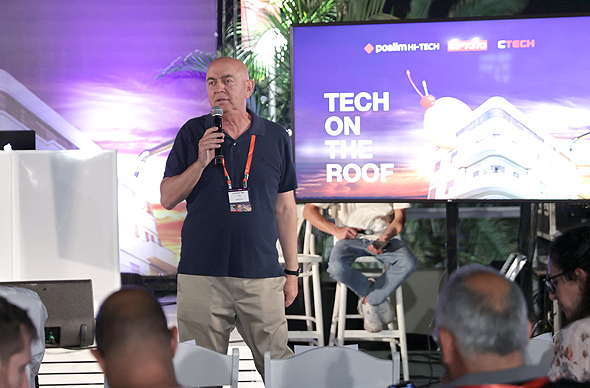 Calcalist publisher Yoel Esteron. Photo: Orel Cohen

"For years we have been accompanying the Israeli tech sector with local and international conferences, meetups for entrepreneurs and investors, and startup competitions, both on the pages of Calcalist and on our International, English language website CTech. We truly feel like we are part of the community," Esteron added.

Present at the event which celebrated the release of Calcalist's annual list of the 50 most promising Israeli startups, were many of the people who made it to the coveted list, including Verbit CEO Tom Livne, whose company was ranked in third place; Elementor CEO Yoni Luksenberg, who came in fifth, the founders of seventh place IntSights, as well as many more entrepreneurs and managers of top companies who represented the sector that achieved such amazing breakthroughs over the past year. The year, which kicked off with great trepidation regarding the fate of the industry, ended with a series of huge funding rounds and enterprise valuations that kept on climbing.

Among the inventors present at Monday's event were Erez Shachar from Qumra Capital, Boaz Peer, Senior Director of Qualcomm Ventures, Fiona Darmon from JVP, Shelly Hod Moyal from iAngels, and many others. Leading entrepreneurs in attendance included Ami Gal the CEO and co-founder of SQream; Oded Zehavi, the CEO and co-founder of Mesh; Ron Yekutiel, the CEO of Kaltura, which is about to go public on Wall Street, and Lilach Bar David the founder of Fintech company Lili, among many more.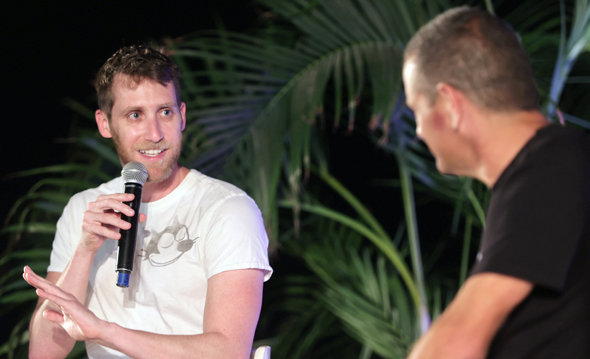 Wiz CEO Asaf Rapaport. Photo: Orel Cohen
In addition to Yoel Esteron, addresses were given by Ruben Krupik, the chairman of Bank Hapoalim; Assaf Rappaport, the co-founder and CEO of the breakout unicorn company Wiz; Omer David Keilaf, the CEO and co-founder of autotech company Innoviz that recently went public on Nasdaq via a merger with a SPAC. All of the speakers noted how pleased they were to see people, meet them in person and get a taste of normalcy, which until a year ago was taken for granted. The event was concluded with a live performance by Israeli singer Avihu Pinhasov.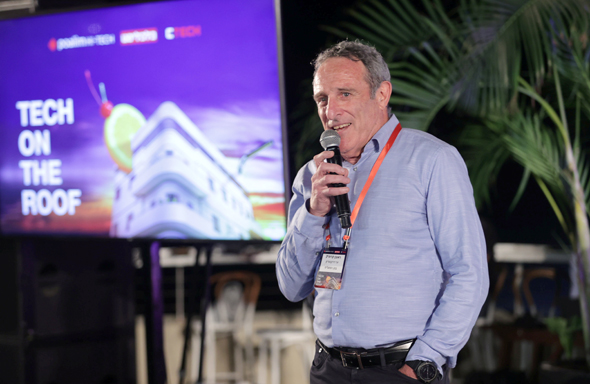 Bank Hapoalim Chairman Ruben Krupik. Photo: Orel Cohen