4 Israeli companies recognized as Gartner 2021 Cool Vendors
Apiiro, VOOM, Run:AI, and Lightrun were all listed among other global companies
Four companies were listed on Wednesday as Cool Vendors in the annual Gartner list. Full-stack digital insurtech company VOOM, AI operating system Run:AI, observability platform Lightrun, and risk management platform Apiiro were named Gartner's Cool Vendors in Insurance; Enterprise AI Operationalization and Engineering; Monitoring, Observability and Cloud Operations, and DevSecOps, respectively.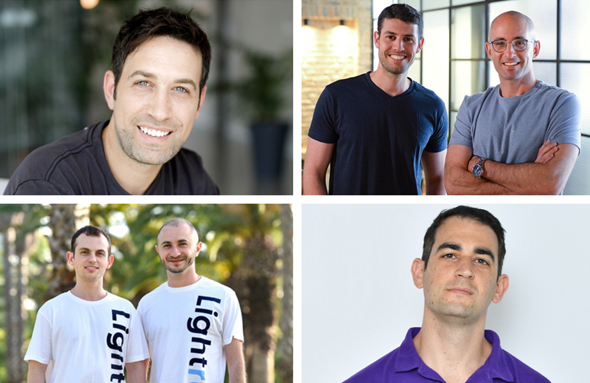 The companies' founders. Photo: Tomer Rotenberg/VOOM Insurance/apiiro team/Run:AI

VOOM is a full-stack digital insurance company that creates and distributes data-driven and usage-based insurance products for new mobility segments including drones, e-scooters, e-bikes, motorcycles, and light planes. VOOM is a licensed insurance broker in all 50 states. "Just as we are proud to serve our customer base worldwide, so too do we enjoy contributing to the startup ecosystem here in Israel," said Tomer Kashi, co-founder and CEO of VOOM. "Recognition as a Gartner Cool Vendor in insurance is a wonderful testament to our platform's success. We are excited about what lies ahead."

Run:AI is an operating system for AI that provides visibility and control over resource prioritization and allocation while simplifying hassles for data scientists. It helps entire organizations get full use of its hardware, rather than having GPUs sitting idle or used only at a small amount of their potential. "As organizations move beyond one data science team to multiple departments all doing machine learning, managing, orchestrating and optimizing resources across a single team isn't enough; you need a holistic approach," said Run:AI co-founder and CEO Omri Geller. "We're proud that Gartner considers Run:AI a Cool Vendor in Enterprise AI Operationalization and Engineering, meeting this growing need."

Lightrun helps developers gain insights into their live applications by allowing them to insert logs and metrics during runtime. It has a set of observability pillar tools for observing applications within the IDE.

Apiiro is the first Code Risk platform designed to provide risk visibility and control from design to code. It gives organizations an entire view of security and compliance risks across applications, infrastructure, knowledge, and business impact. "It's so hard to invent something completely new that changes existing markets," commented Idan Plotnik, CEO of Apiiro. "We are thrilled to be recognized as a Gartner Cool Vendor in DevSecOps"

Gartner's Cool Vendor research is 'designed to highlight interesting, new and innovative vendors, products, and services.' It is a global research and advisory firm providing information, advice, and tools for IT, finance, HR, and customer service leaders, among others.