Crossing borders: From VC to Entrepreneur
CTech spoke to three founders who had their beginnings in venture capital before starting their own companies
Venture capital and entrepreneurship are two areas that remain prominent in Israel's Startup Nation. One takes slow, tactile thinking often assessing the risks and rewards of each action, the other is a move-fast-and-break-things mentality that is often described as jumping off a cliff to pursue a passion project.
CTech spoke to three founders - Ziv Paz, Co-Founder and COO of Melio, Shahar Fogel, CEO of Rookout, and Ori Yankelev, Co-Founder and CRO of OwnBackUp - who shared their story of how they dropped everything to take on a billion-dollar gamble and won.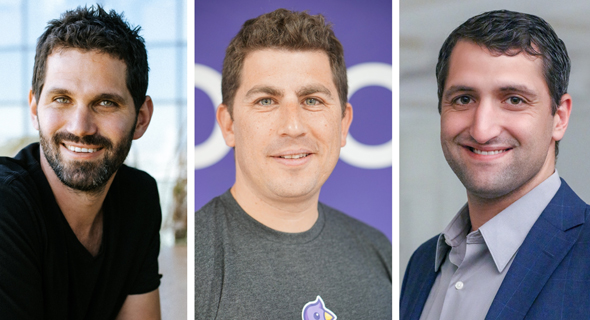 Left to right: Ziv Paz, Co-Founder and COO of Melio, Shahar Fogel, CEO of Rookout, and Ori Yankelev, Co-Founder and CRO of OwnBackUp. Photo: Melio, Rookout, and OwnBackup

Why make the change? What inspired you to 'cross the border'?

"Starting a company was something I had thought about for years," explained Ziv Paz, Co-Founder and COO of Melio. Valued at $1.3 billion, the company's mission is to help 'keep small business in business' with its B2B online payment solution. "During my time with the FIMI Opportunity Fund, I was inspired by the incredible entrepreneurs and leaders whom we met and worked with. Like them, I wanted to help create something from zero with my own hands and that would have a meaningful impact on people's lives."

"When investing in companies, you get to understand the market, the product, the challenges, as well as have the ability to work closely with the team," added Shahar Fogel, CEO of Rookout. The cloud-native data extraction platform was founded in 2017 and today is worth hundreds of millions of dollars. "What you don't have - and ultimately what you're missing out on- is being a part of the day-to-day activities of the company. I wanted to get back into the world of execution by hiring and working with a team that has a common goal of successfully driving an idea from inception to reality."

Ori Yankelev is the Co-Founder and CRO of OwnBackUp, a company that recently hit a $1.4 billion valuation based on a funding round from January 2021. The company provides large companies with data protection or SaaS applications. He believes that "while you normally have a view on what a company needs to do to be successful, you do not really have that much control over what the founders do with your advice. At the end of the day, so much of the success or failure of a company comes down to the team and their ability to execute. So if you're a person with a strong perspective, after a while it can be frustrating to feel like you know what a company needs to do, and watch them do something else. If you really want to make an impact you have to be on the execution side."

What are the main DIFFERENCES between investment and entrepreneurship?

"For me, a major difference between the two has been in the scale of decision-making," Paz said. "As an investor, you are involved in the strategic decision-making process for many companies simultaneously as well as for the firm itself... Now, as an entrepreneur, decision-making is far more internalized and part of my day-to-day life. I am usually the one expected to make many of the decisions, to be fully accountable for them, and to personally help ensure their success."

Fogel believes that there are 'notable differences' between the two that make crossing the border a difficult one. "As a CEO, accountability and responsibility for the execution of the strategy are paramount. Investment, on the other hand, ends once the money is in the bank. Indeed, the motivation for success is mutual for both the investors and CEO and there is a true involvement throughout the lifecycle of the company by the investors. Yet, for the investors, it's only one of many companies that they are involved with. Eventually, the CEO is accountable for everything that happens and has to deal with the daily challenges, execution, and ups and downs of a startup."

"As an entrepreneur, you have way more skin in the game," affirmed Yankelev. "You only have one company and success is binary. You either build a company and scale, or it goes under. As an investor, you take a lot of shots knowing that some of them are going to miss, and some are going to hit, and hopefully, some will hit big."

What are the main SIMILARITIES between investment and entrepreneurship?

Despite the differences, there remain similarities between the roles of venture capital and executive entrepreneurship. For Melio's Paz, both sides "must be fully dedicated and invested in every step of the journey. Investors and entrepreneurs will both tell you that people are the essence of their business. Whether you are an investor or entrepreneur - your success rests largely on whom you choose to work with, and how you invest in them."

"In both roles, it's essential to be able to understand situations quickly while still making informed decisions," added Rookout's Fogel. "To do so, you must deep dive into the many challenges and domains which are a part of the decision-making process but aren't always part of one's domain knowledge… There is always more data and information to be had that could impact investment decisions and operational day-to-day decisions, but in both worlds - there is never enough data and time is of the essence."

OwnBackup's Yankelev: "As an entrepreneur, you have to think like an investor. You should not start a company or join a startup that you would not personally invest in if you were sitting on the other side of the table. You should do your best to take feelings out of it and think about that decision as objectively as possible. Also as an entrepreneur you have to make a lot of small decisions every day about how to invest your time."

How does the jump feel going from investing to inventing?

"As an investor, you see many remarkable leaders and you see how they manage and confront both opportunities and adversity," said Paz. "You also gain a valuable perspective, seeing the larger market landscape, developments and directions. These experiences helped shape my vision for the company I wanted to help build and they continue to inform many aspects of Melio's journey."

Fogel called the jump "very satisfying, yet super stressful," and Yankelev added how "it feels great, but it can also be an emotional roller coaster. The wins and losses along the journey are a lot more personal."

What three words best describe the world of INVESTMENT?

Paz: "Vision, People, and Execution!"

Fogel: "Team, TAM, and Traction!

Yankelev: "Interesting, Academic, and Relationships!"

What three words best describe the world of ENTREPRENEURSHIP?

Paz: "I would also say Vision, People, and Execution!"

Fogel: "Team, Product, and Clients!"

Yankelev: "Hustle, Uncertainty, Confidence!"

How did your history in investment impact your fundraising strategy?

"One important element is that Melio proactively aligned our fundraising, capital, and growth strategies from the outset," Paz explained. "Second, in fundraising, Melio's philosophy is that we were looking for more than capital, we were looking for investors who could offer their experiences, connections, and mentorship to help Melio grow. We were looking for true partnerships."

Fogel: "In my time working in investment, I saw companies which grew very fast and also those who struggled more. However, the main insight I gained from my experience is the understanding that you should raise funds when you can and not necessarily wait for when you need it. You never know how and when the VC and capital market dynamics will change."

"First off the network," added Yankelev. "I started with people that I knew from my experience working at a VC firm. Second, it helps to know what investors look for so that you can work that type of information into the pitch deck and talk track."

What is the relationship like between investor and entrepreneur?

For Paz, the best way to describe the relationship is like a partnership. "This partnership shares the mutual interest and goal of building something meaningful and successful. The entrepreneurial journey is built over many moments - large and small. At Melio, we feel tremendously grateful to our investors for their partnership AND friendship, which have been critical in building and growing the company every step of the way."

For Fogel, the most important element of the relationship between investors and entrepreneurs is trust. "As a CEO, you have to make sure that the investors (and specifically the board) are always informed, aligned to the state and strategy of the company, will help you to drive the company forward as you envision, and will be there to support you when needed. The ability to collaborate with your investors is a force multiplier for a company, as investors are very helpful in the earlier stages of the company (in many aspects). They've seen many companies, teams, and operational challenges."

For Yankelev, it depends on the stage of the company and the personas involved. "What many entrepreneurs don't realize the first time they raise money is that raising money is like getting married. There are many different types of relationships between married couples, and the same is true between investors and entrepreneurs… Entrepreneurs should solicit advice from investors and consider it carefully, but at the end of the day running the company is the entrepreneur's job, and only theirs, and they usually have a lot more skin in the game than investors do."

What advice would you give to young entrepreneurs?

"Believe in yourself, your vision, and your mission," Paz concludes. "Stay humble in every decision that you make, but eventually, trust your gut. Though there are many playbooks for some decisions, ultimately you are the author of your own unique playbook. This is a big part of why investors choose to invest in your venture, your co-founders, and yourself."

Fogel concludes that entrepreneurs should "choose the right investors with not just your company, but also yourself in mind. Personal connections and healthy relationships with your investors are usually more beneficial for the long-term success of the company than optimizing deal terms in early stages."

Yankelev has two pieces of advice for those thinking of starting a company or crossing the border as he did with OwnBackup. "First: Your people are your company. Hire great people. Hire people who are very smart, hardworking and nice, so that other very smart hard-working people will want to work with them as well. Second: Starting a company is one of the most challenging, demanding, and time-consuming things you can do. If you have a family, or a partner you should discuss it with them and make sure that they understand what you are signing up for, because they are signing up for the same thing in many ways," he concluded.