Transmit Security raises record $543 million Series A at $2.2 billion valuation
The company co-founded by Mickey Boodaei, which developed a device-based biometrics solution for customer authentication, was bootstrapped prior to completing the largest Series A funding round in cybersecurity history
Israeli tech has added a new record to the long list broken over the past year. Transmit Security, which was ranked in second place in Calcalist's most promising startups for 2021, announced on Tuesday that it has completed the largest Series A funding round in cybersecurity history, raising $543 million at a $2.2 billion valuation. Calcalist has learned that much of the round will be conducted as a secondary sale of shares by the company's co-founders Mickey Boodaei and Rakesh Loonkar, and Transmit's 200 employees.

Transmit, which developed an app-free portable authenticator that uses device-based biometrics for customer authentication, had been previously bootstrapped, with Boodaei and Loonkar funding the company early on. Boodaei and Loonkar also co-founded Trusteer, which was sold to IBM for $650 million, and are also veteran investors who have made numerous successful investments in cyber companies.

The funding round was led by Insight Partners and General Atlantic, with additional investment from Cyberstarts, Geodesic, SYN Ventures, Vintage, and Artisanal Ventures. The investors will be largely acquiring shares held by the co-founders and employees, with only several tens of millions of dollars to reach the company's account. Transmit is a profitable company with annual sales estimated at around $100 million.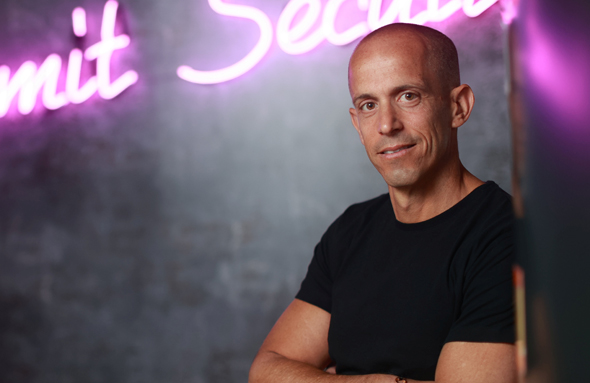 Transmit Security co-founder Mickey Boodaei. Photo: Amit Shaal

In an interview with Calcalist following Transmit's selection as the second-most promising Israeli startup for 2021, Boodaei said: "Money is being pushed in your direction and you require a lot of willpower to reject it. It's money that fuels itself until things explode. The capital is nearly free for the taking and you can't fault those who do. If I was in their shoes, I'd probably do the same."

Boodaei explained to Calcalist why Transmit decided to raise funds even though it didn't essentially require them. "We discovered that one of the things that was difficult for us was to explain to everyone the value and potential of the company. We were a company that hadn't raised money and the employees, analysts, clients and media had nothing to compare us with other companies and that is a problem. We came to the conclusion that partnering with the VC funds will show that the VC world believes in our market, our company, our people, and our potential to grow quickly. This serves as a measurable validation for everyone."

Using biometric authentication, Transmit Security provides the first natively passwordless identity and risk management solution to the largest brands in the world. Transmit Security's mission is to enable organizations to deliver advanced identity use cases that improve the user experience, enhance security, and satisfy compliance requirements at a fraction of the time and cost of traditional identity solutions.

Transmit already serves many major corporations across the world, including six of the seven largest financial institutions in the U.S., including Santander and UBS, and many digital service providers from Europe, Asia and Latin America. The company's headquarters are located in Tel Aviv, which is also the center of its R&D development. Trasnmit has additional offices in the U.S., UK, Mexico, Brazil, Australia and Germany.

Transmit will use the funding to increase the company's reach and expand its primary business functions. The company, which currently employs 200 people, 110 of them in Israel, is also planning on expanding its recruiting and is aiming to double its number of employees by the end of the year.

Boodaei explained that another reason for the funding round was the fact that while the company has reached a significant size, it still isn't as big as they'd like it to be. "We reached a size at which help from big funds can be significant for both parties. If we want a big and significant company we need to bring on board those that can make us 10 times bigger than we are today," said Boodaei.

"It is very easy to raise funds and we knew we wouldn't have to work hard to do so," added Boodaei. "It was easy for us because we chose VCs we have been in contact with for a long time and they know us and know our business."

Unlike many founders who see their stake dwindle over the years, Boodaei and Loonkar were Transmit's main shareholders prior to the round and will remain so. "We won't be significantly diluted, but there is a goal we are trying to achieve and we believe that we can reach far faster growth in today's market and that our potential is far more significant. We were also helped by the fact that we hadn't raised money until now. These stages of funding usually arrive at Series E and then the blow you suffer is far more significant."

Boodaei said Transmit is ready to take another leap forward. "We want people to understand that we are a leading player in our world. We are in a market worth tens of billions and we want to be very aggressive in order to reach higher growth figures than we currently have.

"Going public was always a goal and this is only accentuated by the entrance of the funds. Every fund expects that to happen. This isn't something we have set a timeline for, but it will come."

Organizations lose millions of dollars annually and place themselves and their customers at high risk due to password-based authentication that is inherently unsafe, delivers poor user experience, leaves customers unsatisfied and places brands at risk of jeopardizing their reputations. Research shows 55% of consumers stop using a website because the login process is too complex, while 87.5% find themselves locked out of an online account after too many failed login attempts. Even worse, 92% of consumers will completely abandon a website without completing a purchase instead of going through the steps to recover or reset login credentials.

Over the past 12 months, Transmit has introduced BindID, the industry's first customer authentication service that is completely password-free. BindID requires no customer software or dedicated hardware and can be used across any channel or device. Customers can authenticate and access their accounts using the embedded fingerprint or face scanner in their devices, or use their mobile device to securely and easily authenticate to other devices and channels that don't have an embedded biometric reader.

"Every time I see a login button on a website, I get anxious. Whenever an app texts me a code that I have to enter, I become frustrated with the process. We've all learned to suffer and accept the terrible user experience and poor security that comes with passwords just because that's the way it has always worked in the past," said Rakesh Loonkar, President and Co-Founder, Transmit Security. "Transmit Security is offering application owners a new reality: The ability to go passwordless no matter the size of their organization or number of users. The fact that we have raised a record amount of funding is a clear indication that the world is ready to eliminate passwords and embrace biometric authentication technology so that they can deliver enhanced user experiences combined with significantly heightened levels of security."

"We have been watching the growth of Transmit Security for some time and are deeply impressed by the leadership and passion Mickey and Rakesh have demonstrated as they take identity management to a new level. Their groundbreaking technology, entrepreneurial spirit and deep expertise is precisely what this industry needs at this moment," said Matt Gatto, Managing Director at Insight Partners. "We are thrilled to welcome the Transmit Security team to the Insight family as we focus our investments on creating a passwordless world."