Spotlight
The company harnessing AI to clear traffic jams
"Our solution works, if we get access to all the lights in the city we can reduce traffic jams by 30%-40%," explained itc CTO Dvir Kenig
Company: itc - Intelligent Traffic Control

Product: AI-based traffic-light management system

Raised: $2.5 million

Round: Pre-seed

Founded: 2019

Founders: Aharon Brauner and Dvir Kenig

There are few things more frustrating than waiting at a red light, behind a long line of cars, watching the green light disappearing in seconds, while no cars are crossing in the intersecting lane. That's what happened to Yael Brauner.

"She was stuck at a light on her way to pick up our kid from kindergarten and her lane, which had more cars in it, had a very short green light. We talked about it and realized it is a real problem that we can solve and affect the entire world," explained Yael's husband, itc (Intelligent Traffic Control) co-founder and CEO Aharon Brauner.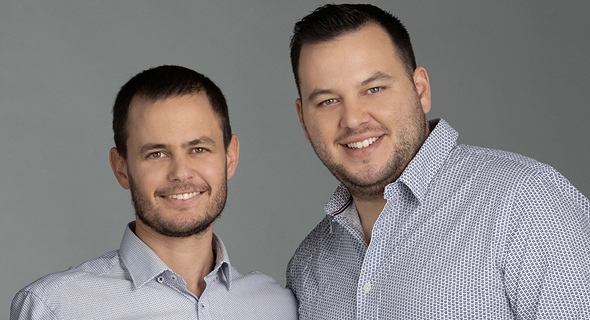 itc founders Aharon Brauner (left) and Dvir Kenig. Photo: Elad Malka

His partner and the company's CTO Dvir Kenig continued on itc's origins. "I even remember us talking about it. We went down to the junction in Beer Sheva she was talking about and we saw a green light but no cars, while there was a long line of cars in the other lane."

That moment inspired the two, then electric engineering and computer science students at Ben-Gurion University, to address an issue we all face daily. "Traffic jams are a global problem, it's easier to get where you're going today riding a horse than driving a car. And we, as a company, proved mathematically that you can avoid many of those jams if you manage them properly before they occur," Kenig said. "Our system connects to existing traffic cameras, analyzes what is happening in a junction, it studies the process and causes leading to a blockage, and as soon as it stores the process it knows to preempt it, meaning it does not work according to present scenarios rather future ones."

Originally, the two took the idea to an on-campus competition sponsored by Google, "we lost," Brauner said, "but we turned it into our final project." After graduation, they were picked up by Highroad Launchpad, an Israeli startups accelerator that helped them with their process. So far, itc has raised $2.5 million in its pre-seed and is about to greenlight another fundraising round. It has 10 employees, and staying true to their Ben-Gurion roots, the two friends brought their former professor Geva Amir on as their chief scientist.

The company's technology has already been proven in action, in Tel Aviv and other locations in Israel, as well as abroad, and it is capable of utilizing 5G infrastructures. In Tel Aviv, the system has been tested at one of the city's most congested junctions, Namir and Einstein, at the northwest entrance of the city. "Our solution works, if we get access to all the lights in the city we can reduce traffic jams by 30%-40%," said Kenig. "But we first had to prove with one junction that we are not causing any issues and that we could improve the situation there. That's what we did and that is where we are at this moment."

"The algorithm's goal is to execute the client's policy, in this case that of the Tel Aviv municipality," Brauner added. "If the city tells us we want to give priority to public transportation and pedestrians then that's what the software does." The two men praise the municipality for their cooperation and willingness to be a client as well as to help with the testing process. According to them, the fact that the city allows them to test their system on its exciting infrastructure saved them years.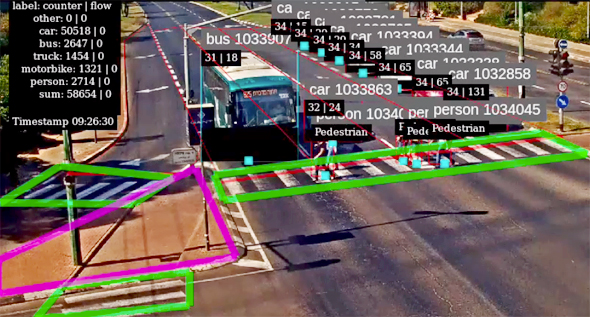 itc platform. Photo: itc

When looking at the itc platform it is hard not to be impressed by the amount of data it collects and generates. Keeping track of the number of cars, time spent waiting at the light, the distances between vehicles, and even vehicle models are just a few of the many parameters the system monitors and studies.

"There are behavioral changes that allow us to view the situation in depth. Our system monitors 360 degrees, hundreds of parameters, a lot of data, and that gives it a birds-eye view of the situation," Kenig said. "If there are two cars in front of a bus or a bus in front of two cars, that's not the same situation because a bus drives slower, and until today there was not any technology that could manage traffic at that resolution."

When asked about the ramifications of introducing AI technology to networks of cameras covering entire cities, the two were adamant. "We are not interested in private data, our system even hides the license plates," Brauner emphasized. "We do not care who drives and where to, we care what kind of vehicle drove by. We do not keep raw video, and we follow the European General Data Protection Regulation. We are here to serve the citizens and we are against hurting people's privacy."

Furthermore, like other traditional industries, the emergence of new AI technology in the sector itc operates in is resulting in some growing pains and complicated integration processes. "There is a lot of market education needed. When we meet a traffic planner he does not necessarily know the impact we can offer, we have to be patient and listen to the client and deliver our message," Kenig explained.

Patience, it seems, is required in this case from both commuters and the entrepreneurs as itc continues to scale and grow. However, there is no shortage of traffic jams it is hoping to clear. "We bring a feasible, proven solution that can be easily applied and it works. We proved we can change today's reality and lower traffic congestion." Kenig concluded.