Israel PM Bennett calls for global 'defense shield' against cyber threats
"Today we invite all like-minded good countries across the world to join forces in the global cyber defense shield," said Bennett
"Everything is under attack, everything. Our water, electricity, food, airplanes, and cars. Everything is vulnerable and everything is under attack," said Israel Prime Minister Naftali Bennett, speaking on Wednesday at the Cyber Week conference held at Tel Aviv University. Bennett said Israel will establish a "global defense shield" with the aim of collaborating with governments globally against the dangers of cyberattacks.

"If you fight alone you will lose, but if you fight together you will win," said Bennett. "We've already signed MOUs, but now we're taking it to the next level to a real-time cyber shield. Today we invite all like-minded good countries across the world to join forces in the global cyber defense shield."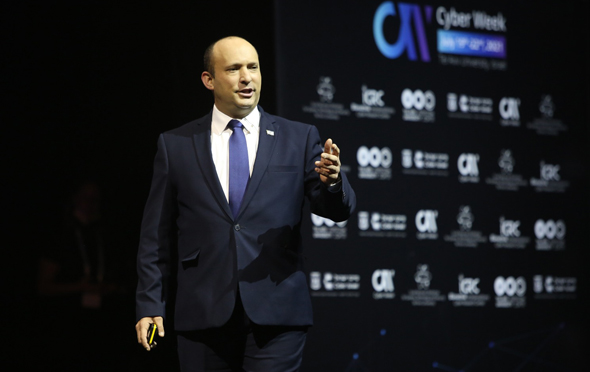 Israel Prime Minister Naftali Bennett speaking at the Cyber Week Conference. Photo: Chen Galili, Tel Aviv University

The Prime Minister said the new network will operate in a similar fashion to the Israel National Cyber Directorate, working with both the private sector and other government entities.

"I think we're the first country in the world to create one national cyber agency, a one-stop-shop whose responsibility is to defend all critical infrastructure in Israel," said Bennett. "That same agency is also responsible for the private sector. That's not to say we're in charge of their private decisions, but they have a phone to call where they can ask to investigate and share information and that's grown into a network.

"If you're a bad country and you're trying to harm or attack someone else you would need an airplane, commandos, a bomber, but today the best ROI is a cyber attack. You just need a brain, knowledge, experience, and an internet line," added Bennett. "Today the best bang for your buck is a cyber attack and it's just going to grow exponentially, and that makes me worried. As Prime Minister of Israel, I view this as one of the top threats to Israel's national security and the world's security."

"The biggest thing we did to counter cyber threats was to allow the private industry to thrive and we need the prowess of the private industry because the brains are not only in government, to say the least," he said. "In Israel, we've got a lot of really smart people that at a young age enter the army and take on a massive amount of responsibility and that's why we're seeing the boom today. Cyber is something that you can't direct, all we can do is allow it to happen, to allow all these folks to get together and create this fusion."

The annual cyber week is led by the Blavatnik Interdisciplinary Cyber Research Center at Tel Aviv University, the Israel National Cyber Directorate, the Ministry of Economy, and the Ministry of Foreign Affairs.