Interview
Nuclear reactor explosions or cosmic radiation? StemRad's vests have got it covered
The startup's anti-radiation vests protect astronauts from dangerous solar events, and could be used for longer missions in deep space. And, there's a version for female astronauts too
"If you want to make a deep tech disruption, you need to understand how the technology works. You can't just tackle a biological problem without understanding the science behind it," says StemRad co-founder and CEO Oren Milstein in an interview with CTech. Milstein, who has a PhD in Biology & Immunology, spent many years observing how radiation affected animals, and searched for a solution to protect humans too. "I think of how many people could have been saved from the Chernobyl disaster if they had our solution," he said, noting that when the Fukushima Nuclear Reactor disaster hit in 2011 is when the wheels really started turning.

StemRad is a small Israeli space tech startup that has been making a colossal and nearly galactic impact. In addition to its Tel Aviv headquarters, it has an office based out of Tampa, Florida, where it has partnered with global aerospace giant Lockheed Martin, the German Space Agency (DLR), and NASA to outfit the first woman and the next man on the Moon with its anti-radiation vests during the Artemis mission in 2024. So far, its gender-specific vest has been worn and tested by numerous female astronauts. In 2022, its male-geared version will be worn by next-Israeli astronaut Eytan Stibbe aboard his mission to the International Space Station (ISS), where he'll provide crucial feedback necessary for making improvements. StemRad also has a variety of other anti-radiation solutions for essential workers, military personnel, and medical professionals.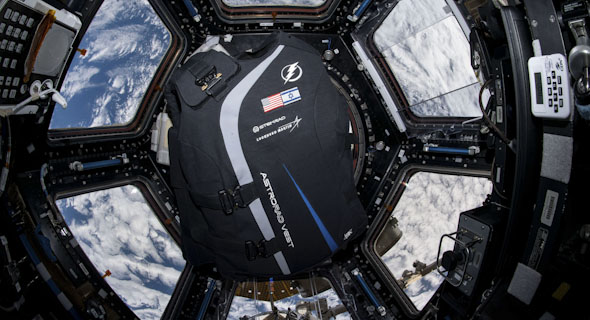 StemRad's AstroRad vest floating aboard the International Space Station. Photo: NASA/StemRad

"We've been examining scenarios such as explosions within nuclear reactors, accidental failures within reactors, or alternatively an act of God, such as a tsunami like what happened in Fukushima, Japan which triggered a nuclear event. We also looked at possible terrorist events, where they'd use radioactive material in big cities to harm people or an actual nuclear attack like with North Korea or Iran," he said.

Destination: deep space

The small Israeli startup's solution didn't start with space, but it's where it's most prominent project is headed: deep space.

"We started off working with nuclear power plants in an effort to protect their emergency responders, who are at risk of being exposed to a high amount of radiation," he said. "Our device selectively-shields the most sensitive organs, since we cannot protect the entire body against radiation that would require people to don a suit that weighs half a ton and inhibits movement." The company's first device, its anti-radiation belt protects the bone marrow and the organs which are in close proximity to it, such as the lungs, and the pelvic organs, namely the gut and stomach, and womens' ovaries.

Radiation in space is not something that typically comes to mind when recalling the first manned Apollo missions. "They took a calculated risk," Milstein noted. StemRad stumbled upon NASA's aspiration to send humans back into deep space for the first time since 1972 with the upcoming Artemis missions. "NASA hasn't sent anybody into deep space for the past 50 years. Even considering the missions to the ISS or Jeff Bezos or Richard Bransen's flights - no one is actually going into deep space just yet." As for the Artemis mission, StemRad has been manifested on all the stages, with the first planned to take place at the end of this year. This will be done in three parts, with the final mission featuring an actual lunar landing.

StemRad met almost accidentally with representatives from aerospace and defense giant Lockheed Martin, who won the U.S. government tender to build the Orion vehicle to take people back into deep space. That meeting resulted in an ongoing six-year collaboration to develop the AstroRad anti-radiation vest to protect astronauts against space radiation.

"Radiation - specifically ionizing and not cell phone radiation - reeks havoc within our genome and DNA, because it creates charged particles within our cells that inadvertently enter our DNA strands as they're replicating and create errors which can result in mutations, and lead to cancer. Radiation can also cause Acute Radiation Syndrome (ARS), or radiation sickness and can lead to death in a few weeks. ARS wipes out the bone marrow, so the body isn't able to produce blood anymore," he said, adding that his PhD adviser was one of the few who went to Chernobyl to treat the first responders who suffered from ARS, inspiring him.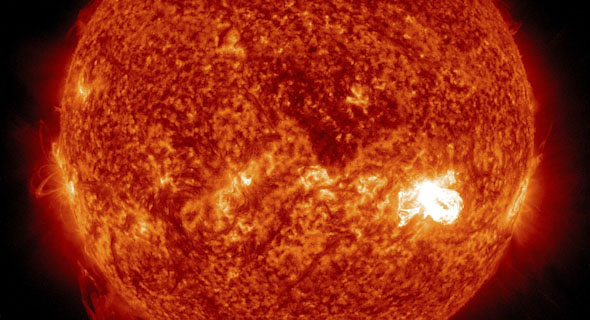 Solar eruptions (such as this one pictured from 2015) can pose serious threats to astronauts. Photo: NASA/SDO

In lower-Earth orbit, there isn't much danger since it is within the confines of Earth's magnetic field which repels those harmful rays, making life on this planet possible. "Going into deep space is now becoming more ominous and dangerous for astronauts," he said. "Exiting that sphere exposes humans to high doses of radiation, whether they are common galactic cosmic rays or rarer sporadic solar eruptions which could fry people. The rays show up at a very low dose rate and are harder to protect against, but solar events or eruptions could cause immediate death."

Although space agencies work closely with research groups that predict space weather, that isn't enough. StemRad's product is the first wearable solution on the market, and is geared for use in the long term.

"During the Apollo missions, astronauts went to space for a week. Now agencies want to send humans to Mars, and that could take three years, so the likelihood and risk increases. Fortune favored the bold in the case of Apollo, but with countries wanting to settle the Moon and embarking on other longer deep space missions, we need a solution."

Gearing up women for space

StemRad chose to focus on creating a gender-specific suit, since certain female organs are extra-susceptible to radiation-induced cancer such as the ovaries and breasts. "We've been making sure that our vest is a gender-equalizer," Milstein relayed. "The female-version emphasizes additional protection with increased shielding in those areas." Moreover, being in a microgravity environment allowed StemRad to make those vests heavier.

The company has had numerous female astronauts test its vests. During Artemis-1, AstroRad vests will be worn by a female mannequin - an Israeli one named Zohar - with a German one named Helga sans vest for testing, as part of a collaboration between NASA, the Israel Space Agency (ISA), and DLR.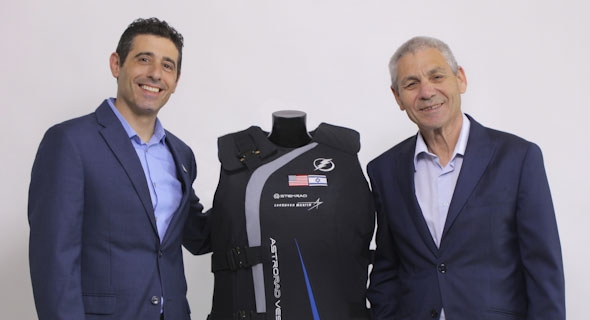 StemRad CEO Dr. Oren Milstein (left) and Director-General of the Israel Space Agency Avi Blasberger hold an AstroRad vest. Photo: StemRad

Cosmic collaborations and more

The company has raised $12 million without grants, including a recent completion of a $6.5 million Series C round, but doesn't have any plans to go public just yet. Some of its investors include the Israel Innovation Authority, the ISA, Space Florida, Wanaka Capital Partners, and private angel investors as well as family and friends.

Aside from those mentioned, StemRad has collaborated with Honeywell International, the United States military, the U.S. Department of Defense, the Israeli security establishment, and American utilities companies, although it declined to provide further details of its defense contracts for security reasons.

Survival of the fittest

Aside from the space tech industry, Milstein thinks that Israeli startups thrive due to a nationwide survival instinct. "Every Israeli has this out-of-the-box way of thinking in order to survive. I think we're driven in this direction because of our history of being a people who are able to improvise and have survived against all odds, and that's exactly what startup leaders need and what makes them succeed. The way to thrive is through collaborating with international companies, and that's the pathway to success. I think that the space ecosystem is still not big enough yet in Israel to do it independently, but together we can better contribute to the overall ecosystem."

And nowhere is survival mode clearer than when recalling Stibbe, the next Israeli astronaut.


The AstroRad vest has been selected as one of the 44 experiments in the Rakia mission program, and will have Stibbe don and test its vest, being the company's first male subject. Sapir Lazar, a StemRad mechanical engineer is one of the company's female scientists and will be leading the experiment. "I'm excited to lead this project, and be one of the first female representatives in this field," she told CTech.

Bezos vs. Musk

While Amazon CEO Jeff Bezos made headlines earlier this week with his flight to space, Milstein isn't impressed.

"I think the excitement is overblown. They're doing something that has been done 60 years ago. The only novelty here is that it will be for space tourism, but low-Earth orbit isn't space. He didn't leave Earth, it was more like a very high-altitude Boeing suborbital flight. I think it's good for the commercial market, but this isn't space exploration."

However, he feels SpaceX is really making waves, but that has more to do with its mindset and overall end goal. "Musk's Starship program will really change things," he said.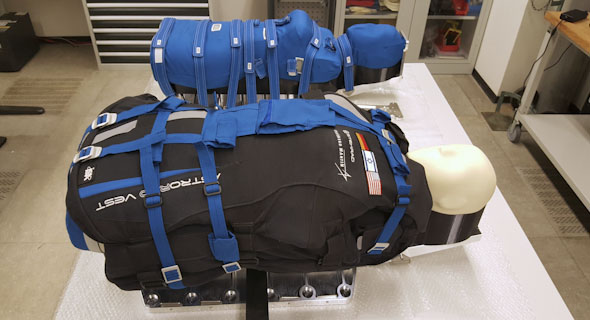 StemRad's vests worn by dummies. Photo: DLR/StemRad

After the launch of the AstroRad, many companies have tried creating their own versions.

"We were the drivers behind our idea, but now it has become mainstream thinking. You have to be like Musk, first you build the rockets and do the proof of principle, and then organizations buy your products. If you build it, they will come," he quipped.