Fabric to provide Instacart with automated fulfillment solutions as part of strategic partnership
The Israeli company will integrate software and robotics solutions with Instacart's proprietary technology and growing shopper community to create new e-commerce services for retail partners
Instacart, the leading online grocery platform in North America, unveiled on Thursday the first phase of the company's next-generation fulfillment initiative designed to bring automated technology solutions to retailers across the U.S. and Canada. As part of the new initiative, the company announced it has signed a multi-year strategic deal with Israeli company Fabric as a fulfillment automation partner. With Instacart next-gen fulfillment, the company will integrate software and robotics solutions with Instacart's proprietary technology and growing shopper community to create new e-commerce services for retail partners.

As part of Instacart's new next-gen fulfillment initiative, the company will pair Fabric software and robotics with Instacart technology and shoppers to power a new fulfillment process within dedicated warehouses and existing retailer locations.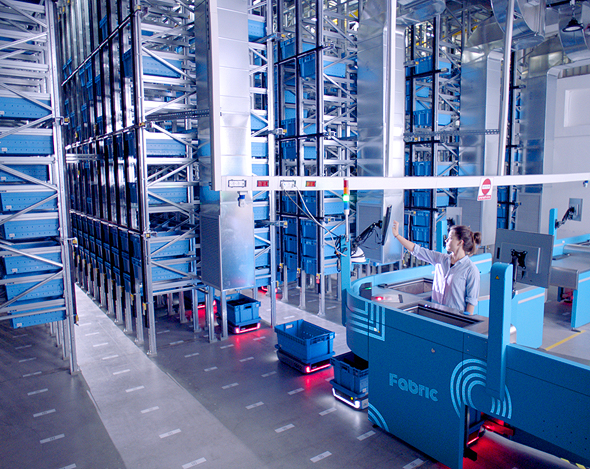 Fabric's automated solutions. Photo: Fabric

"Everything about our micro-fulfillment solution has been built for speed, efficiency, and elasticity to meet today's on-demand requirements. This partnership with Instacart is another validation that Fabric's tech and operations are best-fit to serve retailers' next-gen fulfillment needs,'' said Elram Goren, CEO and co-founder of Fabric. "Our software-led robotics and modular solution gives grocery retailers the flexibility to build the fulfillment solution that best fits the needs of their business. With Instacart as a partner, we see an enormous opportunity to integrate our product and services into Instacart's ecommerce solutions to provide a compelling service offering for grocers. We're excited to partner with Instacart as we continue to scale across North America and focus on unlocking more value for retailers and their customers."

Formerly known as CommonSense Robotics and founded in 2015, Fabric changed its name and shifted its headquarters to the U.S. in anticipation of the upcoming revolution in the fulfillment center industry. The company garnered banner headlines with its announcement last year that it was partnering with retail giant Walmart, providing the household brand and industry leader with warehouse automation services as part of a pilot the company is trying out in its effort to compete with the likes of Amazon.

Fabric operates on two fronts. The first is in the grocery sector, where it provides retailers the option to convert part of their stores into micro-fulfillment centers, receiving customer's online orders, picking and packing their selections in a robot-human collaboration depending on the type of product, scheduling the orders so that they are ready for delivery at the required time, and packaging them in convenient boxes for delivery to clients' homes, all within minutes and with near-zero mistakes. One of the company's biggest clients is Fresh Direct, which now enables two-hour on-demand delivery in many of its locations.

Its second niche is creating relatively small multi-tenant centers in urban centers that make on-demand fulfillment profitable for ecommerce sellers by locating automation physically close to end customers. Fabric provides the robots, the WMS, and the algorithm that combines the complex services to offer its clients the utmost flexibility and responsiveness.

Fabric has offices in New York, Tel Aviv and Atlanta, with over 200 team members globally. Fabric has raised $136 million to date and is backed by leading investors including Corner Ventures, Innovation Endeavors, Aleph, Playground Ventures, Canada Pension Plan Investment Board (CPPIB), Evolv (Kraft Heinz), Temasek, and more.