Inside Spike's 'bombastic' vision to reinvent email
Billions of emails are sent each day, but Dvir Ben-Aroya is determined to modernize a tool seen as outdated by the young
Email is for boomers - at least that's what you might hear from young people today. Whereas conventional offices might be seen using traditional email as the primary form of communication, many startups in their infancy are employing Millennials and Gen-Zs who prefer more instant forms of messaging seen on more mobile-friendly devices. They want responses short - and they want them right now.

"Email has not had any innovation since the invention of email," explained Dvir Ben-Aroya, Co-founder and CEO of Spike. "And yet email is the most dominant communication method today." In 2018, Ben-Aroya set out with his co-founder Erez Pilosof to transform email and give it an injection of modernity he believes is needed to keep people engaged and connected with each other.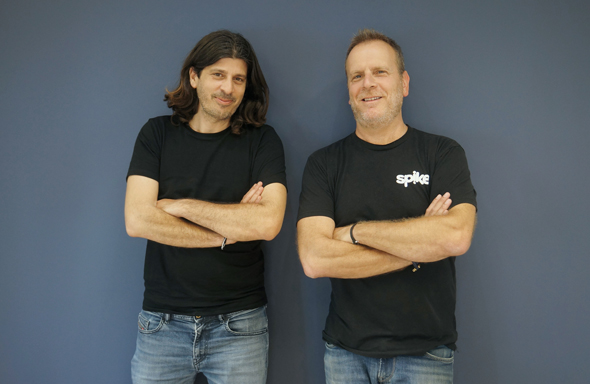 Spike Co-founders Erez Pilosof (left) and Dvir Ben-Aroya. Photo: Spike

Spike takes email, task management, calendars, audio and video calls, and other tools and turns them all into a collaborative platform that looks like a simple messaging platform. Designed to resemble instant chat, colleagues and individuals can use Spike as a Windows or Apple computer app, on iOS or Android mobiles, or simply through an internet browser.

"What happened in the last 15 years is that there is a shift in the way we are communicating and we are enjoying communicating with 'synchronic' communication, with real-time communication - instant messaging-type communication," he continued. "But why do we enjoy using this method of communication? Because it's less formal, it's more to the point, it's more friendly, it's more human. People really enjoy using an instant messaging tool."

Those who chose to adopt Spike can send emails in the form of an instant messaging chat to anyone with an email address. Those who do not use Spike are not bound to it when receiving messages. In a test with CTech, a Spike colleague sent a message through its platform and it landed in CTech's inbox as a traditional email. According to the annual Internet Minute Infographic released each year, it was one of the 197.6 million emails sent each minute in 2021. Despite its outdated reputation held by the young, the use of email is, in fact, rising each year by 7% - even if they prefer to use messaging platforms in their personal lives. Spike is the middleman between the generations and communications that may have different preferences on how their messages are sent and received.

Ben-Aroya believes that the reason email is so popular and robust is that it doesn't belong to anyone. "It's not a Facebook company, or Amazon, or Google, it's open protocols. It means you can use any service you want and someone will use something else and still you will be able to communicate - unlike others such as Monday.com, Zoom, Slack, Trello, and so on."

Spike is free to use for individuals. For small companies, its rate varies between $7-12 per business account per month, with Ben-Aroya claiming that 150,000 active businesses and consumers are using it almost on a daily basis - many of whom are students and educators. Last year, Spike started monetizing its product fully but it also has support from backers Insight Partners, Wix Capital (marking the first for the newly-established VC), and even from Eric Yuan, the Founder of CEO of a little-known company called Zoom. Ben-Aroya teased that the company is receiving another round in the near future but kept mum on the details.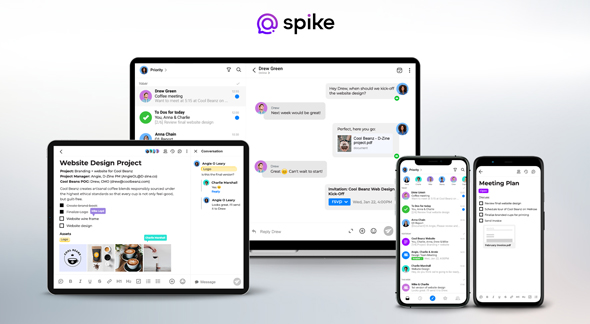 Spike can be used on mobiles, tablets, and computers. Photo: Spike

"Our investors, employees, and partners are very passionate about what we've been doing," Ben-Aroya told CTech about his plans to transform the world of email and collaboration. "Yes it's bombastic, and yes it will take time, but this is how communication over email and messaging, and other utilities, should look in the next few years."

Looking ahead, does Spike see itself as a direct competitor to Google's Workspace and Microsoft's Office 365, or is the company looking to be acquired by one of the big players to help them transform 'robust' but 'outdated' forms of communication? "Spike will be the company that will be the alternative to Gmail, Outlook, and Slack," he confirms. "Let's see who wins the bet. Maybe one day I will buy Gmail."