SAP appoints Yaad Oren as senior VP to head its global in-house Innovation Center Network
Oren started his SAP career at Israel's R&D Center and has held various management positions in the organization
Software and programming company SAP has announced that it has appointed Yaad Oren as its Senior VO to head its in-house ICN (Innovation Center Network). In the role, Oren will work under the head of NVT (New Ventures and Technologies), which coordinates SAP's innovation activity and is responsible for the company's long-term tech-based growth engines. Oren started his SAP career at Israel's R&D Center, run by Orna Kleinmann.

"As manager and Managing Director, one of the greatest successes in my position is when workers develop within the organization and grow together with SAP," commented Kleinmann, Managing Director, SAP Israel R&D Center. "I am extremely proud to see how an individual who started out with us as a young student at the R&D Center in Israel, now provides considerable value to the global organizational objectives of the company and its customers."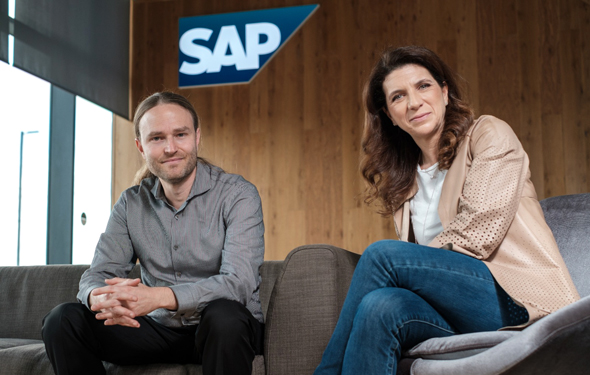 Yaad Oren and Orna Kleinmann. Photo: SAP

After starting at SAP's R&D center, Oren held the positions of head of SAP Gateway Products, R&D functions, as well as other various management positions. His latest position was heading the company's technology strategy, working under its CTO. He has a BSc in Industrial Engineering and an MBA both from Tel Aviv University. He is the son of Israeli bestselling author Ram Oren.

SAP employs 104,000 around the world and has more than 800 employees in Israel. Founded in 1972, the company develops enterprise application software to help people and organizations work efficiently.