Interview
Using data to drive business
Placer.ai has developed a software that anonymously tracks users' shopping, and helps drive business growth in a whole new way
Retail companies are increasingly looking toward data to get a feel for how their businesses stack up in the market. Today, data can help executives see the bigger picture when it comes to profit - from analyzing shoppers' behavior patterns, such as what stores they prefer, how long they spend there, what products they gravitate to, and in what locations - and software is helping companies realize what they need to improve qualitative growth.

Instead of relying on panel data, which observes data and makes estimations, one Israeli startup, Placer.ai relies on artificial intelligence and machine learning to learn behavioral patterns of shoppers and make a more widespread extrapolation based on that data. The location analytics and foot traffic data company has offices in Ramat Gan as well as in Los Altos, California.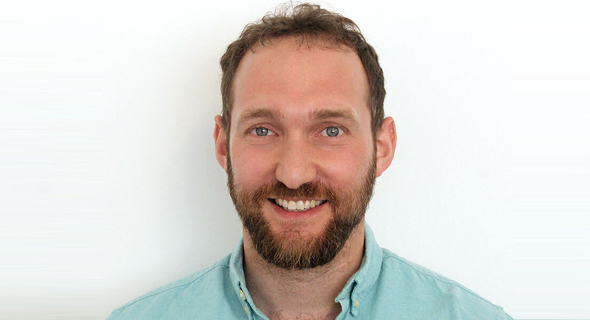 Ethan Chernofsky. Photo: Yonathan David

"Instead of taking a poll and looking at what people or shoppers are doing on a mass scale, we do a similar type of extrapolation to predict shopper behavior. Our software relies on machine learning, where we train our system to recognize a series of something and then predict what the outcome will be. If a visitor comes from area X and goes to retailer Y, then we can predict what retailer they will be most likely to visit in the future," Ethan Chernofsky, VP of Marketing told CTech in an interview.

"For example, if our software sees that a person goes to a dry cleaner or a Target and spends an hour and a half, it'd be able to deduce that the person would spend more time at the Target. This is aggregate data, and our system doesn't collect any personal information, simply tracks people moving from different points across the map in retail environments," he explained.

It's more than macroeconomics

The company launched its product in late 2018, when European GDPR, California CCPA, and other personal information privacy laws were enacted. "Many people are worried about sharing their personal information with third-parties, but our software was already built-in with privacy in mind," Chernofsky said. The Placer.ai software looks at hard data, provides estimations of where shopppers went, and how long they spent at a certain store to better see how to advertise to individuals from a business top-down standpoint, he explained.

"We're aiming to understand macroeconomic trends, so we aren't interested in individual data. Typically, we look at a certain retail location within a three, five, and seven mile radius," he said to gain a better understanding of who the target market is and pick up on shoppers' retail behavioral patterns.

"We're enabling brands to interact in a much smarter way with shoppers, so that they can succeed," he added.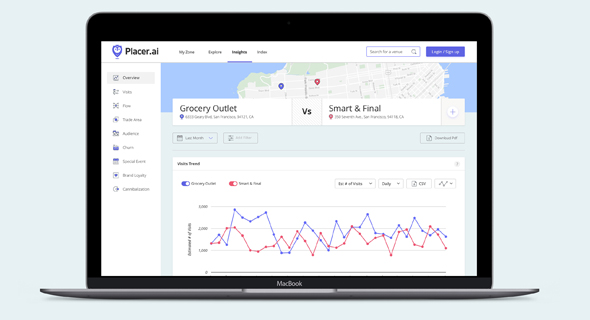 Placer.ai prides itself on being accessible. The company's software is easy-to-use. Photo: Placer

In one instance he described, a brand left a certain location because it was downsizing - it realized that it was getting more gains at another location and that location was contributing very little revenue. "If you want to rent a mall location, you need to decide what tenants to put where to fit your audience. If you get it wrong, it's a loss, but if you do it well, you can significantly contribute to the economy. If you're a retailer and see that you have a high amount of visitors at your store, you can see that you did well. But if your competitors aren't doing well, you now have that context of why you're performing the way you did based on that data."

"For example, in 2019 Walmart announced that they were closing some big locations, so many retailers decided to close as well, but when we looked at the stores they were closing we found something interesting. Those same Walmarts were "cannibalizing" off of other locations. They wanted to optimize their fleet and maximize their efficiency, to build their stores and grow more effectively," he explained.

This data is becoming increasingly critical to retailers, who must be more nuanced and provide a better customer experience, he added.

"The best thing about our platform is that it's very accessible, anyone can use it," he said. Placer claims it simplifies data to power small businesses while still focusing on accessibility, however it is profitable. "We can't really change how businesses operate, but we can help make them more sustainable."

Word on the street

Placer.ai has recently completed a $50 million Series B round, and has raised a whopping total of $67 million over three rounds. Some of its investors include Olive Tree Ventures, Hunt CEO and angel investors Josh Buckley, and Superhuman CEO Rahul Vohra.

The company is constantly growing, and while word on the street is that an initial public offering (IPO) might be on the horizon, Chernofsky avoided making any calls. "When we look at companies that make IPOs we see that they are focused less on the specifics and more on creating a strong customer base, while growing their business over time. We're trying to pace ourselves while still growing. We want to continue to build new products, delight customers, and lead the market forward."