Rapyd raises $300 million at record $10 billion valuation
The Israeli fintech company became the highest-valued private tech company in the history of Israel, overtaking Gong which raised $250 million at a $7.25 billion valuation two months ago
Another day, another record in Israeli tech. Fintech company Rapyd announced on Tuesday that it has raised $300 million in a Series E funding round at a valuation of $10 billion, making it the highest-valued private tech company in the history of Israel. Gong held the record for just two months after raising $250 million in its Series E at a $7.25 billion valuation in early June.

"We will go public in three years and will be Israel's biggest company. Bigger than NICE and Wix," Rapyd CEO and co-founder Arik Shtilman told Calcalist. "We could go public today, but we want to reach $1 billion in revenue and go public at the highest possible valuation."

Despite the massive funding round, the entire raised sum will enter the company's coffers and the round will not include a secondary element. "The valuation we received is astronomical and the dilution was insignificant, even ridiculous. These investors want to make equity deals. These aren't second-rate funds," said Shtilman.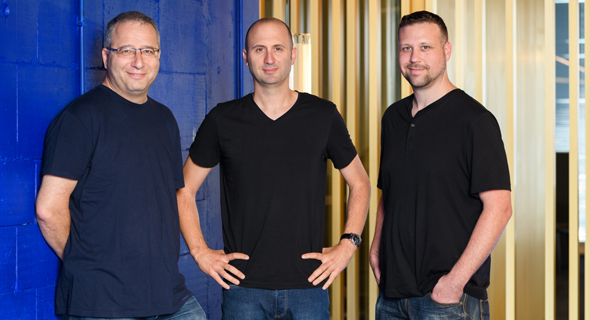 Rapyd co-founders Arkady Karpman (right), Arik Shtilman, and Omer Priel (left). Photo: Courtesy

The round was led by Target Global with several new investors joining the round, including Fidelity Management and Research, Altimeter Capital, Whale Rock Capital, BlackRock funds, and Dragoneer, along with participation from existing investors: General Catalyst, Latitude, Durable Capital Partners, Tal Capital, Avid Ventures, and Spark Capital. Rapyd has raised $960 million to date, $160 million of which in secondary deals. Rapyd completed a massive $400 million funding round at a valuation of $2.5 billion in Jaunary of this year.

"We have $750 million so clearly we are under no pressure to go public. We learned from U.S. fintech company Stripe, which is going public at a $250 billion valuation, that in our market it is best to remain private for as long as possible. I can go public at a $10 billion and even $20 billion valuation but I'm in no hurry. We have Fidelity, BlackRock, and Tiger, who are all funds that buy in IPOs. I have no reason to go public. I could do a roadshow on WhatsApp. Everyone wants to be part of our IPO. We want to reach a revenue of $1 billion, which will only happen in two to three years, no sooner. We will have $260 million in revenue this year."

The financing comes shortly after Rapyd's acquisition of Valitor, a European payments and card issuing company, for $100 million, and the launch of Rapyd Ventures, the company's venture arm. The additional funds will enable Rapyd to accelerate the company's growth through a combination of organic growth, acquisitions, and strategic investments.

"There are a lot of startups that work with our platform and use us for payment clearing. We thought of setting up an investment fund of $20-40 million and making strategic investments with the goal of exclusively connecting companies to our platform. We also have the option of investing at lower valuations and make a significant profit within two years. We are at the juncture for companies and I know their financial state really well and have no need for due diligence. We invested in a company that is like the Robinhood of Asia-Pacific which is growing at a rapid rate. The $250,000 we invested a year ago is already worth $8 million and they use us for all their payments. We also invested in an Israeli company that is still in stealth," said Shtilman.

Shtilman told Calcalist that "over recent months we received offers from funds that wanted to invest in us like Fidelity and BlackRock. We didn't want to raise money but the business is continuing to grow and we want to make at least one more acquisition this year and another one next year. Since we know who we will be buying and how much it will cost we decided to conduct a quick round with the biggest funds in the U.S. with the aim of raising $300 million. Half of the sum will go towards an acquisition we will make immediately and announce in the fourth quarter of the year and the second half will go towards our SMB product which requires an investment in marketing and product."

"We are also considering the acquisition of small companies for workforce needs. If we see that there are companies that have 20-30 employees we want, we will acquire them regardless of the quality of their product and technology."

Founded in 2015 as CashDash by Arkady Karpman, Arik Shtilman, and Omer Priel, Rapyd offers payment services enabling the transfer of electronic funds across borders through various means of payment, including bank transfers, digital wallets, and cash. Rapyd's platform supports 65 currencies in more than 170 countries and enables global transfers in real-time. Its valuation has significantly increased over the past couple of years, with the company being valued at around $1 billion when it raised funds in October 2019 and at just $300 million at the beginning of 2019.

"Rapyd has built a borderless embedded fintech infrastructure critical to all digital businesses that operate globally. Their platform incorporates payments, compliance, FX, fraud management, escrow, virtual account and card issuing, and more," said Mike Lobanov, General Partner at Target Global. "But now, as the world sees growing traction across global eCommerce, Gig Economy, Fintech Solutions and Technology platforms, Rapyd must take the next step. There is currently an unprecedented need for a single partner serving as a bridge between a vast array of local payment services and merchants, providing them access to the flexible, fast-to-integrate, and scalable solutions they need to thrive. Having led Rapyd's Series A in 2018, we are confident that Rapyd can be such a partner, and are now renewing our bet in this round."