"Looking for real partners to build the company, its product, and culture"
With the competition over talents in the tech industry growing, Calcalist's Monday high-tech basketball event provided the right arena to hear how the participating teams are gearing for battle
The competition for high-tech workers has reached new heights. The high turnover of employees in the field, the fantastic terms, and the chase after talent, force companies to think outside the box and make sure that their employee experience is no less than excellent. High-paying salaries and amenities are already the common standards, and companies now compete for completely different things like purpose, technological challenge, flexibility, and putting the employee at the center.
With the NDA, Calcalist's high-tech basketball event, taking place Monday, we spoke with the high-tech companies who are taking to the court, about the impossible battle for talent, their employee experience, and what can be their game-changing move.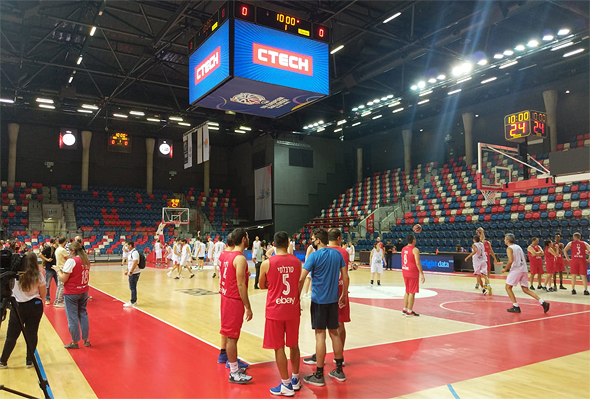 NDA, Calcalist and CTech basketball event Monday Photo: Elihay Vidal

eBay

"The employee experience is a key part of eBay's worldview, meaning it is already reflected in our recruitment process, where we make every effort to produce a diverse and inclusive experience for all candidates. For example, in our latest recruitment campaign, we created ads in five different languages ​​to create a personal experience for each candidate," said Inbar Brilant, HR Business Partner at eBay Israel.

"We are very attentive to the needs of our employees, we have employees all over the country and from all age groups. We enable a super hybrid model that allows maximum flexibility in working hours and location," Brilant added.

"In addition, we place extensive emphasis on our wellbeing activities, which include unique benefits for eBay, such as maternity leave for the spouse, a sabbatical month, babysitting services, and more."

According to Brilant, the employee experience greatly affects eBay's ability to compete with other high-tech companies for talent. "The opportunities we give employees in aspects of wellbeing, aspects of work-life balance, and aspects of professional development allow us to compete for the strongest candidates in all areas relevant to our operations."

Brilant stated that the most important thing for job applicants today, which could help the company in the battle for high-tech workers, is the issue of resilience and the ability to progress within the organization. "eBay has experienced one of its best years in the last decade, and an employee who comes to the company knows that he is coming to a stable and established place. In addition, there are quite a few studies that have shown that one of the main reasons for employees leaving is lack of development and new challenges. That is why we place much weight on professional development and providing tools for the growth of the employees in the company, as well as many developmental and promotion routes within the teams, and the transition between teams from different areas of practice."

Israel Aerospace Industries (IAI)

The aerospace industry's approach is that the employee experience consists of several layers: the occupational challenge, professional development, learning and personal growth, the ability to have an organizational impact and conditions. "The work environment consists of a high-quality and unique human composition, and the fact that hundreds of projects are conducted in-house, allows the employee to experience new things, integrate into several projects and 'taste' different technologies and methods throughout his or her careers while receiving varied professional training experiences. The career path in IAI is long-term. Many of the company's senior executives began their careers with student positions while they were still attending university. They grew and assimilated into key positions as the company developed. Simultaneously, IAI invests in R&D (about $200 million per year), which allows employees to develop new systems, float ideas, and fulfill technological 'fantasies' following the company's business lines. These innovation processes are a significant added value in the company's employee experience," said Barak Strosberg, IAI's Executive VP of Human Capital.

Strosberg added that "there is no doubt that the current period is challenging for all tech companies, and still, IAI recruits hundreds of employees every year for technological positions. Our unique value is at the core of our engineering, in developing the most advanced systems and technologies in the world."

The most important things for job applicants today, which can help a company in its fight for talent are meaning in the work, stability, technological challenge, ability to influence, learning and experiencing new technology. "In addition, IAI is an organization that encourages learning and excellence, and the company invests heavily in training its employees and establishing a long-term development plan for their continuous individual development within the organization - these processes are significant among our target audience," Strosberg said.

Cobwebs

At Cobwebs, the emphasis is on each employee's personal development experience, his or her ability to shine within a team and continue to learn and evolve at all times. "We have the flexibility to accommodate the needs of the organization and the professional aspirations of each employee whether it is within the team or in positions in other departments. The organization enables an open discussion between management and employees, which creates a cross-organizational, positive dynamic," said Sivan Ziv, an HR Manager in the company.

Ziv noted that the impact made by an employee's experience on the company's ability to compete with other high-tech companies over talent is very subjective to each candidate. "Everyone has different priorities and we can provide the answer in every area. Whether it is in our advanced technologies, working methods, human capital, work environment, work model, etc. The employee experience where the organization facilitates listening, flexibility and adjustment is reflected from the initial meeting with the candidate, "she added.

"Each candidate comes with a personal experience, a different work experience, and other needs that motivate him or her. We know what our many strengths are, and we know how to sell them. I am looking for candidates who connect to these places, our work, the dynamics I talked about - and want to be part of success."

SQLink Group

SQLink Group, one of the largest IT companies in Israel with 2,700 employees, invests thought and resources in human capital, among other things through professional training, to ensure employment prospects for each employee, desirable employment conditions, various social activities, cultural and leisure events, etc. "We make sure to meet the employees and their needs at every step in their lives, even on a daily level including maintaining the highest salary levels and conditions in the field, promoting an open dialogue on personal and professional development, internal organizational mobility program, rich and varied annual welfare program, nutrition and healthy lifestyle through vegetarian and organic kitchens, running group, fitness training and more," said Yael Barak-Cohen, VP of Human Resources at SQLink Group.
SQLink basketball team Photo: SQLink

Barak-Cohen said that especially these days when the market is boiling and the fight over talent is greater than ever, employee experiences are an integral part of the SQLink Group narrative. "It was important for us to create an aesthetic and pleasant environment, a dining room that offers an organic and vegetarian lunch every day and plenty of benefits in financial, cultural and leisure, consumerism and more. But the competition is not decided over the surrounding conditions, rather over the professional challenge, promotion possibilities, training, and Improved wages."

The important things for candidates vary from employee to employee, Barak-Cohen noted. "Every employee has a different priority: flexibility; hybrid work; professional development; conditions; responsible management during the Corona crisis; innovation; personal attitude or a pleasant and technological work environment. We give room to all those while adapting the experience to every employee, and we are always happy to hear ideas on how we can improve."

"It is no longer enough to offer a high salary. Today's high-tech candidates are considered talents and as such, will prefer conditions that put them and their personal world at the center - reasonable hours that will allow for family life, creativity, self-expression, and challenging roles."

HoneyBook

HoneyBook does not focus on specific things in order to improve the employee experience, rather it has a whole mindset of putting the person at the center with the understanding that everyone is an individual with different needs. "The first core value in HoneyBook is 'people come first' and that is the belief that leads us. An employee's overall experience is basically a collection of lots of daily experiences from different aspects, it can be reflected through personal development, appreciation and recognition, working with a lot of responsibility and meaning, connecting to a product and company values, the feeling of being seen and listened to, the understanding that you can be who you are and bring that out to the office, connect to our mission and vision, to the customers, etc. Our employees are happy and stay for many years because of all these and not because of a ping pong table or gym membership because it does not exist," said Maya Wolkoon, General Manager at HoneyBook.

According to Wolkoon, the employee experience greatly helps the company compete with other high-tech companies for talents. "Candidates who come to us understand that they have come to a special place and maybe even a little different in today's landscape. They feel it from the moment they walk in the door. We put an emphasis during the interviews on the product, the industry, our customers, and again, mostly on the person sitting across from us. It is part of who we are and our DNA."

HoneyBook applicants, she said, are the ones who are looking to create a real impact, contribute and influence, learn and teach, people who want to take responsibility and lead and create real value for themselves, the company and its customers. "We are looking for real partners to build the company, its product, and culture."

JoyTunes

"We do not see our people as employees rather as team members, full partners in building the company," says Daniel Zilberberg, Senior Marketing Manager at JoyTunes. "We do not have management, but leadership, so there is no layer of managers and decision-makers - we all work together to realize our vision. It may sound like semantic refinement but it is essential for us. It is based on a principle we lovingly took from Netflix's corporate culture called 'responsible adults.' meaning hiring excellent people, mature and experienced, and to remove from them layers of policy and bureaucracy that hinder and limit them."

"We recruit people whose perception of themselves and JoyTunes is a partnership, they care, and they feel personal responsibility. Every team member needs to grow into things, take responsibility at the highest levels, be super independent and transparent about when he or she needs help when they are unsure of something. The company has a very unique experience of building something together. It requires a lot from us, but for the right people with the profile we recruit it can be very rewarding because it gives them a lot of power and freedom to influence and change things," she said.

Hibob

"It is very important for us to have people for whom the human interface and connection with other people is important, who want and know how to work well in a team, respect others' opinions and create a diverse (50% women in the company), synergistic and developing work environment. That is where it all comes from. When we meet candidates, we are looking for that, "says Nirit Peled-Muntz, Hibob CPO.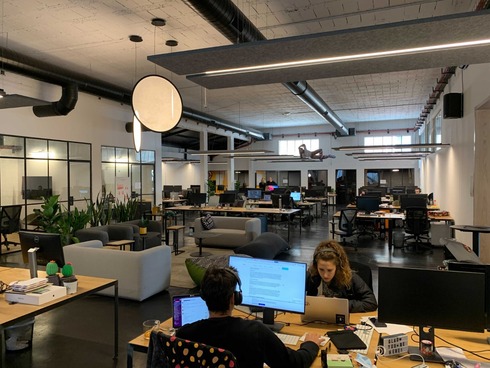 Hibob office Photo: Hibob

"We always prefer to believe in people - we trust and believe in our employees very much, it is expressed in many ways, for example, during Covid, we gave employees a lot of freedom, we trusted them to work and fulfill their tasks when and where they could, knowing they face difficult challenges at home with their children, parents, spouses, and also alone. We maintain transparent communication - we are transparent, and each of the employees knows exactly what the company's performance is, what our tasks are, and of course what our successes are," she said. "And of course we also have beautiful offices, celebrations, and all the other usual treats."

Peled-Muntz explained that the company's unique culture, which creates a different and special employee experience, is a factor that influences candidates' decisions to join the company. "People who are looking for a work environment with challenges and experiences, that it is important for them to feel their impact from day one and that it is important for them to be in a diverse place that respects and encourages - will choose to come to us," she said.

Peled-Muntz also believes that employees' considerations in choosing a workplace are individual and that it is not possible to look at all the candidates as a single entity. "Every employee has the things that are important to him or her. It can range from the location of the company's offices to the company's field of activity to the specific technology it uses.

"At Hibob we aim and want to attract people who have a set of values ​​similar to ours - and we know we are very attractive to them as a great place to work, contribute, develop and influence. Beyond that, I can definitely say that today it is very important for candidates to know that they will be able to continue working in a hybrid model and combine work from home and work from the office. As mentioned, we have been working like this for a long time and intend to continue working in the hybrid model. We believe in this flexibility and we enable it. "