Analysis
Monday.com surges on back of results, Global-e enters $10 billion club
Three Israeli companies with a combined value of $25 billion reported total annual income of $780 million and double-figure growth
Three newly-traded Israeli companies, with a combined value of $25 billion, released their financial reports for the first time Tuesday, in a debut that can only be called successful. The most notable of the three was monday.com, which rose by 23% during trading, after raising forecasts and launching a new key product, which is expected to compete with Word and Google Docs.

Global-e, which provides solutions for the localization of online stores and went through an IPO this past May at a valuation of $3.6 billion, rose by 12% to a value of $11 billion, following excellent financial reports and optimistic forecasts. Outbrain, the smallest of the three, showcased lukewarm initial reports, which also reflected its difficulty in completing its IPO, in which it was forced to reduce its value. Its stock slightly went down Tuesday, in light of a forecast indicating rather slow growth in the second half of 2021.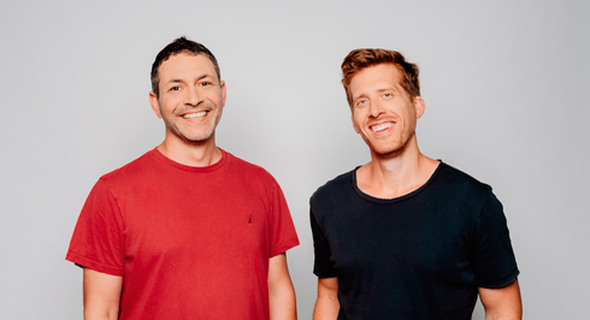 Monday.com co-CEOs Roy Mann (left) and Eran Zinman Photo: Netanel Tobias

Out of the three, monday.com provided the best results. The software company reported a 94% spike in revenue to $70.6 million. Meanwhile, it is approaching a positive cash flow from operating activities, compared to a negative cash flow of $14 million in the second quarter of 2020.

The operating loss remained similar to that of the corresponding period, at the level of $27.5 million, while revenues, as mentioned, almost doubled. On the bottom line, Monday recorded a loss of $1.67 per share compared to $2.79 per share in the same period last year.

Monday, which has developed a workplace operating system that helps manage projects, has been one of the largest Israeli technology offerings of the past year and has since generated a positive return of 60%. Before the release of the reports, Monday was trading at around $11 billion. Following the IPO, in which it raised $736 million, Monday has $878 million in cash in its account.

Monday launched product to compete with Word and Google Docs

Along with the recent data released, Monday also announced the launch of Monday Workdocs, its version of Google Docs, which will allow employees to collaborate on digital documents within its operating system. Monday sees significant business potential in this new addition, which should help its solutions expand to other uses in its clients' organizations. Monday's business model is built on selling a suite for its operating system centered around its use, and revenue increases as more users from the organization join.

Like Monday, Global-e also delivered the goods to its investors in New York, with revenues jumping 92% to $57.3 million in the second quarter. Although the loss was higher than expected, the gross profit margin rose from 32% to 36% of revenues. The unusual loss, which reached $22 million compared to an even balance in the corresponding quarter, was mainly due to the accounting listing of options issued to the Canadian e-commerce giant Shopify, which invested in Global-e and became the sole provider of its localization services.

Furthermore, Global-e raised its annual forecast and expects revenue of $227-231 million compared to the previous forecast of $209-213.5 million. In the current quarter, Global-e expects lower revenues of $54.3-56.3 million, however, analysts originally expected $48.4 million.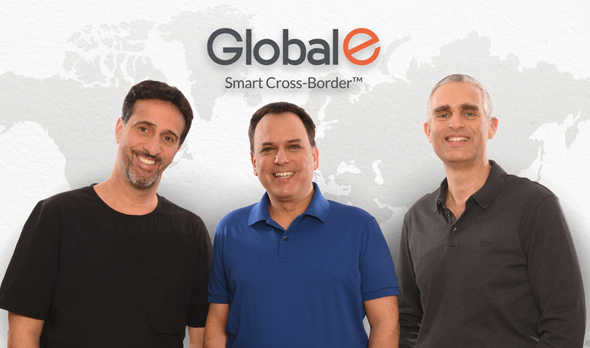 Global-e founders Nir Debbi (Left), Shahar Tamari, and Amir Schlachet

Investors seem to have liked Global-e's plan to put the $375 million it raised in its IPO to use. Amir Schlachet, the company's CEO and one of its founders, said Tuesday that it may make two acquisitions by the end of the current year.

Outbrain, which also began public trading less than a month ago, also made an effort to provide its Wall Street investors with good first reports, but they were less impressive. The company, which developed an online content recommendation platform, reported a 57% increase in gross revenue to $247 million (before paying content creators). In fact, in Outbrain's reports - like those of its Israeli competitor Taboola, which it was supposed to merge with - the more important line is net revenue, which reflects the volume of activity minus the traffic acquisition costs.

Outbrain posted a 68% jump, compared to the same quarter last year, reaching $66.8 million in the second quarter. It recorded a net profit of $15.2 million, compared to a loss of $2.6 million in the corresponding quarter. Outbrain activity generated $16.5 million in free cash flow during the quarter. Outbrain explained that the improvement in revenue, excluding content costs, was due to greater profit rates, obtained under agreements with content partners, and also from an improvement in the performance metrics embedded in these agreements.

Outbrain expects a revenue decline in the current quarter

Outbrain CEO David Kostman noted Tuesday that the company is very encouraged given the trends it recognizes in the business environment, yet the forecast it provided for the current quarter reflects a decline in net revenue to $64.5-66 million. The annual revenue forecast of $266-270 million also shows no significant change is expected at this stage in the fourth quarter either.

By comparison, Taboola, which posted its results last week, ended the second quarter with a revenue of $329 million, reflecting a growth rate of only 23%, which is lower than that of Outbrain. However, Taboola's share of remaining revenue is higher, recording net revenue of $117 million for the quarter. Taboola's updated annual forecast is $470 million net income, reflecting a growth of 22% compared to 2020.