Is QA the most sought-after job in tech?
Software quality assurance staff (QA) have a key role in the product development process and positions offer a good starting salary, sometimes, with no experience needed
Software quality assurance staff, commonly known as QA, are the ones responsible for the quality of the final product and are required to verify the product's integrity before it reaches the customers. "As a derivative of the Israeli high-tech boom, we have seen in recent years how QA roles experienced a significant acceleration - with the understanding that the success of product development depends very much on the testing process. Therefore, testing processes are an integral part of the development processes," said Shahar Sheinfeld, QA Manager at Noname Security.

According to Yaniv Aroch, QA director at Hysolate, "there has been an increase in the demand for QA employees in recent years because companies place more emphasis on quality, especially when there is competition for each user."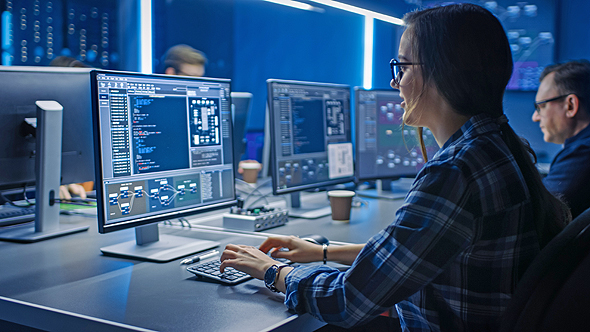 "There has been an increase in the demand for QA employees in recent years" Photo: Shutterstock

Despite a trend in some companies to let go of QA personnel and have the testing done by the developers, Daniel Tabin-Rotem, Radis' human resources manager, said that the need for QA staff is visible.

"The need to look at the product and the system as a whole, to understand how the customer thinks and uses the product becomes very important. The work of QA staff as part of the development process varies and includes working with programmers as well as close cooperation with product managers."

The starting salary for QA staff is about NIS 10,000 per month (a little more than $3000) and it can increase, based on the employees' experience and abilities. In some places, an academic degree is not required nor is it necessary to have experience. "What characterizes a suitable candidate is first and foremost a spark in the eye - a desire to learn and explore new things since a worker with desire and passion can learn while on the job. At Noname, for example, we care about experience in backend testing, understanding software interfaces (APIs), and experience in setting up cloud infrastructure, those will be an advantage," said Sheinfeld.

Apart from high motivation and a desire to learn, QA staff should also have a technological orientation, and according to Arochof, the gap between today's testers and programmers, in the technological context, is getting smaller. In addition, software testers should have a 'tester state of mind'. "A good QA is required to think outside the box, how to fail the system, how to find the errors, and where they are hidden, meaning a tester way of thinking is necessary for success."

Sheinfeld, for example, has a bachelor's degree in computer science with extensive experience in managing QA teams, but others have reached QA positions without any technological background or experience. For example, Vered Oria, a senior data science analyst at Armis, came to the company with no technological background and no experience in QA. "Ermis decided to take a chance on me. I benefited from being one of the first employees in the company and built the initial infrastructure. I grew with the company, and the knowledge I gained in a QA role helped me get where I am at today," she said.

Companies currently looking for QA staff include:

The First Digital Bank

The First Digital Bank is looking for automation developers with at least three years of experience. Candidates should be experienced automation developers, with a background in improving processes and specific knowledge in API testing.

Noname Security

Noname Security is a startup that operates in the realms of software interface security and provides a security solution for corporate APIs. The company, which raised $85 million within six months, has been working with several American corporations and has recruited more than 100 employees worldwide. It is now recruiting manual software testers and automation personnel.

Axis Security

Israeli start-up Axis Security, which has developed a cloud platform for private and secure access to enterprise applications, raised $100 million within a year, and is constantly growing. Now, the company is recruiting QA engineers who will ensure the quality of the software and work closely with the development teams in a challenging technological environment. Axis QA engineers require at least three years of experience in software testing and a background in building quality control processes, as well as in-depth knowledge of the IT world.

Perimeter 81

Perimeter 81 is a cyber company that provides network and information security cloud-based solutions. The company is recruiting for various positions in the field of QA and is looking for, among other things, a QA team head. QA teams are required to have excellent problem-solving and debugging capabilities. The company is looking for candidates with at least three years of experience in the field of QA, with extensive technical knowledge and proven experience in API testing, WEB application, MongoDB, HTML / CSS / Javascript, etc.

Armis

Armis works in the field of cybersecurity for IoT devices. The company's platform provides users with a clear and deep picture of all of the company's digital assets, their weaknesses, and the risks they pose to the network. The testing work at Armis is based on understanding the product in the best possible way, and employees delve into all parts of the product - whether physical, web, or cloud data sets. Armis expects candidates to know the world of networks, to have extensive experience in testing, high motivation, and a desire to learn.

For more information and job applications: armis.BE.22A@applynow.io

Pecan.ai

Pecan.ai builds a platform that allows analysts to build their own machine learning-based business outcome forecasting models, and that automates the entire data preparation process. Pecan is looking for an experienced QA to join the team and work on complex data systems. Candidates should have more than five years of experience as automation engineers, proven experience working with SQL and Python, working with Big Data systems, familiarity with working with WEB technologies, and a bachelor's degree in computer science - or any equivalent degree.

Venn

Venn develops a platform for building communities in residential neighborhoods that connects to the manager's or property owner's systems, to local businesses, and to common spaces. The company continues to grow and is now looking to expand its team of engineers and recruit the company's next top automation engineers. Venn is looking for a lead automation engineer with at least five years of experience, specifically in implementing automation infrastructures for backend and frontend systems. In-depth knowledge of QA automation processes, tools, and work methodologies is important, as well as familiarity with the worlds of cloud and performance. People who are thirsty for a challenge and are used to a dynamic work environment that characterizes start-ups.

Photomyne

Photomyne is a software company that specializes in the development of technologies and applications based on artificial intelligence (AI) in the nostalgia and family life fields. Its apps allow users around the world to scan, save, share and experience their family memories, quickly and efficiently whether they are physically stored, in albums, negatives, slides, or digitally and all via a smartphone. The company is publicly traded on the Tel Aviv Stock Exchange and is recruiting QA testers without the need for prior experience, who will be part of the R&D team in an environment of advanced technologies, such as deep learning and cloud infrastructure. They will work in collaboration with all the company teams and will assist in developing internal and external assets.

Cognyte

The company operates in the field of security analytics software, meaning a software-based technology that enables organizations and governments to analyze large amounts of data, gaining insights to identify, neutralize and prevent threats. A QA candidate is required to have in-depth experience and understanding of QA processes, abilities for development and operation of various automation tools, analytical abilities, as well as proficiency and in-depth understanding of various operating systems. A basic understanding of the world of analytics and big data is required, but along with all of the above, it should be noted that we at Cognyte believe in the development and promotion of our employees and the keyword here is potential.

Glassbox

A company that provides software solutions for analyzing browsing data, is looking for QA automation team Lead. Looking for a sharp and professional person, a mentor at heart, who can lead a team of five people in Israel and abroad, with rich management experience, dedicated and attentive to customers' needs, who takes responsibility and initiative on the one hand - and knows how to bridge and manage complex situations on the other.

Upstream Security

The company developed a cloud platform used for cybersecurity and data analysis for smart transportation, connected vehicles, autonomous cars, and insurance products. The company continues to expand its QA team and is recruiting an experienced manual testing engineer, with technical understanding and experience in SaaS and Database products.

Parametrix

The startup Parametrix, an insurtech company that developed cloud protection products, is recruiting QA automation engineers, a position that combines manual testing and the development of infrastructure and automation tools. Candidates should have at least two years of experience in a similar software testing position with a web application product. Experience working with Python and various testing tools. The essence of the work is manual testing alongside the development of infrastructure and testing tools of a UI product.

Pixellot

A sports-tech company that specializes in the automatic broadcasting of games and the creation of data using artificial intelligence. In recent months the company has recruited five QA engineers and is now recruiting a student for a QA position in the algorithmics division and a QA Engineer. The company's QA engineers perform hardware tests (cameras, computers, etc.) and software that automatically produces sporting events.

Ramon.Space, which develops space computing systems, is recruiting a QA team member who understands the complex systems of space technologies and who can develop high-standard QA tools for the space industry. The role includes the development and construction of software testing mechanisms, including the implementation of software testing mechanisms for components and systems that are supposed to function under extreme conditions in space. Candidates should have six years of experience in software development or software testing. High level of programming in C and Python. Experience in automation and infrastructure devices. High analytical abilities and problem-solving.

Finastra

Finastra's payments division is growing rapidly and expanding its R&D and product groups. Finastra is a global company with thousands of employees, headquartered in London, while its Israeli branch is located in Kfar Saba and has 350 employees, and the company's global payment activity is managed from there. A large number of automation testing jobs are currently open on a variety of teams that require experience in automation testing, with an emphasis on writing tests in JAVA / SELENIUM.

Hysolate

Hysolate is expanding its QA group and recruiting for three open positions. Automation developer, QA engineer, one manual tester, and one senior auto tester. Hysolate enables organizations to easily create local and isolated work environments at an enterprise or non-enterprise endpoint within minutes and manage them from the cloud. The Hysolate product enables a virtual operating system based on the existing operating system of the users.

The company is looking for a software tester with a specific background in IT who can help perform complex tests such as computer management, computer compatibility, communication networks, and information security. In addition, in order to release CI / CD versions, Hysolate is looking for a talented automation developer who will join the R&D department and develop the automation infrastructure and DevOps of the company's products as well as develop the more complex tests based on the virtual operating system.