Search giant Elastic establishing R&D center in Israel
Elastic, which has a $14 billion market cap, recently acquired Israeli company build.security which will serve as the base for the new center
Search company Elastic, which was founded by Israeli Shai Banon and is currently traded at a market value of $14 billion on the New York Stock Exchange, is setting up an R&D center in Israel.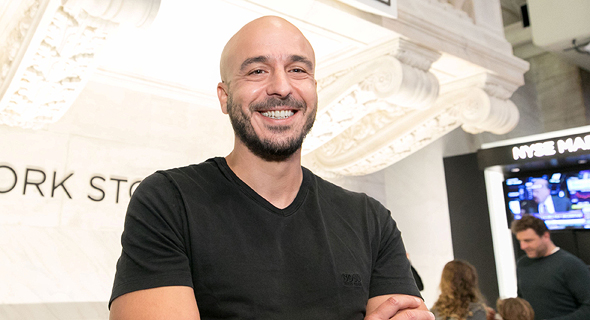 Shai Banon, Elastic CEO Photo: Nicole Pereira

The new center is being established following the recent acquisition of Israeli company build.security. The companies did not disclose the cost of the deal, but it is estimated at tens of millions of dollars. The center will be run by Amit Kanfer, co-founder and CEO of build.security, with the acquisition expected to be finalized during Elastic's second fiscal quarter, subject to accepted procedures.

Elastic began its way in 2009 and in 2018 became a publicly traded company, raising $252 million. Among its founders are a number of Israelis led by Banon, the man who conceived the idea behind it: an open-source search engine for businesses.

In a conversation with Calclaist, Banon said "it took us a while to set up a company in Israel because of Covid. The number of workers in Israel grew, but not as fast as we had hoped. I always wanted to join up with a company in Israel and turn it into our center in the country. We chose to buy a company in the cyber sector here because of Israel's vast knowledge in the field."

"There are many people in Israel who use Elastic and we have a base and office in Tel Aviv that will help us recruit in Israel. We are a very decentralized company with 2,100 employees in 40 countries. We have between 20-30 employees in Israel and they are all over the country. The Galilee, Tel Aviv, and Beer Sheva."
Amit Kanfer, co-founder and CEO of build.security Photo: Roni Braverman

Banon, who lived in recent years in California, decided last year to return to live in Israel. "I am now in the country and my family is here. We wanted to be closer to family although I'm still spending time in the U.S. and Europe with Covid restrictions," Banon said. "Corona affects everyone. We definitely see a lot of people working from home and companies having to go through the digital transformation. Companies must work in this way internally and as a result, larger amounts of data are created and we specialize in searching for information and making it useful. This process helps us provide them with more services. Beyond that, we help companies with search engines and monitoring servers and cloud environments and securing companies."

"Because we are spread around, it was not difficult for us to work in this way, however, Covid affected people and influenced the young workers or workers with families. We are attentive to all these things. We have 30 offices to give them options," Banon said.

"There have already been many IPOs of open-source companies, creating a significant movement. People believe that for something to be secure it needs to be closed and that is a natural feeling. Eventually, keeping things closed does not work as you keep everything close to you and within a few seconds, someone hacks it. With our open-source base and community, we really want to open up the security field and create a community of people who find security breaches and help fix them. When there was a breach recently, a community member identified it and our clients were secure from it, and that is only because everything is open and it's something different that we bring to the field."

"From the early conversations with Kanfer and build.security's staff we saw the innovative vision for a security solution for developers using open source." said John Brennan, a partner in YL Ventures, who led the company's round of funding in the past. "Therefore, it is not surprising that Elastic, one of the world's leading companies in solutions for developers in open source technologies, chose build.security as its first acquisition in Israel and as the team that will lead its operations in Israel."

build.security, founded in 2020, raised $4.3 million from YL Ventures about a year ago and built an open-source security system. Amit Kanfer told Calcalist, "I chose to team up with Shai and Elastic, which is an exceptional brand among developers. It is a publicly traded and unique company with millions of users and the opening of the development center in Israel is a significant event for us."