Avnon Group strengthens position in drone market with $7.75 million acquisition of ALTI
Group company iSTAR is acquiring South Africa's ALTI, a UAV manufacturer specializing in drones that take off and land vertically
After the acquisitions of Aeronautics by Rafael and BlueBird by Israel Aerospace Industries created a trend of mergers in the Israeli unmanned aircrafts industry, one of the less known companies is now receiving a significant upgrade.

iSTAR from the Avnon Group, which specializes in the drone field, has completed the acquisition of the South African manufacturer ALTI for NIS 25 million (about $7.75 million).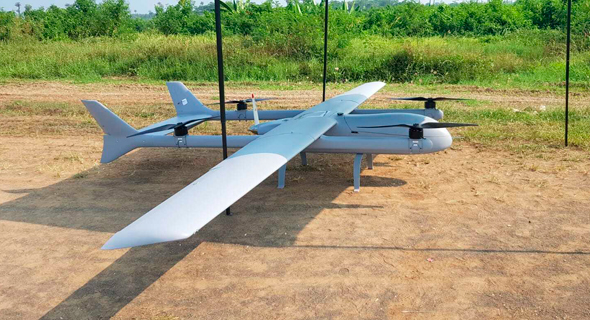 An ALTI drone Photo: Avnon Group

ALTI specializes in the production of vertical take-off and landing drones (VTOL), drones that do not need take-off and land on runways and allow operating flexibility and are able to stay airborne for much longer (up to 20 hours), moving between sites at higher speeds and carry heavier and more sophisticated equipment.

ALTI's products, which are intended for military forces and civilian security forces, have already been sold to 13 countries, including in the Gulf region, which is of great interest to Israel's defense industries following the Abraham Accords signed between Israel and several of the Gulf states. The acquisition puts Avnon in direct competition with BlueBird, Elbit, and Aeronautics.

In addition, the South African company is preparing to launch an unmanned naval vessel, for reconnaissance and observation purposes. Even before the deal was completed, iSTAR signed a first deal worth $6.7 million for a border protection project in a Southeast Asian country, which includes ALTI's drones.

Aviad Matza, CEO of the HLS division at the Avnon Group, told Calcalist that "operations in South Africa will continue, but at the same time we will start producing the UAVs and developing new models in a new co-production center for the group's subsidiaries based in Israel. There is a growing demand for UAVs taking off and landing vertically from military and government forces, and ALTI has some of the most advanced capabilities in the world in this field."