Appointments
Qualitest announces Anbu Muppidathi as its new CEO
Muppidathi will be replacing Norm Merritt, who has been CEO since 2018
AI-powered quality engineering firm Qualitest has announced that Anbu Muppidathi will be stepping into the role of CEO at the company. Muppidathi, who joined the firm as CEO (designate) in February, will be replacing Norm Merritt, who has been CEO since 2018.

"Qualitest has become the leader that businesses across a wide variety of sectors turn to when they want to adapt modern quality engineering principles as a catalyst for their digital transformation," Anbu Muppidathi told CTech exclusively. "It's been exciting to work with the team to collaboratively set the vision and plans for our growth and transformation as I step into the position. Our early success is very encouraging and signals a very successful future."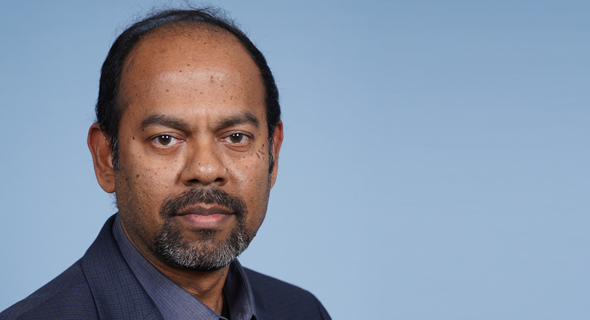 Anbu Muppidathi (center) is Qualitest's new CEO. Photo: Qualitest

Anbu Muppidathi has more than 30 years of experience in business transformation and technology modernization. He most recently served as the Global Head of Cognizant's Enterprise Cloud Application Services practice and before that he was the Global Head of Cognizant's Quality Engineering and Assurance practice.

"We could not be more excited to have Anbu lead us on our journey to be the preferred quality orchestrator for our clients, enabling them to modernize and most effectively run their businesses using world-class software," added Norm Merritt. "Anbu's depth of experience in the space, along with his ability to take companies to the next level, is what we need as we make some bold moves to solidify our position as the best quality assurance and engineering firm in the world."

In the three years since Merritt joined Qualitest, the company has overseen five acquisitions with three of them taking place this year. In March 2021 it acquired U.S-based Olenick & Associates, a software quality company with a focus on the utilities, legal, and banking sectors, and Comply, an Israeli quality assurance specialist in Pharma and Digital Health. In February, it acquired India-based independent quality assurance company QA Infotech. None of the sums were disclosed.

Qualitest, which today employs more than 1,100 employees around the world, helps clients mitigate their business risks during their software releases. It has operations in Israel, the U.S, UK, Germany, Romania, Argentina, Mexico, and Portugal, and serves over 250 blue-chip customers worldwide. In 2019, Qualitest itself was acquired by Bridgepoint via its €5.7 billion fund BE VI.