Smart farming: Fieldin raises $30 million in Round B
The Agtech company helps commercial farmers by turning their lands into autonomous, smart farms. The fundraising effort was led by Fortissimo capital
Agtech startup Fieldin has secured a $30 million Series B funding round, led by Fortissimo Capital, with the participation of Oren Zeev's Zeev Ventures, ICON Accelerator, Luxembourg-based Maor Investments, and Akkadian ventures. To date, the Yokneam-based company raised $55 million, from investors including Terra Ventures, Gal Ventures, Germin8, and Mindset.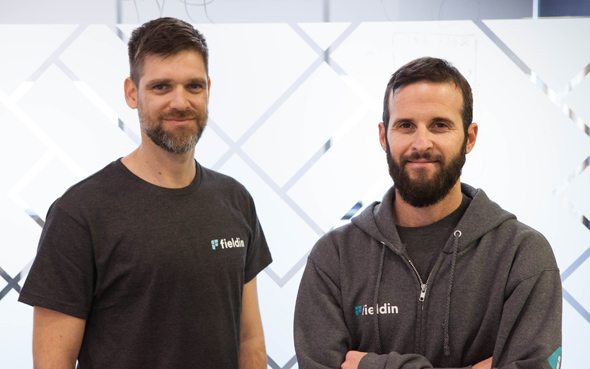 Fieldin founders, Boaz Bachar (left) and Iftach Briger. Photo: Fieldin

Fieldin has developed an agricultural operating system for commercial farms. Its platform monitors agricultural activity in real-time and identifies anomalies that may impair crops and operational efficiency. Speaking with Calcalist, Boaz Bachar, the company's CEO and one of its founders, explained how the company managed during the past year.

"Covid created a lot of confusion for us. Last year anyone selling fresh produce was hit hard because hotels closed, flights were canceled, and there were several quarters filled with pauses," he explained. "At the end of 2020, things came back and 2021 looks better. Meanwhile, changes in U.S. labor laws created a shortage of agricultural workers and existing workers became more expensive, therefore, many large commercial farmers began to look for operational efficiency. They searched for autonomous tools that do not need drivers, and mainly, to do more with fewer people. We built a control room that runs all the big farms and turns them into smart farms. We place sensors on all farm tools and our dashboard tracks the tools and its data analysis and figures out what can be done more efficiently. We are making tractors smart, and we have reached 4,500 of those around the world. We have the largest monitored tractor fleet in the world.

"The new round will serve to continue the growth and sales efforts in our main market in the U.S. and Australia. We will expand the team of engineers in Israel," Bachar said. "We chose to go with Fortissimo even though there were other offers because of the experience of its people in the physical world and with ​​byres and agriculture. Their connection to technology and real-world understanding made us feel it was the right thing to do. Fieldin's sensors are installed on all the farm equipment on the farm, including tractors, sprayers, mowers, etc., and turn every machine into a 'smart' machine. The data collected from the field together with data such as weather, operation data, and work suggestions are sent for analysis in the system in real-time."

Fieldin's technology is already used in five of California's ten largest farms, supporting more than 20% of the world's almond crops. Among the Agtech company's California customers are Olam, one of the largest almond growers in the world, Taylor Farms, which grows about 30% of the lettuce consumed in the U.S., and the California Olive Ranch. In Israel, the company works with about 50% of plantation agriculture and among its customers are Carmel Wineries, Barkan Wineries, Granot, Mehadrin, Hadari Nitzanim, Magal, and more.

Fieldin was founded in 2013 by CEO Boaz Bachar and COO Iftach Birger, both with rich family backgrounds in Israeli agriculture. The company employs 100 people, 60 of them at the Yokneam R&D center as well as 40 split between San Jose and Fresno in California, and Mildura in Australia. The company is expected to recruit dozens of workers for its R&D center in Yokneam and the center in California in the coming year, which will support its rapid growth.