Smart construction startup Versatile closes $80 million Series B
The Israeli company's leading product, CraneView, analyzes thousands of data points to deliver insights on jobsite performance to streamline decision-making
Israeli startup Versatile, which has developed construction technology using artificial intelligence (AI) and the internet of things (IoT), announced on Tuesday that it has secured $80 million in Series B funding. Insight Partners led the round, joined by Tiger Global.

"We turn cranes into a control tower of sorts," Meirav Oren, Chief Executive Officer and Co-Founder of Versatile, told Calcalist. Oren, who comes from a family that is involved in the construction business, said that she had been the black sheep of the family for choosing a career in tech until she founded Versatile, with her father being a contractor and her brother also working in the sector. "I may have initially chosen not to be in this sector, but this is like returning home. It is very comfortable when you have people that can provide feedback the way clients would."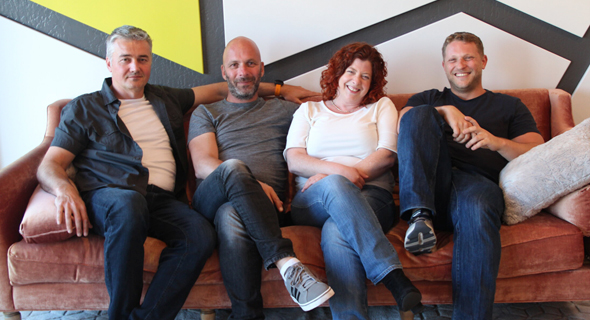 Versatile co-founders Ran Oren (from left), Danny Herman Meirav Oren and Barak Cohen. Photo: Ray Habot

Oren explained that Versatile "places sensors on the crane that allow us to identify the cargo and in which process of the construction it is involved. To date you couldn't measure the time it would take to cast hundreds of pillars and we found that it is 18 minutes per pillar rather than 15 minutes, which challenged contractors to shorten the time frame to just six minutes. The crane is involved in 80% of the construction process and in the future, we will control 100% of the construction process. We know better than any other company what is happening at a construction site and our technology doesn't interfere with the construction in any way."

Versatile employs 55 people in Israel and another 20 in the U.S. The company plans to significantly increase its workforce in both countries following the latest funding round.

Versatile is currently mainly active in the U.S., but Oren isn't ruling out partnerships in Israel and has very high hopes for the company. "We will be a unicorn and we will go public, but before that, we will have another big round," she stated.

The Series B was joined by Versatile's existing investors Robert Bosch Venture Capital GmbH, Entrée Capital, Root Ventures, Conductive Ventures, and veteran construction technology entrepreneurs Leigh Jasper and Rob Philpot, all of whom participated in Versatile's $20 million Series A in December 2020.

Construction industry veterans, including Tooey Courtemanche, founder and CEO of Procore, and Ralph Gootee, co-founder of PlanGrid, also joined as new investors.

Versatile was founded in 2016 by Oren, Danny Hermann (CPO), Barak Cohen (CTO), and Ran Oren (CSO). The company's leading product, CraneView, collects novel data on both progress and process; what got built–and how it got built–and analyzes thousands of these data points to deliver insights on jobsite performance to streamline decision-making. Mounted under the hook of any crane, this technology offers production data on any jobsite–including information on materials, redundancies, construction progress and crane utilization. Since its 2019 launch, CraneView has been adopted by over 40% of the leading general contractors in North America.