Cynamics raises $7 million led by Marius Nacht
The company analyses 1% of network samples to predict the remaining 99% and prevent threats and attacks
AI-driven nextgen Network Detection and Response (NDR) startup Cynamics has announced that it has raised $7 million, in a round led by Check Point co-founder Marius Nacht with the participation of Colibri Technologies and Fantail Ventures. Following the funding, the company will be establishing a new headquarters in Boston which will head the expansion into the U.S and help serve its 80 North American customers.

Cynamics has developed a cybersecurity solution that is based on network samples. This means it collects small network samples, usually less than 1%, and uses its AI technology to predict how the full network - 100% - behaves to predict attacks and threats before they have a chance to hit. If a threat is predicted, the customer gets an attack story based on auto-drill-down from the gateways down to compromised endpoints.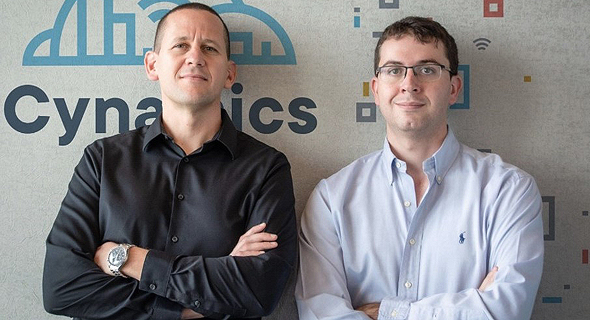 Cynamics co-founders Eyal Elyashiv and Dr. Aviv Yehezkel. Photo: Ofer Keidar

"Changing trends in networking architectures and the impact of the pandemic make networking infrastructures into complex, distributed topologies, which challenge network detection and response," explained Eyal Elyashiv, co-founder and CEO at Cynamics. "As a result, CISOs are forced to compromise and monitor only a limited part of the network. This creates blind spots that result in security breaches. Cynamics offers a new paradigm that provides full network coverage based on analyzing only 1% of traffic and the ability to detect attacks and threats with the highest possible precision. Moreover, our solution predicts threats minutes before existing tools can – a critical time frame that can be the difference between smooth remediation and millions of dollars in recovery."

Since its founding in 2018, the company has grown to serve more than 80 customers in the U.S and Canada. These customers work in a variety of sectors such as hospitals, cities and local authorities, security agencies, public safety agencies, and ISPs. The new funding round, which also welcomed former Fortinet employee David Ryan as vice president for sales, is hoping to broaden the company's market opportunity to nearly 30 million SMBs across the U.S.

"Cynamics developed a very unique technology, which is network agnostic and easy to adopt, allowing the company to reach a wide variety of customers quickly and positioning it as a next-generation NG NDR leader," added Ophir Shoham, former Director of Defense R&D Directorate at the Israeli Ministry of Defense (MAFAT) who manages Marius Nacht's investments in hi-tech. "Cynamics has the right ingredients to build a great company: strong team, proven innovative technology, huge market and a real need for the solution that the company offers."

Cynamics is represented by adv. Atir Jaffe, Senior Partner in the Hi-Tech Group at Pearl Cohen law firm. It was founded by Elyashiv and Dr. Aviv Yehezkel, who serves as the company's CTO.