SoftBank, Saudi Arabia's PIF backing Steven Mnuchin's $2.5 billion private equity fund
The fund, Liberty Strategic Capital, which has an office in Tel Aviv and recently led a $275 million investment in Israeli company Cybereason, will be backed by SoftBank's $40 billion second Vision Fund and Abu Dhabi-based sovereign wealth fund Mubadala
SoftBank will invest in a $2.5 billion private equity fund set up by former U.S. Treasury Secretary Steven Mnuchin, the Japanese conglomerate said on Wednesday without disclosing the size of the investment.

The fund, Liberty Strategic Capital, will be backed by SoftBank's $40 billion second Vision Fund and Abu Dhabi-based sovereign wealth fund Mubadala, which said it will contribute roughly 2% of the total amount raised so far.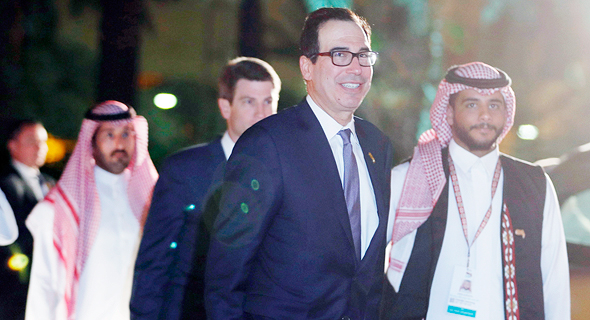 Steven Mnuchin in Saudi Arabia. Photo: EPA

The Financial Times had earlier reported that Saudi Arabia's Public Investment Fund (PIF) will also take part in the investment. Bloomberg News, which first reported about the Mnuchin fundraising this week, said most of the backing came from Middle Eastern investors including the PIF.

Liberty Strategic Capital was launched earlier this year. The fund opened its Israel office in June of this year, with the U.S. Treasury Secretary during the Donald Trump administration being joined by the former U.S. Ambassador to Israel, David Friedman, who is heading the local office.

Liberty, which is based out of Washington DC, is focused on strategic investments in technology, financial services and fintech, and new forms of content.

In July, Israeli company Cybereason announced that it had raised $275 million led by Liberty Strategic.