Tasq.ai raises $4 million in Seed led by former Wix exec
The Israeli startup's AI development platform will "completely upend the way AI is built," promises CEO
Ultra scale labeling platform for AI, Tasq.ai, has announced that it has secured a $4 million Seed round from a group of investors, one of which is Wix's former Head of AI, Professor Shai Dekel. The company says its platform helps data scientists break down the scenery of an image or video 30x faster than its competitors and provides a nearly unlimited supply of data identifiers - known as 'Tasqers' - to help reduce biases compared to 'trained' business process outsourcing.

"We're bringing the usage model that Amazon pioneered for cloud storage to data annotation for AI," said Tasq.ai Co-founder and CEO Erez Moscovich. "It's going to completely upend the way AI is built and eliminate the data bottlenecks that are slowing progress. This round of funding paired with our existing revenue will allow us to more rapidly expand adoption, build out our R&D here in Israel, and solidify our presence in the U.S with offices in New York and Chicago."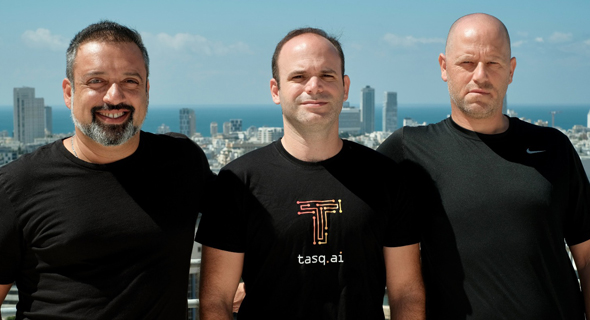 Left to right: Co-Founders Nathan Catalan, CRO; Yossi Motro, CTO; Erez Moscovich, CEO. Photo: Tasq.ai

Its funding comes at a time where the development and incorporation of AI-driven capabilities for businesses are more important than ever before - and yet they are still stuck with sometimes inflexible, biased, and expensive options. The company's data annotation platform can help provide companies with millions of Tasqers around the world that complete identification tasks.

"Everyone knows that AI capabilities are a must-have, but only those of us who have built AI companies and products understand the extent of the massive data annotation bottleneck issue that Tasq.ai is the first to solve," added investor Professor Shai Dekel. "They're alone at the forefront of the data annotation field and that's a tremendous achievement and advantage, not to mention a big leap forward for the development of AI. Tasq.ai's success means expanding access to the ability to quickly build great AI and more effective applications that will be a boon to businesses and users alike."

Tasq.ai was founded in 2019 by Nathan Catalan, CRO; Yossi Motro, CTO; and Erez Moscovich, CEO. The platform is already partnered with several ad networks and helps clients, such as Intel, build better AI faster. It is based in Tel Aviv, Israel, with field headquarters for sales and business development in New York and Chicago.