Opinion
The path to Wall Street is paved with patents for Biotech companies
"Building a useful patent portfolio requires the company to define quantity and quality targets, for the short, medium, and long terms," write Tamar van der Boom and Yoav Alkalay of Pearl Cohen law firm
It would be no exaggeration to see the past year as a golden age of Initial Public Offerings (IPOs) for Israeli startups and tech companies. The prominent offerings over the past year include Kaltura, monday.com, WalkMe, Global-e, Playtika, SimilarWeb, SentinelOne, Taboola, ironSource, and Payoneer. Together they have raised more than $2 billion and are traded with combined market caps of more than $50 billion.
Although these tech IPOs have reverberated loudly with huge media coverage, biotech has not been part of the trend. For Biotech companies, an IPO is usually less of an exit and more of a financing event intended to fund expensive research, development, and clinical trials.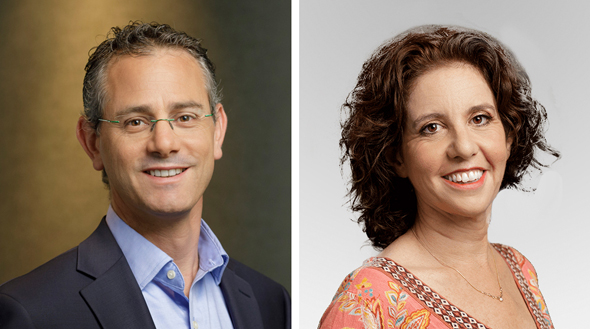 Dr. Tamar van der Boom (right), a Senior Patent Attorney at the Pearl Cohen law firm and Adv. and patent attorney Yoav Alkalay, Senior Partner at Pearl Cohen. Photo: Tomer Jacobson and Omer Hacohen
The average reader probably cannot name Israeli biotech companies that have listed on the stock markets recently. Ayala Pharma, PolyPid Ltd. and Nano-X Imaging Ltd. are just some of the Biotech companies that had Nasdaq IPOs in 2020. Despite the lack of publicity, biotech offerings are on the rise, both in terms of the number of offerings and the overall capital raised.
65 biotech companies have been listed in the United States from January to August 2021. Each company has raised more than $50 million. In comparison, in all of 2020 there were 71 biotech offerings, compared with 39 in 2019 and 44 in 2018. In total Biotech companies raised $15 billion in 2020, compared with just $4.7 billion in 2019 and $5.4 billion in 2018.
A look at recent Israeli biotech companies shows us that most companies held patent portfolios with dozens of families of patents – an indication that both investors and companies recognize the importance of protecting their intellectual property in general and their patents in particular. In fact, empirical research from the University of Bordeaux conducted in the United States and Europe a decade ago showed that every patent registered by a company before its IPO raises market value by one percent.
Patents serve to protect a company's technological advantages, distinguish it from rivals, and provide the company with significant marketing and commercial opportunities. Patents protect new technology or products and block rivals from entering the market. Thereby raising profits and market share. Patents, a company asset, allows companies exclusivity for up to 20 years from filing the first application – and prevents rivals from competing with them, or alternatively allows the company to collect royalties in exchange for licensing the patent.
Research demonstrates sale of significant patent portfolios has a positive influence on the company's value. In addition, filing a patent infringement lawsuit often leads to a rise in share price. It is also important to map and analyze rival patents to anticipate potential technological changes and the advent of new rivals.
A well-known negative example of failing to protect intellectual property was Twitter's IPO. The offering was considered unsuccessful, among others, because Twitter only possessed nine registered patents. Consequently, Twitter was exposed to lawsuits and forced to acquire no less than 900 patents from IBM for $36 million.
The clear advantages of IP warrant the allocation of major resources to build a patent portfolio in advance of an IPO. Building a useful patent portfolio requires the company to define quantity and quality targets, for the short, medium, and long terms.
To protect the company's early developments, prior to market launch, it is important to have a patent plan in the early founding stages of the company. Significantly, a patent application can be submitted after preliminary development results are obtained for a product or technology. Unfortunately, in too many cases companies only understand the need to patent their innovations after the product is on the market, disclosed in an article, or presented at a conference. This can limit the company's ability to patent its innovations to only future improvements of the product.
It is also important to consider the time it takes from filing for a patent to be registered. The United States Patent and Trademark Office, the European Patent Office (EPO), and the Israel Patent Office (ILPO), allow for expedited examination. Expediting examination can be important when companies need to show the market – and in many cases the investors– that their patent portfolio includes registered patents found innovative by patent offices. Conversely, there are also cases, where it is important to carefully manage the patent registration process. This allows a company to ensure that its patent applications are published and later registered at the appropriate time from the company's standpoint.
Finally, it is important to select the right countries in which to file patent applications. A patent is a territorial right that prevents use of the invention in the country where the patent is registered. Patent applications should be filed in the main markets the company operates or plans to operate in, and at times countries in which the company's main rivals are active. A company should evaluate filing countries independently for each patent application, based on the company's budget and overall strategy. At times it is advantageous for a company to file patent applications in a number of countries (e.g. during the preliminary stages of the technology's development) but there are times when a patent application should only be filed in one main country (e.g. the United States), or in a limited number of countries.
To sum up, the path to Wall Street represents a significant springboard for Israeli companies growing on a global scale. Precise patent planning can raise the value of companies' shares after the public offering.
Dr. Tamar van der Boom is a Senior Patent Attorney at the Pearl Cohen law firm who specializes in chemistry and pharmaceuticals. Adv. and patent attorney Yoav Alkalay is a Senior Partner at Pearl Cohen specializing in IP strategy planning.