Duality Technologies raises $30 million led by LG Technology Ventures
The startup, whose technology enables secure information sharing, recently won a $14.5 million contract with the U.S. Department of Defense's DARPA
Israeli start-up company Duality Technologies announced Tuesday it secured $30 million in its Series B round, bringing its total sum raised to date to $49 million. The round was led by LG Technology Ventures with participation from Euclidean Capital and the National Bank of Canada's corporate venture capital arm NAventures, along with existing investors Intel Capital, Hearst Ventures, and Team8.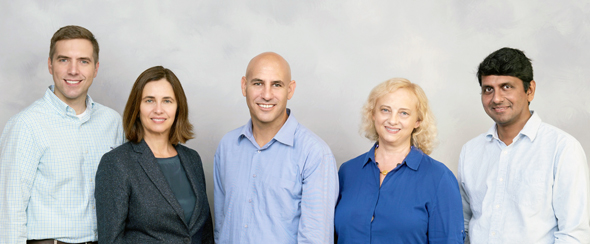 Dr. Kurt Rohloff (left), Prof. Shafi Goldwasser, Dr. Alon Kaufman, Rina Shainski, Prof. Vinod Vaikuntanathan. Photo: Courtesy
Duality's technology enables organizations to share sensitive information while preserving confidentiality and privacy and complying with data privacy regulations. Organizations can share protected AI models and data while maintaining confidentiality by encrypting them during computing. The information-sharing parties can run secured data analytics processes in any environment, whether theirs, their partners', or a third-party's cloud, without disclosing sensitive data such as personal identifying information (PII).
Duality offers privacy-enhancing applications for a variety of uses in regulated industries, such as financial services, healthcare services, government services, and others. In the financial sector, for example, Duality's established a partnership with Oracle, which offers the sharing of information regarding money laundering (ALM) between financial institutions, while protecting privacy. In the medical field, Duality is collaborating with the Sourasky Medical Center in Tel Aviv to enable safe medical data sharing for research, while protecting patient privacy and confidentiality.
The company's leadership in privacy-enhancing technologies (PET) was recently recognized by a $14.5 million contract with DARPA (the Defense Advanced Research Projects Agency, an R&D agency of the U.S. Department of Defense), to develop an advanced privacy-preserving hardware accelerator to enable privacy-preserving machine learning applications. In addition, Duality is partnering with Intel to accelerate AI/ML applications' performance on encrypted data. As performance improves, so will its use, which will enable sensitive data protection while training machine models without data exposure.
The founding team of Duality, which was established in 2016 as part of Team8, includes Turing Award recipient Prof. Shafi Goldwasser, Prof. Vinod Vaikuntanathan of MIT, the co-inventor of the foundational BGV Homomorphic Encryption scheme, and Dr. Kurt Rohloff, founder of the PALISADE Homomorphic Encryption open-source library on which Duality's platform is based, as well as CEO Dr. Alon Kaufman and Chairwoman Rina Shainski.
"The amount of data businesses possess has been multiplying exponentially, yet the breadth and depth of insights they can extract from it have not expanded at the same rate, mainly due to data silos caused by growing data privacy regulations and business barriers," said Dr. Alon Kaufman, CEO and Co-Founder, Duality Technologies. "Duality's collaborative, secure computing solutions offer a way out of this impasse by making data usable while keeping it protected. Companies and organizations recognize that embracing privacy-preserving technology is becoming a core business need, giving them a competitive edge while protecting their sensitive data assets. We are excited by this round of financing led by LG Technology Ventures and are empowered by our new and existing investors' shared vision of the transformational impact of Privacy-Enhancing Technologies on the future of data collaboration and AI."
Duality was represented by Adv. Amir Sadeh and the US Corporate Group of Pearl Cohen law firm.